Baltex wins innovation prize at TI World Conference
8th December 2010, Ilkeston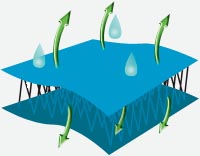 UK based warp knitter of technical fabrics Baltex was awarded the prestigious prize for Product Innovation at the Textile Institute's centenary World Conference in Manchester at the beginning of November.
Baltex was awarded the prize for work it had done on 3D knitted fabrics under its XD Spacer programme. At the same time Baltex' Managing Director Charles Wood was also awarded the Fellowship of the Institute (C.Text FTI) at a ceremony held in Manchester
Baltex is a long established company known for its innovative approach to technical textiles and as such is often in the media spotlight. For example, the company is to feature on prime time television in January 2011 in a programme made by Thames Talkback TV. The programme called is Great Railway Journeys, featuring Michael Portillo, profiles Baltex for its historical connection with the silk lace industry. The programme will be shown on 21 January at 6.30pm on BBC2
Baltex has recently developed a number of new fabrics for technical applications including a new 3D knitted spacer fabric with cooling properties. The fabric is said to feature a novel cooling monofilament which has excellent thermal conductivity. The company will be releasing more information on this important new development in the near future.
Another recent Baltex development is a bomb blast net for a key customer. The fabric is said to catch fragments of glass in case of an explosion and the company says it is now looking to develop this concept further using its Faratec Technology. Developed by Baltex, FARATEC is an exciting range of fabrics, which incorporate metal wires and can be used to produce heatable textiles, electro-magnetic shielding materials and protective clothing fabrics for body armour.
Baltex received mention during Prime Minister's question time in November this year when local Member of Parliament Liz Blackman cited Baltex as an example of a successful company in the Erewash area winning new business in the automotive market.
Last year the Ilkeston based company celebrated the second time as winner in the International Trade category of the Queen's Awards for Enterprise 2009. The company now exports to 24 countries in a wide range of markets and continues to build its position as the supplier of choice for knitted technical textiles.
At the time, Baltex MD Charles Wood said of the award: "This is a team effort by all our staff and proves UK manufacturing can work. We are excited by the prospect of growth within the Technical Textiles area and are now recruiting staff to follow this growth."
Author: Billy Hunter