Umeco prepregs used in competition bicycles
17th July 2012, Cruessen
German automotive, motorsport and competition cycling components manufacturer AX-lightness GmbH is using UK based Umeco's autoclave and press curable MTM 49-3 prepregs to produce structures for competition bicycles being used at national and international events.
AX-lightness, a developer and manufacturer of cycling structures which is also a key supplier to the Formula One sector, is the sponsor of Team Ghost Factory Racing, an all-ladies mountain bike team which competes at national and international level. This season three team members, Lisi Osl, Katrin Leumann und Alexandra Engen, will be riding high-tech bikes with wheels manufactured using Umeco's MTM 49-3 woven carbon fibre reinforced epoxy prepregs.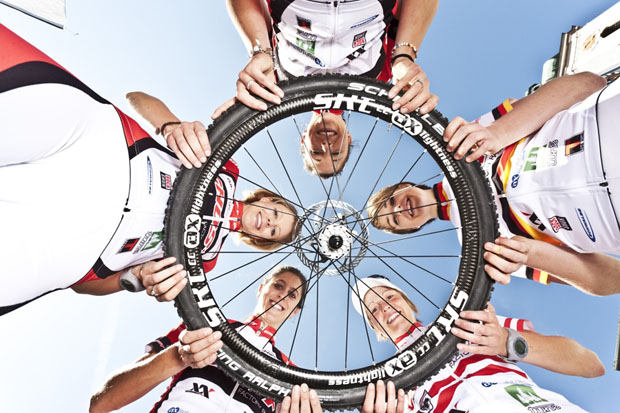 AX-lightness also uses a combination of Umeco's unidirectional and fabric reinforced MTM 49-3 prepregs to manufacture cycle components for an Australian triathlon athlete. AX-lightness chose to autoclave cure its structures to accommodate their intricate design features.
Umeco's MTM 49-3 series prepregs are 80 to 160°C curing, toughened epoxy matrices developed specifically for the manufacture of components requiring good impact resistance. The prepregs are also said to exhibit excellent ambient and hot temperature mechanical performance after only moderate cure cycles, making them ideal for sports and leisure and motorsport applications.
Umeco's MTA 240 adhesive film and MTF246 surface improvement film are fully compatible with MTM 49-3.
AX-lighness' success is rooted in its innovative, lightweight and highly functional products, and unique processing methods. The company's weight-saving carbon fibre products are used by international racing teams and have been 'on the podium' at the Tour de France every year since 2001, and according to Umeco it is highly likely that we will see them on the podium at forthcoming international events.
Daniel Brambeer, Regional Sales Account Manager at Umeco Structural materials, said:
"AX-lightness is a very proficient customer. Their technical knowledge, paired with an innovative approach to all composites applications, combine to make any project a challenge as they strive to achieve maximum performance out of Umeco's prepregs. We work together to achieve the optimum solution for individual applications, and we are pleased that those who use AX-lightness products achieve success at national and international events."
Author: Billy Hunter