Loeffler offers functionality with elastane by creora
14th September 2011, Ried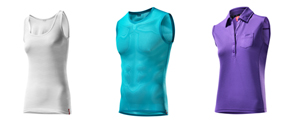 Austrian premium brand Löffler, known for its innovative sportswear with strong design and optimum comfort is highlighting 'Transtex light' a fabric made from polypropylene and elastane by creora in its summer collection.
The extremely light, single-layered Transtex light fabric is an innovation made by Löffler which is said to guarantee fast moisture transportation.
Löffler says it uses the functional fibre polypropylene to move the sweat quickly away from the skin whilst the fibre itself stays permanently dry. It adds that with the help of new knitting technology its well known underwear's quality has been further developed and it now offers perfect wearer comfort and additional ventilation due to bigger ventilation holes and extremely flat and soft seams.
The company says that elastane by creora further guarantees a perfect fit, from shape stability to a pleasant touch.
" Because of the creora the underwear feels like a second skin and offers the highest flexibility of movement during all types of intense sport. In a nutshell: Transtex light is a modern functional underwear to be worn at middle to higher temperatures as well as during moderate to intense activities," Löffler claims.
"We chose creora eco H-550 because of the fibre's gentle touch and its energy saving process. Combined with polypropylene it is ideal to meet our high standards for moisture transportation, comfort and perfect fit", says Reinhard Hetzeneder, Marketing Director of Löffler.
Success story made in Austria
The Löffler Transtex technology was developed at Löffler's headquarters in Ried, Austria and all fabrics are knitted in its own knitting mill. Even the finishing is done in Austria.
Löffler says environmentally friendly production, short transportation routes, fair and socially responsible working conditions, and protection of the domestic working environment are all very important to it.
It also cites as important the need to have ecologically responsible programmes in place during the production of its high quality, healthy products. Löffler says it offers premium quality certified with the ÖKOTEX-label standard 100.
Löffler has worked with creora elastane by Hyosung, one of the world's leading manufacturers of nylon, polyester and elastane fibres, since 2006. The company says its fabric is enhanced with creora eco H-550, the energy saving, low heat set elastane, for whiter whites and softer hand.
Author: Billy Hunter