Dow launches low formaldehyde binders
6th June 2012, Chicago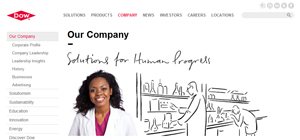 Dow Chemical Company announced the introduction of its technology platform for Rhoplex Econext Acrylic Binders for the North American hygiene and medical market yesterday at the World Of Wipes conference. The series of low and ultra-low formaldehyde binders allows companies to manufacture end-use nonwoven products with minimal levels of formaldehyde and comply with the industry's most stringent standards.
The first line of products to be commercialized in North America – Rhoplex Econext 110, 210 and 230 Acrylic Binders – can be used in disposable and re-usable nonwoven applications and are said to be particularly useful in environments that might be formaldehyde sensitive, including hospitals, schools, LEED certified buildings and manufacturing facilities.
Dow says it categorizes its product as 'ultra-low formaldehyde' when the cross-linking mechanisms of Rhoplex Econext Acrylic Binders do not generate formaldehyde under normal operating conditions. The company claims that nonwovens chemically bonded with these binders have no detectable formaldehyde using typical detection methods (<5 ppm or 2 ppm detection limits, depending upon the industry standard determination method used).
Dow says it introduced this innovative technology platform to address growing demand for the best performance characteristics of the conventional self-cross linking nonwoven binder technology, but with ultra low levels of formaldehyde.
The family of acrylic binders aims to enable customers to meet increasingly stringent industry standards, such as the OEKO-TEX 100 standard for textile raw materials, intermediates and end products.
"Our breakthrough Rhoplex Econext technology allows companies an opportunity to use this family of binders with the knowledge that they were made with minimal formaldehyde and frequently maintain the same performance characteristics as those traditionally served by formaldehyde-releasing solutions," said Courtney Fretz, Global Marketing Director for Textile, Non-Wovens & Films at The Dow Chemical Company.
"With this new technology platform, we continue to expand the range of performance of Dow's binder solutions for North America that demand nonwoven products with low or ultra-low formaldehyde levels."
Rhoplex Econext technology was introduced in Europe under its European trade name Primal Econext at INDEX 11, one of the world's largest nonwovens trade shows held in Geneva, Switzerland. The technology received an innovation award from EDANA, the European nonwovens trade association.
According to Dow, Rhoplex Econext technology platform offers excellent wet strength, rapid fluid penetration (or hydrophobicity), and offers customers options to adjust the degree of softness or stiffness for differing applications. Dow has been making low and extremely low formaldehyde binders for textiles and nonwovens since the Rhoplex Econext line of products were first brought to the marketplace a few years ago.
Author: Billy Hunter