TAL targets China wound care market
6th August 2012, Grimsby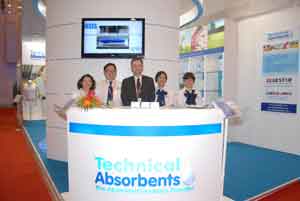 The domestic Chinese market for advanced wound care products is said to be in the relatively early stages of development. However, China announced a $124 billion investment over three years to reform its healthcare system in 2009 and as a result, future market opportunities are considered substantial.
To assist UK companies make the most of the development opportunities, United Kingdom Trade & Investment (UKTI) is arranging a mission to the 5th International Wound Dressings Conference in Beijing and Super Absorbent Fibre (SAFTM) manufacturer Technical Absorbents (TAL) will join the mission as it aims to promote the benefits of its technology to this growing sector.
The conference will take place between 9 and 13 September and is said to be a highly-targeted, high level event, which brings together China's wound care industry, R&D organisations, hospitals and policy makers. As well as an individual meeting programme and full logistical support, TAL will also have an exhibition space and will make a presentation during the event.
"TAL provides extremely high levels of innovation and product development expertise to the advanced wound care market with its SAFTM technology. Being fibre-based it can be precisely tailored into a diverse range of medical fabric formats that offer the potential for enhanced design and performance," the company explains.
Watch the Super Absorbent Fibre in woundcare video
SAFTM based medical fabrics have been extensively developed for use in advanced moist wound care dressings. Such dressings are said to provide a therapeutic effect and aid healing, especially when used in the treatment of wounds with high exudates, such as chronic wounds and burns.
Such wound dressings are designed to present correct moisture conditions around the wound, but not result in actual wetting. According to TAL, the integration of a SAFTM -based fabric, results in the rapid uptake and retention of exudates from the infected area, which is said to be essential in creating an optimum environment to aid the healing process, preventing further bacterial growth.
"Selecting SAFTM as the absorption component affords significant benefits to medical device producers, patients and carers," explains Business Development Manager, Dave Hill.
"Its fibrous form creates lightweight, soft and flexible fabrics. These offer precise absorbency control, fluid retention and porosity, with low dust and shedding performance. Enhanced absorption and retention levels also mean dressings need changing less frequently. This reduces time pressures on clinicians and helps enhance patient comfort. SAFTM-based medical fabrics are available in a wide range of formats and can also provide different levels of anti-microbial and anti-inflammatory performance.
"TAL is already involved in extensive development projects within advanced wound care sectors, and welcomes the opportunity the conference will afford for dialogue with key Chinese end product manufacturers."
Author: Billy Hunter