Monadnock to open second location in Midwest
29th October 2012, Coldwater, MI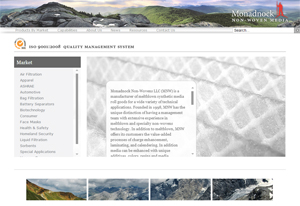 Pennsylvania headquartered Monadnock Non‐Wovens, an industry leader in high performance melt blown nonwoven roll goods for filtration, industrial, healthcare and consumer markets, is to add a second location in Midwest USA.
The business has experienced significant annual growth in recent years and has firm expectations for the growth to continue. The addition of a second location in the Midwest near major customers was seen as a major advantage to the company.
After considering sites in Indiana, Ohio, and Michigan, Monadnock says it chose Coldwater, Michigan:
"Because of its strategic location between several highways, rail access and their utility infrastructure Coldwater was a good choice. The City and State of Michigan were most welcoming and we feel this location and its people will be a great long term home for our growing business," stated Keith Hayward, Monadnock Non-Wovens Managing Director.
"We are excited about our decision to invest in Coldwater and create manufacturing jobs in Michigan."
"Monadnock Non-Wovens will be purchasing a previously vacant building," said Coldwater City Manager Jeff Budd. "In addition to the initial investment and growth plans, their utility use, dedication to environmental issues, and commitment to participation in various community activities makes Monadnock Non-Wovens an excellent addition to the community."
Branch County Economic Growth Alliance Director Lisa Miller added:
"This project has been a collaborative effort between public and private entities. The City of Coldwater, Branch County Economic Growth Alliance, Michigan Economic Development Corporation, Indiana Northeastern Rail Road, Michigan Department of Transportation, Coldwater Rail Users Association, Land Rail, Southwest Michigan First, Michigan Works, Branch CountyBrownfield Authority, Voltek, and property owner Ken Bible along with his local team all played a role in this venture."
The Branch County Economic Growth Alliance (BCEGA) was created in 1989 to oversee economic development for Branch County.BCEGA with its community partners form an experienced team to provide comprehensive assistance for new businesses and companies looking to expand their operations.
Author: Billy Hunter