Corkshell wins Outdoor Industry Award
16th July 2012, Friedrichshafen
A new technology which combines the outstanding natural features of cork with those of high performance fabrics has won one of the coveted Outdoor Industry Awards the Outdoor 2012 show in Friedrichshafen, Germany.
The new corkshell technology from Swiss fabric and technology specialists Schoeller Textil AG, which is said to made it possible to create Schoeller's warmest soft-shell ever, convinced the jury of international experts and won an award for 'a particularly outstanding product' in the Material Innovation category.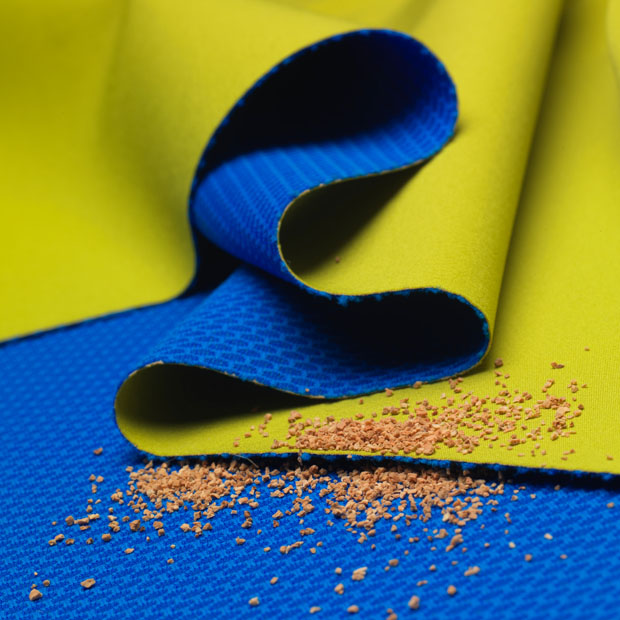 In the competition organised for the 7th time by iF International Forum Design, 48 entrants from a total of 322 submissions from 25 countries were distinguished with an OutDoor Industry Award 2012 - ten of them with a Gold Award. Organisers say the award is a seal of quality and offers added value to both the trade and consumers in terms of the function, innovation, durability and sustainability of products.
corkshell is made from an FSC-certified cork granulate that is a by-product in the production of wine corks. The natural granulate is pulverized and combined with the fabric in a patented process from Schoeller. Two corkshell options are available. One is a single layer fabric construction with a cork coating on the inside of the fabric. The other is a 3-layer fabric construction in which the cork coating is between a stretchy, water and wind repellent surface fabric and a highly breathable lining that can be adapted to the requirements of weather conditions.
Additionally, Schoeller says, the cork has natural stretch properties and therefore corkshell can be offered in both 2-way and 4-way stretch qualities.
Greater thermal insulation
With the award winning corkshell technology, the soft-shell pioneer Schoeller has, for the first time, succeeded in combining the outstanding natural features of cork with those of high performance fabrics.
corkshell is said to display significantly higher thermal insulation than comparable conventional soft-shell products and depending on the fabric structure, Schoeller says, this can be up to 50%.
"corkshell thus offers a level of thermal insulation never seen before while also providing high breathability. It incorporates the positive properties of natural cork without negatively affecting other functional features. In addition, corkshell is bluesign approved and therefore complies with the world's strictest standard for textiles," the innovative Swiss company says.
The jury of international experts was made up of:
Boris Gnielka (Outdoor Magazin, Stuttgart / Germany), Mark Held (European Outdoor Group, Zug / Switzerland), Monica Viganò (Outdoor Magazine, Meda / Italy), Nora Kühner (fashion design consulting, Munich / Germany and IDEAS Active Sports Design Network, Rorschach / Switzerland) as well as Alessandra Soresina (wildlife biologist, writer and photographer, Milan / Italy).
Author: Billy Hunter