New developments from Harry Lucas
5th March 2012, Hamburg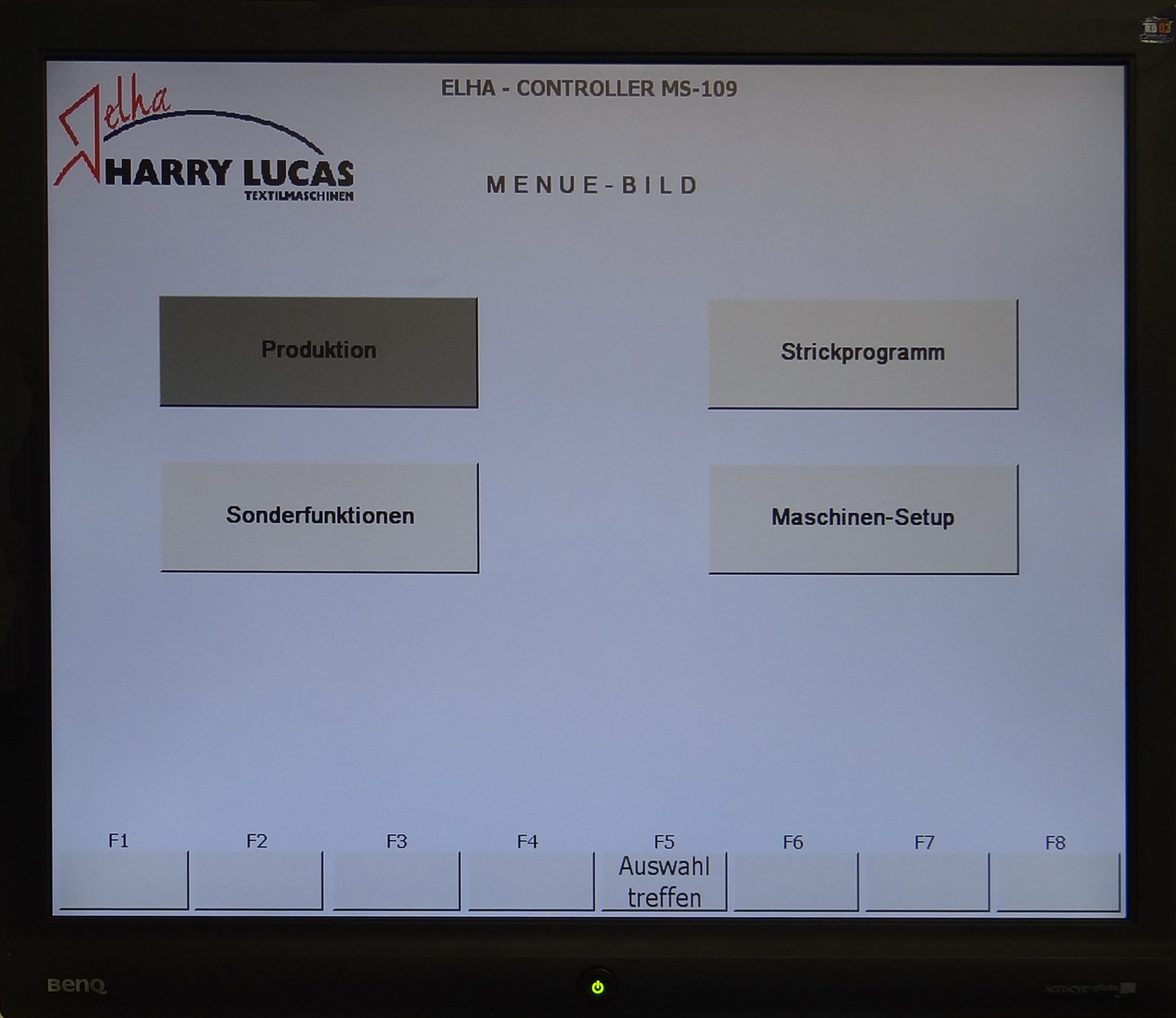 German knitting machine manufacturer Harry Lucas has launched a range of new knitting machinery developments for 2012. Following a successful ITMA in September last year, the company has upgraded a number of its models and introduced new variants to meet customer demands.
The company has introduced a new programming system MS-109 which has a whole number of new features which can be customized (extended and/or adjusted) according to requirements. The update is designed for Windows 'XP' and '7', has a USB device as well as WiFi support for the connection to an internal network.
RME-S - circular knitting machine for smallest diameters
Developed especially for smallest diameters of e.g. 1/2" up to 3", this circular knitting machine is used for the production of made-up hosiery like fashion ties or formed tubes for technical components.
The RME-S is optionally equipped with a fabric basket for the production of endless fabric or for single release.
Knee supports in 7"and 9"
Harry Lucas' established model RR2-Z-FBRJ-109 is now even more flexible as a 7" model for small knee, ankle and elbow supports. The machine is equipped with dial needle selection with newly developed three way technology.
Budget conscious - VEPA F
The two-head circular warp machine with its electronic laying for faster conversion of the pattern types ensures quick changeover and helps to reduce costs. The machine is available with single-ring or double-ring laying and one or two systems.
Four ring technology - VEPA E
The four-ring layering enables a variety of new pattern designs and makes this circular warp knitting machine comparable with a flat warp knitting machine with eight layering bars, Harry Lucas says.
Total simplicity - RME-L
The RME-L is a simple to handle machine (without vacuum suction) for the production of compression stockings.
"This very convenient easy to handle machine can be operated without the employment of expert staff and thereby contributes a budget-conscious production," the company says.
3-way selection RME-4s
This machine is deployed for the production of compression stockings, knee and arm supports and made-up technical textiles without joints with finished start and end with plush device for the medical and the sports sectors.
The machine is equipped with full three-way-selection and suction. An extensive range of options enables the individualisation and the perfect integration into the operations flow. Stocking shape, stocking length, stitch size and the fully electronic control drum racking can be controlled by a 15" monitor.
TK-83 - the 5" model
The well known TK-83, which is already successfully employed for the quality control of plain and textured filament yarns as well as all kinds of staple fibre yarns, has now been modified and works with a larger head and is said to be much more flexible.
"Because of repeated inquiries we designed a new extension in such a way, that now two various head diameters can be built up," Harry Lucas says.
"Beside the 3 1/2" head now even a 5" head can be used, which is the more sensible alternative especially during testing of coarser yarns (from 2000 dtex up)."
Elhatex lubricants
Harry Lucas' special lubricants are manufactured to meet the special demands of its machines and aim to guarantee perfect performance for its customers.
"Especially developed oils and greases take care for the durability of our machines at maximum performance and least possible wear of all parts. Please take all recommendations for the suitable product and the recommended dosage for the respective machine from our attached operating manuals, "the company says.
Harry Lucas
Harry Lucas Textilmaschinen GmbH is a textile machinery manufacturer specializing in circular warp and weft knitting machines and knit braiders. The well established German company's highly specialized machines are exported worldwide for production of fabric used in medical, technical textiles and fashion markets.
Harry Lucas is also well known for the production of spiralizing and circular knitting machines for low and high pressure hoses which are used in applications for the automotive industry, for example.
The company employs 100 people and produces about 300 machines a year and via its international network Harry Lucas says it guarantees top quality at best prices with best individual customer service worldwide.
Harry Lucas' philosophy is "the most efficient conversion of the requirements and demands of every individual customer," and this guiding principle essentially describes the traditional aim of the company's management and research and development department.
Author: Billy Hunter