Cinte Techtextil China, Asia's leading biennial trade fair for technical textile and nonwoven products, concluded in Shanghai this month, attracting more than 13,000 visits over the course of three days, compared to the previous all-time high 12,496 visits in 2014, with 480 exhibitors occupying three halls of the Shanghai New International Expo Centre.
The first day of the exhibition proved successful for organisers, attracting 6,115 visitors, a significant increase compared to 3,935 visitors recorded in 2014. According to the show organisers Messe Frankfurt, despite the state of the global economy and the difficulties many exhibitors are facing in the domestic markets, companies are still interested in promoting their products to the Chinese customers, aiming to explore the possibilities of the future growth in the segment.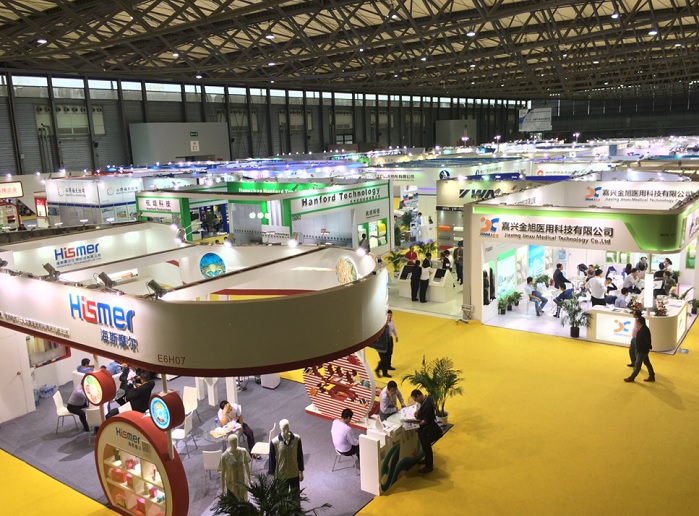 This is evident by the increased number of exhibitors and the growing number of companies consolidating their space at the exhibition, according to Michael Jänecke, Director Brand Management Technical Textiles & Textile Processing, Messe Frankfurt.
Most international line-up
With the most international and diverse line-up ever, the show this year opened its doors to 173 international exhibitors from 26 countries and regions, including companies representing Denmark, Japan, Poland and Sweden at the fair for the first time, as well as companies from Austria, Belgium, France, Italy, Turkey, India, Indonesia and Korea debuting at the fair.
"This internationalism here this year is due in part to the continuing strength of the Chinese technical textiles and nonwovens market, while this strength is drawing some of the biggest domestic names to exhibit here as well," commented Wendy Wen, Senior General Manager, Messe Frankfurt (HK) Ltd.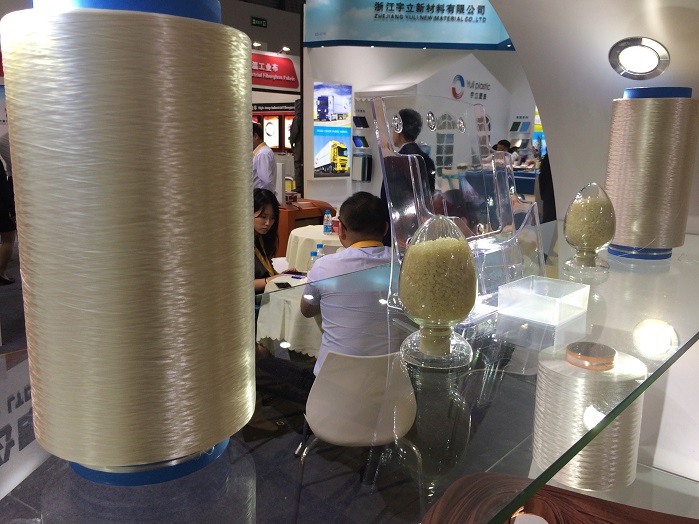 Industry heavyweights returning to Shanghai included Austria's Lenzing, with the company's Tencel, Modal, Promodal, Viscose and FR ranges on display. Also from Austria, Andritz was represented at the fair by its three brands specialising primarily in nonwovens. Germany's Groz-Beckert returned this year promoting its felting and structuring needles, as well as jet strips, for nonwovens production. From Belgium, Sioen Industries promoted the company's wide selection of materials, specialty products and chemicals for outdoor, transportation and apparel applications.
Growth and state support
One of the key focuses of the exhibition was the recent growth experienced by China's nonwovens and technical textiles segment and the increased demand for quality products, accelerated by the expanding infrastructure and construction sectors in China. Further trends shaping the current market environment also include the expanding urbanisation and an increasing awareness of environmental protection, which has been increasingly supported by the government initiatives in the last two years.
"While other sectors of the textile industry here in China are going through an uncertain period, the technical textiles sector continues to expand strongly with growth of 10.9%, in the first half of this year. Meanwhile, nonwovens fabric production grew 8.58%, and despite technical textiles exports edging down slightly during this period, exports of nonwovens increased by 15.15%," explained Ms Wen.
"It is our opinion that this growth will continue in the medium term. The government's 13th Five-Year Plan takes affect this year, and has a strong focus on upgrading the country's manufacturing sector, while the new One Belt One Road initiative with its heavy emphasis on infrastructure development will also benefit areas of the technical textiles industry."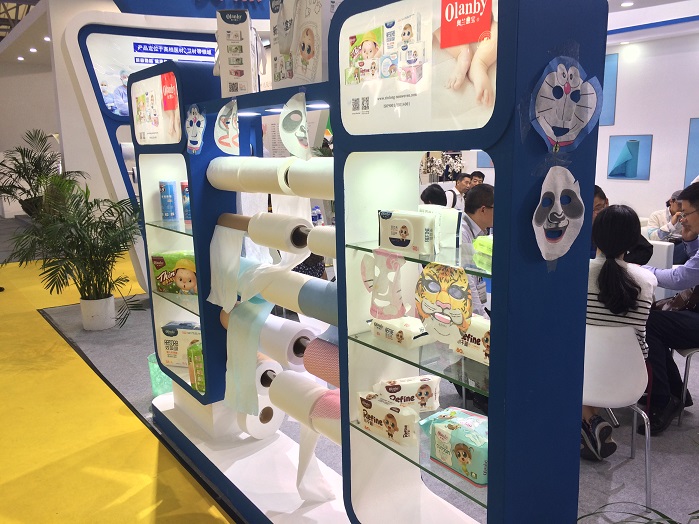 The total output of technical textiles and nonwoven products is estimated to reach over 22 million tons in 2020, double that of 2013, according to the China Nonwovens & Industrial Textiles Association (CNITA). According to organisers of Cinte Techtextil China, growth in the next five years will be seen especially in filtration and separation textiles, as well as medical and hygiene textiles, geotechnical, structural reinforcement, transportation, and protective textiles.
The technology gap, however, still exists and attracts a great number of companies from abroad aiming to explore the expansion opportunities to China or other Asian markets, through targeting high-quality and high performance material applications in sectors like defence, turnout gear, marine and automotive.
Nonwovens Conference
With nonwovens industry taking off in China, it came as no surprise that the exhibition was dominated by domestic producers of nonwoven products, taking up one of the halls and exhibiting materials for production of a variety of high demand products, including facial masks, gaining popularity not only in Asia, but also in the Western beauty industry. The 5th China International Nonwovens Conference held on the second day of the exhibition reflected on the country's status as Asia's largest producers of nonwoven fabrics.
According to Linshen Li, President of CNITA, in 2015, China's nonwoven production increased to 4.85 million ton from 3.12 million ton in 2011, with the annual growth rate of 11.7%. With currently strong cyclical investment in nonwoven fabrics, the industry is growing most rapidly among the global textile segments. In the first half of 2016, the exports of nonwovens in China by weight grew by 15.15% amid a global slowdown. With environmental protection becoming a new priority of the government, nonwovens are increasingly more used for air filtration, filters for water treatment and geotextiles for restoration, absorption and solidification.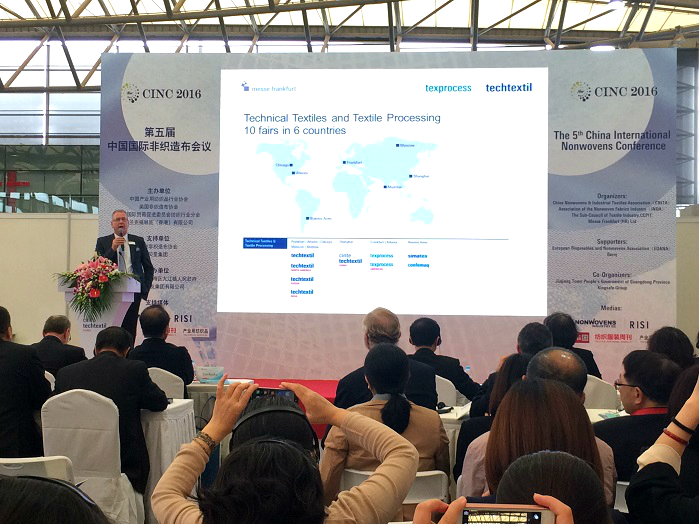 David Rousse, President of INDA, provided an overview of the North American market, where continued investments are also growing, especially in the areas of drylaid and spunmelt technologies. He concluded that it is to expect further growth driven by economic and demographic trends, as well as the ability of nonwovens to enter entirely new end uses. According to Mr Rousse, continued capital investments and consolidations are to be seen in the coming years.
We can also observe a similar trend in Europe, according to Pierre Conrath, Sustainability and Public Affairs Director of EDANA. According to Mr Conrath, the nonwoven production in Europe is growing, with a strong emphasis on personal care wipes and incontinence products, as well as automotive. Meanwhile, China is to become the largest nonwoven producer in the world by 2020.
Germany pavilion
German textile industry is made up of 1,400 predominantly small and medium sized companies, with technical textiles sector reaching around EUR 13 billion in turnover. With 16 textile institutions in the country, product applications exhibiting the most growth are environmental protection, automotive and transportation, geotextiles, and construction and building, according to IVGT.
German exhibitors at Cinte occupied the largest international pavilion at the show, with 34 companies promoting their innovations. Presented by Federal Ministry of Economic Affairs and Energy, the German pavilion housed some industry giants including Trützschler Nonwovens, who focused specifically on cotton processing and thermobonding as the key market areas for China.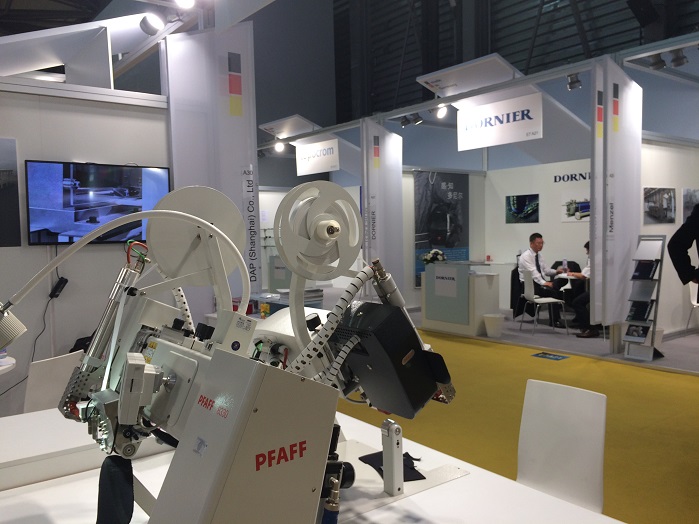 Dilo Systems presented their needled nonwoven products for geotextiles, filter media, automotive, and more, viewing China as a great potential market for car interior lining and technical textiles for other automotive applications. The company has recently set up a compact line for recycling carbon fibre, which now allows it to present product samples from recycled carbon fibre on request.
Autefa Solutions promoted sustainable manufacturing processes requiring less energy consumption with its hydroentanglement and thermobodning technologies, similarly to Brückner, which highlighted the importance of using heat recovery and air purification systems to achieve energy savings. The company promoted its coating lines for glass fibre and nonwovens for the construction sector.
Belgium pavilion
This year's Belgium Pavilion, organised by Fedustria and Messe Frankfurt Belgium, featured a number of companies exhibiting their technical textile products, as well as coating and lamination technologies primarily for building, marine, automotive and medical sectors, reflecting the current growth of the Belgian technical textiles industry.
Europlasma, a producer of non-coating solutions based on low-pressure plasma technology, exhibited a range of eco-friendly athleisure textiles, aiming to promote plasma treatment to Chinese manufacturers. Conwed Plastics's main product at the fair was lightweight extruded and bi-oriented plastic scrims, which can be used to improve the properties of technical textiles and nonwovens for building, clothing and industrial wipes.
Dakota Coatings, representing Belgium for the first time, showcased its woven fabrics, laid webs, knitted fabrics and braidings, targeting the niche Chinese markets for high performance FR, antimicrobial products, with its thermoplastic and thermosetting adhesives. According to Nico Mestdag, Vice President Sales, China is now exhibiting rising demand due to the developing infrastructure and growing economy. Similarly, Pennel & Flipo, a producer of ORCA engineered fabrics, is responding to the growing demand for high quality products in China's marine and transportation sectors.
European Zone
With increased internationalism this year and 12 product application areas covered, the product diversity at the fair was the highest it has ever been, organisers report. Looking to strengthen their presence in China and Asia through the fair, European exhibitors presented their products in the returning European Zone.
Swisstulle, a warp knit and bobbinet tulle manufacturer, through its subsidiary Swisstulle (Qingdao) presented at Cinte with a focus on shading material for automotive applications. The company said it aims to explore other automotive markets in Asia through China, to connect to tier one and tier two suppliers and OEMs.
Netherland's Stahl promoted its water based coating supporting "clean manufacturing" through its Stahl Coatings & Fine Chemicals (Suzhou) company. Cees van de Sande, Technical Manager Performance Coating Division, stressed the importance of working closely with brands and promoting sustainable production practices, including adhering to ZDHC Manufacturing Restricted Substances List (MRSL).
Making up the British contingent were PIL Membranes, Technical Absorbents and Reliant Machinery. PIL showcased its PU membranes, including hydrophilic, PTEE and bi-component technologies mainly for military and protective applications, where there is a newly grown demand in China, according to the company.
Also taking part for the first time in the European Zone is Italy's Toscana Spazzole Industriali, a supplier of brushes for needle punching machinery. Inside the Toscana Spazzole booth, Ramina, a manufacturer of machines and turn-key plants for the nonwovens industry, was promoting its products for the automotive, building, medical and filtration industries.
Asian pavilions
The two Asian pavilions from Korea and Taiwan boasted some of the region's most innovative suppliers. On show at the Korea pavilion were technical textiles integrated with ICT elements, high visibility fabrics using LED lights and optical fibres for safety clothing. According to the Korea Textile Trade Association, Korean technical textiles industry is expected to see annual growth of around 5% for the foreseeable future, fuelled by the price competitive advantage Korea has in supplying aramid, carbon and PPS fibres.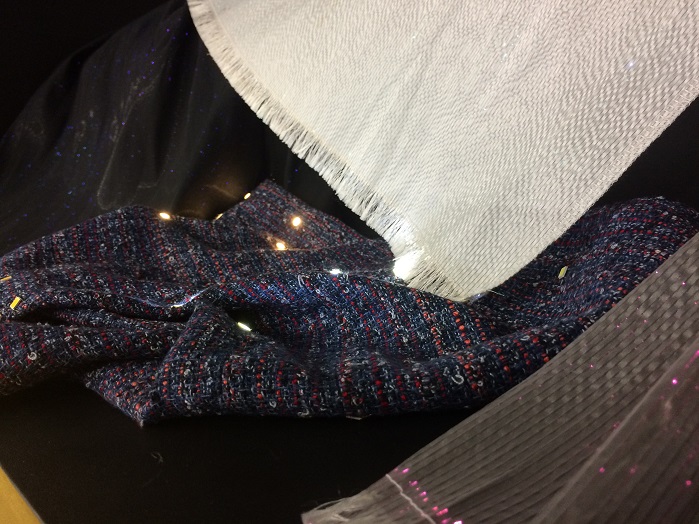 Taiwan's pavilion presented both technical textiles and nonwovens suppliers, including Mytrex Health Technologies, which presented melt-blown nonwoven fabrics with sound absorption properties for automobile interiors. According to the Taiwan Technical Textiles Association, China continues to open its market to foreign capital to increase its R&D and technical capabilities, with demand for technical textiles and nonwovens rapidly growing.