Technology/Machinery
Groz-Beckert awarded Kyocera Environment Prize
Groz-Beckert has been awarded the third place prize at the Kyocera Environment Prize for its Litespeed system which helps save energy and resources in high speed circular knitting by optimizing needle geometries. Prize giving took place on 29 April at the Economics Day organised by the Federal Association of Medium-Sized Companies e.V., Regional Association of North Rhine-Westphalia, in the World Conference Centre at the former German Bundestag in Bonn. Backgroun

12th May 2010
Innovation in Textiles
|
Groz-Beckert has been awarded the third place prize at the Kyocera Environment Prize for its Litespeed system which helps save energy and resources in high speed circular knitting by optimizing needle geometries. Prize giving took place on 29 April at the Economics Day organised by the Federal Association of Medium-Sized Companies e.V., Regional Association of North Rhine-Westphalia, in the World Conference Centre at the former German Bundestag in Bonn.
Background and history of the project
"Until a raw material has passed through the entire textile value-added chain and can be sold as an end-product, it has to undergo numerous production-technological and logistical processes. All of these generate enormous amounts of CO2 emissions. This is why the textiles industry is usually seen in a critical light by the general public with regard to its environmental record. Production plants for mass-produced articles in Asia are frequently the first to spring to mind," a spokesperson for Groz-Beckert said.
"Quite different examples exist, however: companies and production processes which, far from ignoring the concept of sustainability, are assuming a pioneering role. This is precisely where Groz-Beckert comes in: the company assumes responsibility for the ecologically sound production and functionality of its products. Alongside a continuous increase in productivity, the saving of energy and further resources is now playing a primary role."
"One striking example of this is the knitting process and its inherent potential. Efforts were made at Groz-Beckert back in 1994 to optimise the popular meander-shaped low-profile needle. The aim was to limit the steadily increasing energy consumption of circular knitting machines. At this time the maximum temperature limit for a stable overall system had been reached, so that further performance increases were impossible," the company added.
This was synonymous with the start of the first development phase of the litespeed needle – as an innovation for high-speed circular knitting machines. The central findings here were that lower needle weight and lower friction could sharply improve the performance and especially the power consumption of the circular knitting machine, whereby friction had a far greater influence.
Continuous further development
After reduction of the shank height and thickness, adaptation of the overall geometry of the shank and intensive modifications and validations, much was discovered regarding the influence of blade geometry on running properties. A validated laboratory test stand was used and the newly designed needle type was patented in August 1998 as EP 0906 980 B1. One year later, further optimisation continued until series readiness. With the help of sound analyses and field tests, the full efficiency potential was extracted. Parallel to this, a series-ready production process was established.
Impressive value added
Market rollout for the litespeed needles for high-speed circular knitting machines began in 2004, and has been very successful ever since, Groz-Beckert says. According to the company, the circular knitting method is responsible for one fifth of the production of all textiles worldwide. Apart from clothing this increasingly includes technical applications in sectors such as the automotive industry or medical technology.
Thanks to years of research and development, combined with consistent optimisation of details, the litespeed needle is now distinctive for its special, highly-developed needle geometry. On the basis of a shank thickness that has been partially reduced in relation to standard needles, it has an impressively low weight and reduced friction in the needle trick, Groz Beckert says.
"This means that less energy is required for needle movement. On the knitting machine, the results speak for themselves: up to 20 percent lower temperature, less energy consumption, reduced oil requirement and less oil fogging. Wear and tear at the needle crank and at the cam parts has been reduced, and the needle oil is now better distributed. Last but not least, higher rpm have resulted in sharp performance increases and far less emissions in relation to standard needles," the company adds.
"The positive effect on the environment was successfully and impressively proven in various tests. If all high-speed circular knitting machines worldwide were fitted with litespeed needles, the result would be an annual reduction in CO2 emissions of over 457 million tonnes," Groz-Beckert says.
Further experiments in the Groz-Beckert Technikum and also as part of the AiF research project 13765N "Basic examinations to describe the reciprocal influences of conditioners and needle oils on the contamination of knitwear made from different fibrous materials" headed by ITV Denkendorf – made further benefit clear. It could be proven that the use of litespeed needles transferred less needle oil to the fabric than with conventional needles. As a result of this, during subsequent refinement, wastewater contamination from needle-oil pollution of fabrics for washing was successfully reduced.
Groz-Beckert says that the award at the Kyocera Environment Prize proves yet again that it is assuming exemplary economic, ecological and social responsibility. In his speech of thanks at the award ceremony Dr. Thomas Kühl, board member of Groz-Beckert KG and also responsible for the Sewing and Nonwovens divisions, emphasised the great importance and continuous development of Groz-Beckert, the globally present supplier of accessories for textile machine construction and the textile industry:
"The company began by manufacturing knitting-machine needles. Today the product portfolio reflects the full diversity of the textile world. With more than 70,000 types of product, we support all textile production methods and, together with mechanical engineering, are focusing increasingly on entire systems."
This is accompanied by a commitment to sustainability, which is steadily gaining in importance throughout the company. For Groz-Beckert, the award worth 20,000 Euros, represents not only recognition of services already rendered but also an obligation to pursue further activities in the future that are aimed at saving resources and conserving the environment.
About Groz-Beckert
Groz-Beckert is a family-owned company and the world's leading producer and provider of precision components, systems and services for the most diverse textile production methods. The company's portfolio comprises products and solutions for knitting, weaving, felting, tufting and sewing. Groz-Beckert currently has a workforce of around 6300 employees and is present in over 150 markets worldwide.
Production companies in Germany, the Czech Republic, Portugal, India, China and from summer 2010 in Vietnam round off the company's global orientation. This summer Groz-Beckert will be opening its new Technology and Development Centre (TEZ) at its headquarters in Albstadt, South Germany. Covering an area of over 25,000 square metres it represents an ideal platform to realize visionary developments, also with an eye to sustainability. More information is available online at www.groz-beckert.com
About Kyocera Mita and the Environment Prize
Kyocera Mita is one of the world's leading providers of economically efficient output solutions. The product range comprises network-capability ECO laser printers, digital copiers and multifunctional systems as well as efficient solutions in the output sector. KYOCERA MITA is a one-hundred-percent-owned subsidiary of the Japanese KYOCERA Corporation, which has a global workforce of almost 60,000 employees.
This is the second time that KYOCERA, together with its partners, the Bundesverband mittelständische Wirtschaft (BVMW) and the Bundesdeutschen Arbeitskreis für Umweltbewusstes Management e.V. (B.A.U.M.) has awarded the KYOCERA Environment Prize. With total prize money of 100,000 Euros, this is one of the most valuable environmental conservation competitions in Germany.
The main objective of the initiative is to encourage CO2-reducing projects in medium-sized companies and to sponsor them on a sustainable basis. The high ranking jury for 2010, presided over by the former German environment minister Professor Klaus Töpfer, presented awards not only to Groz-Beckert but also to technology firm SkySails GmbH and to Lichtblick AG. The Jury Prize went to Aloys Wobben, the head of ENERCON GmbH, in recognition of his environmental commitment and his pioneering achievements in the wind energy sector.
Top right
In relation to standard needles, the litespeed needle represents improved oil distribution and reduced oil blockage
The blade geometry of the litespeed needle with partially reduced needle shank thickness
The litespeed needle for high-speed circular knitting machines
Prize giving at the Economics Day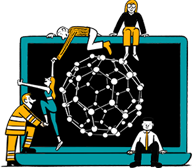 Business intelligence for the fibre, textiles and apparel industries: technologies, innovations, markets, investments, trade policy, sourcing, strategy...
Find out more