IFAI Advanced Textiles 09
Second edition of US-European Networking Event - April 2-3, 2009, Brussels, Belgium Building on the success of the first edition of Advanced Textiles in June 2008, and the endorsement of the international audience, Industrial Fabrics Association International (IFAI) and IHOFMANN announce a second conference to be held 2-3 April 2009 in Brussels, Belgium. As the headquarters of the European Union, NATO, various stakeholder institutions and international large-scal

17th January 2009
Innovation in Textiles
| Brussels, Belgium
Second edition of US-European Networking Event - April 2-3, 2009, Brussels, Belgium
Building on the success of the first edition of Advanced Textiles in June 2008, and the endorsement of the international audience, Industrial Fabrics Association International (IFAI) and IHOFMANN announce a second conference to be held 2-3 April 2009 in Brussels, Belgium.
As the headquarters of the European Union, NATO, various stakeholder institutions and international large-scale enterprises, Brussels combines business, politics and cultural tradition and offers a pleasant meeting platform to invite European and US chief executives to discuss challenges and bottlenecks of technical textiles innovation in the next five to ten years. The venue of the conference will be the contemporary Hotel Bloom, a truly modern conference facility in central Brussels.
Stephen M. Warner, president of Industrial Fabrics Association International said: "As I promised last June, we took up the suggestion from our participating audience and the supporting associations to hold the Advanced Textiles conference on a regular basis and to develop it further. We have a promising roadmap for 2009. Especially in these difficult world economic times, we want to back our industry by offering this innovative communication platform to foster bilateral business cooperation and valuable knowledge exchange."
The Germany based agency IHOFMANN, specialized in technical textiles and building up strategic alliances has been assigned again to develop the concept and manage the conference. Dr. Isa Hofmann, CEO IHOFMANN said: "The concept is to provide decision makers in the complex value chain of technical textiles the occasion to meet on a professional platform, getting inspiration from user-oriented management lectures and combine the study of new technology challenges and applications with face to face contacts and networking opportunities in a pleasant environment. In these periods overshadowed by the anxiety of financial debacles it is even more important to bank on the power of cross-sector innovation that is setting the pace towards more competitiveness, growth and prosperity."
The premiere of IFAI's Advanced Textiles '08 took place in the cultural hub of Berlin, Germany, 12-13 June 2008, and gathered a US-European business forum of 100 attendees from 14 countries. The conference was conceived as a US-European entrepreneur networking event to foster bilateral and cross-sectoral cooperation, strategic partnerships and innovation projects and was supposed to create new business opportunities.
Based on the success of that event the Advanced Textiles '09 will again be geared to provide a networking platform for industry representatives from the various application areas of technical textiles from clothing and home fashion to medical, automotive, protective via the application in architecture.
According to Hartwig Birszwilks, Director Sales and Marketing Julius Heywinkel GmbH, Germany, who was a speaker at this year's conference: "I was impressed by the cross-sectoral audience coming from various application areas of technical textiles and the tremendous interest in our double wall fabrics. It was an extremely interesting symposium for those who belong to the community of technical textiles."
Qaizar Hassonjee, Chief Development & Commercial officer, Textronics Inc., speaker in session 5, said: "I very much acclaim the initiative of IFAI and IHOFMANN to create this US-European Networking Conference. During the two days in Berlin I got a broad overview of the initiatives in technical textiles and also had promising talks and contacts that were further developed since the conference. These discussions will help us enhance our ability to bring new products with e-textile technologies to the market."
Dr. David Raitt, Senior technology transfer officer, ESA - European Space Agency's Technology Transfer and Promotion Office, also speaker in session 5, said: "ESA's Technology Transfer Programme has funded developments of several interesting textile-related projects in the past - creating prototypes which ended in various space technologies and materials. The IFAI conference was extremely useful in that it enabled us to discuss space technologies and how they could be used in the advanced textile area, as well as drawing our attention to new materials and advances that could be of potential benefit for space applications. The cross-fertilization of ideas and the mix of companies and subsequent interaction with experts from different fields is extremely beneficial."
For Advanced Textiles '09, IFAI will partner with Brussels-based Fedustria, the Belgian association for the textile, wood and furniture industries. Several other associations and government institutions already confirmed their willingness to actively support once more the second edition of this conference.
IHOFMANN is a privately-owned communication, PR and consultancy agency based in Wiesbaden with an international team of experts in the areas fashion, technical textiles, lifestyle and healthcare.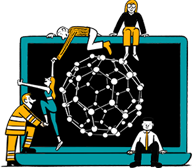 Business intelligence for the fibre, textiles and apparel industries: technologies, innovations, markets, investments, trade policy, sourcing, strategy...
Find out more