Exhibitions and Conferences
ITMA 2011 expands offer with spotlight on innovation
CEMATEX, the European Committee of Textile Machinery Manufacturers, says that ITMA 2011, to be held in Barcelona, Spain from 22 to 29 September 2011, will be the world's most comprehensive, one-stop platform for textile and garment makers. Online application for exhibition space will be available from 30 November 2009. Â Showcasing the entire value chain from spinning to garment making, textile processing, technical textiles, logistics and distribution, the exhibit

26th November 2009
Innovation in Textiles
|

CEMATEX, the European Committee of Textile Machinery Manufacturers, says that ITMA 2011, to be held in Barcelona, Spain from 22 to 29 September 2011, will be the world's most comprehensive, one-stop platform for textile and garment makers. Online application for exhibition space will be available from 30 November 2009.
Showcasing the entire value chain from spinning to garment making, textile processing, technical textiles, logistics and distribution, the exhibition marks the 60th anniversary of the ITMA brand. CEMATEX says that the slogan of the 2011 show, 'Master the Art of Innovation', underscores its commitment to help the world's textile industry innovate and face up to the challenges of globalisation and sustainability. The event offers manufacturers a vital solutions platform that will keep the industry focused and competitive, the organisations says.
In line with this value proposition, the ITMA 2011 Index of Products has been revised to include the very latest technologies, CEMATEX says. The garment making and textile processing sector has been expanded to sharpen its focus, and embroidery and braiding equipment now have their own separate sectors.
Highlights to draw global community
To encourage the global textile and garment making community to the event, CEMATEX, together with their organiser MP International, are planning a series of highlights, some of which will be launched as part of ITMA's 60th anniversary celebrations.
Among these are special ITMA awards which will pay tribute to top industry achievers, an enhanced Research & Education Pavilion, an ITMA Forum and targeted workshops for knowledge sharing and networking. Detailed information will be released in due course.
Ms Sylvia Phua, Chief Executive Officer of MP International said: "Moving forward, ITMA as the driver for industry innovation will be transformed into the international business hub of the textile and garment industry.
"We are supporting the vision with a range of initiatives that will bring both buyers and sellers to this leading-edge platform. For a start, we are working very closely with our industry partners, especially trade associations worldwide."
Besides the nine member associations of CEMATEX, based in Belgium (Symatex), France (UCMTF), Germany (VDMA), Italy (ACIMIT), Netherlands (GTM), Spain (AMEC AMTEX), Sweden (TMAS), Switzerland (Swissmem) and the United Kingdom (BTMA), MP International is collaborating with a number of textile machinery associations in key exhibitor markets to garner participation at ITMA 2011, including the American Textile Machinery Association (ATMA), China Textile Machinery Association (CTMA), Japan Textile Machinery Association (JTMA), Korea Textile Machinery Association (KOTMA) and Taiwan Association of Machinery Industry (TAMI).
In addition, dedicated sales agents have been appointed in other key countries including India, South America and Turkey to assist companies with their participation.
Modern, easily accessible venue
ITMA 2011 will take place at the modern Fira de Barcelona Gran Vía fairground, a complex of over 240,000 square metres. The exhibition facility features state-of-the-art trade fair technology in all its eight interconnected exhibition halls. Easily accessible, the fairground is just minutes away from the city centre and only 10 kilometres from Barcelona's international airport, which has links to destinations all over the world.
Mr Johann-Philipp Dilo, President of the Dilo Group Germany enthused "ITMA is quite simply a 'one-stop-shop' which attracts leading buyers from all over the world and from all areas of the textile industry, including the important non-wovens and technical textiles sector.
"We are looking forward to the next show in 2011, and believe that the city of Barcelona will also attract a great number of buyers from the established and rapidly emerging markets of Central and South America because of its historical, linguistic and cultural links with these countries."
The ITMA 2011 exhibition is expected to cover over 100,000 square metres net and attract more than 1,400 international exhibiting companies. Online application for space opens on 30 November 2009. To apply for space or for more information on the exhibition, please visit www.itma.com .
Considered the 'Olympics' of textile machinery exhibitions, ITMA has a 60-year history of displaying the latest in machinery and software for every single work process of textile making. It is held every four years in Europe.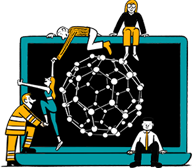 Business intelligence for the fibre, textiles and apparel industries: technologies, innovations, markets, investments, trade policy, sourcing, strategy...
Find out more