Exhibitions and Conferences
Technical products need technical sewing threads
To learn about how different types of sewing thread can help in the manufacture of specialist technical textile products, as well as with more conventional textiles, readers should visit Texprocess 2013, from 10-13 June and Techtextil 2013, from 11-13 June. The two exhibitions are being held concurrently at Messe Frankfurt in Frankfurt, Germany.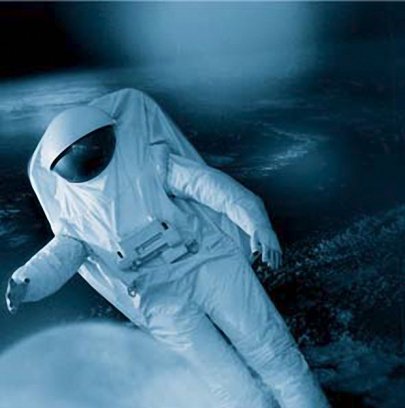 10th January 2013
Innovation in Textiles
| Frankfurt
To learn about how different types of sewing thread can help in the manufacture of specialist technical textile products, as well as with more conventional textiles, readers should visit Texprocess 2013, from 10-13 June and Techtextil 2013, from 11-13 June. The two exhibitions are being held concurrently at Messe Frankfurt in Frankfurt, Germany.
Most of the important international manufacturers of sewing threads will present their innovations at Texprocess in hall 5 and at Techtextil mostly in hall 4.1. At Texprocess 2011, there were 326 exhibitors from 40 countries and around 17,000 trade and professional visitors from 87 countries came to this leading international trade fair.
Exhibitions organiser Messe Frankfurt has provided the following overview of technical sewing threads to whet your appetite for the two leading exhibitions.
Challenge for sewing thread manufacturers
"Technical textiles are gaining in importance all over the world and their uses are becoming ever more diverse. This has resulted in a challenge to the sewing thread manufactures as they require specialist threads, not only to sew these materials together, but to produce a seam which will not break down in the extreme environments some of these textiles are used in.
Nomex, Kevlar, PTFE, nylon 6, nylon 6.6, high tenacity polyester, glass and carbon fibre, stainless steel and silica are all used within the development of specialised technical sewing threads to address the needs of different end products.
Technical sewing threads need to be flexible, functional, cost-efficient, durable and environmentally sensitive, in manufacturing as well as in application and end use. As will be seen at Texprocess 2013 and Techtextil 2013, the main international sewing thread manufacturers offer technical thread ranges which address some of this functionality, whereas others are produced by much smaller specialist technical thread and material manufacturers.
Threads for protective work wear
Polytetrafluoroethylene (PTFE) is a high-molecular-weight compound consisting wholly of carbon and fluorine and has one of the lowest coefficients of friction against any solid. It is also unaffected by acids, alkaline solutions and cleaning chemicals and has a high temperature resistance, rendering it extremely useful for the manufacture of many technical sewing threads, either on its own or as a lubricant. When these threads incorporate pigments which are highly resistant to light, the thread becomes extremely colour fast and highly ultra violet resistant.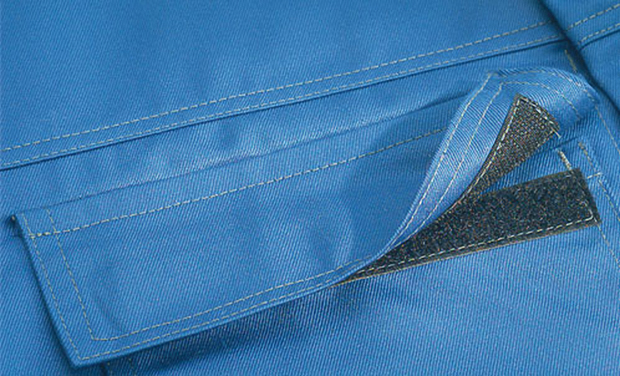 Different types of aramid fibres can be used in either spun form or as continuous filament to produce heat-resistant, non-melting, self-extinguishing sewing threads with low flammability. In their different form, uses include heat-protective-work wear, work gloves, aircraft seats, airbags, bullet proof jackets and lumbermen wear.
Specialised polyester/carbon threads can be used for dispersion and conduction of electrical or static charges for clean room garments or safety clothing in the fields of microelectronics, pharmaceuticals, etc. Polyehterketone polymer threads have been developed for chemical protective clothing whereas threads made from continuous filament polyamide, combined with stainless steel, are conductive.
Chemical resistance for packaging and filtration
High Tenacity Polypropylene is a thermoplastic polymer which has been developed into a continuous filament UV stabilised thread which has excellent chemical resistance and does not absorb water. It is therefore ideal for manufacturing woven sacks for the packaging of fertilizers, chemicals, food stuffs and similar products. It is also rot-proof and resistant to mildew attacks, chemical gases and micro-organisms which make it suitable for the filtration and FIBC (Flexible Intermediate Bulk Container) industries.
Kevlar thread is three times stronger than nylon and is heat resistant operating at temperatures up to 300°C without serious degradation. Manufactured from 100% acrylic nitrile, Homo-Polymer Acrylic thread has greater strength and less shrinkage than ordinary acrylics and polyesters. It has superior resistance to chemicals in both acid and alkali solutions, and a good resistance to wet and dry heat. These properties make the thread valuable in the field of industrial materials such as filter fabrics for dry air, felt and dry canvas fabrics for paper manufacturers, and wet filter fabrics for many industries, including chemicals, refining petroleum and mining.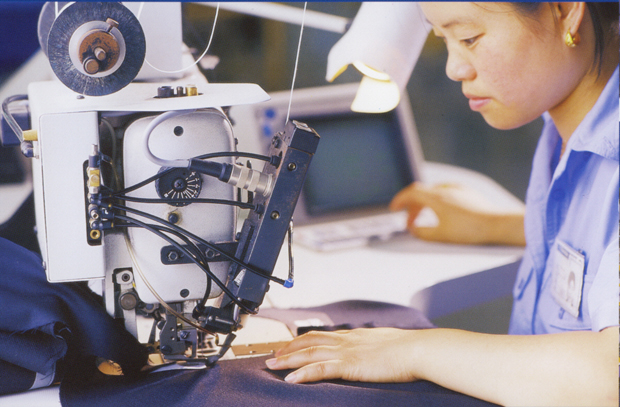 Continuous filament high tenacity polyester thread is used for high speed sewing of automotive trims, seat belts, slings and webbings, life jackets, filtration and outdoor goods whilst anti-static polyester thread was initially developed for use in the flexible intermediate bulk container industry, though it has a growing reputation in an ever increasing number of environments where static electricity is a problem and is proving to be particularly successful in specialist clothing applications.
Airbags, seat belts…
Continuous filament high tenacity polyamide 6.6 tends to produce exceptionally strong and durable seams. It is recommended for sports and general footwear, leather goods, air bags, seat belts and trims, inflatables, soft luggage and upholstery.
High temperature resistance
A high temperature fire retardant steel core thread has been developed with a polyester jacketing which protects sewing machine thread guides from being grooved by metal to metal contact, whilst macro-molecular lubrication provides smooth passage of thread. The steel core will withstand high heat and temperature cycling up to temperatures of 1000 °C, maintain integrity after long-term exposure to outside elements and is resistant to mildew, ageing, alkalis, chlorides, and many other liquids and gases. Applications include aerospace, industrial, commercial, and marine industries where extremely high temperature resistance is required.
Sewing threads made from strong, continuous alumina-boria-silica fibres and rayon provide a solution to sewing ceramic and other high-temperature fabrics.
For sewing situations requiring heat resistance between 555°C to 815°C several companies offer thread made of glass fibre. For higher temperatures these may be twisted with stainless steel. These may be coated with PTFE for lubrication. Also for high temperature applications Kevlar/Steel and Twaron/Steel sewing threads containing a steel core may be used. For certain high performance thermal engineering, sports surfaces and filtration, a 100% stainless steel sewing thread is available but only used where the higher performance characteristics are a necessity due to the high comparative cost.
Zylon PBO fibres and filaments are characterized by a high tensile strength (10 times higher than steel), excellent impact energy absorption (twice that of para-aramid), and exceptional thermal stability and have been incorporated into specialised thread. Carbon fibres are also used for specific end uses.
Sewing threads made from 70% alumina and 30% silica have a melting point up to of 1880 °C and are useable up to around 1300-1400 °C whilst a high purity, very fine continuous filament pure fused silica is used to produce one of the strongest and most temperature and chemically resistant threads on the market today. A PTFE coating process encapsulating this thread enhances resistance to the build-up of contaminants and repels attack by most acids and alkalis whilst improving handling characteristics and abrasion resistance. The thread will not support combustion and will resist temperatures up to 1093 °C."
Techtextil
Techtextil, International Trade Fair for Technical Textiles and Nonwovens, will be held concurrently with Texprocess from 11 to 13 June 2013. Around 1,200 exhibitors from 50 countries and some 25,000 visitors from 96 countries make up the world's foremost marketing and sourcing platform for users and manufacturers of technical textiles and nonwovens with their wide range of potential applications in the technical field.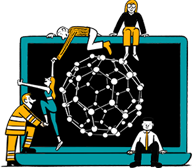 Business intelligence for the fibre, textiles and apparel industries: technologies, innovations, markets, investments, trade policy, sourcing, strategy...
Find out more