Industry Talk
Techtextil North America 2011 Preview
Leading technical textile and nonwovens companies from around the world will showcase the latest products and advanced technologies in textiles, nonwovens and materials during Techtextil North America 2011 this month in Las Vegas, Nevada. Techtextil North America represents all vertical aspects of the technical textile industry from research and development, through raw materials and production processes, to conversion, further treatment and recycling. Some of the highli

2nd March 2011
Innovation in Textiles
| Las Vegas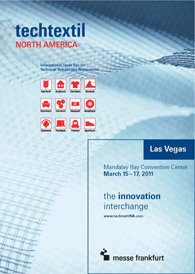 Leading technical textile and nonwovens companies from around the world will showcase the latest products and advanced technologies in textiles, nonwovens and materials during Techtextil North America 2011 this month in Las Vegas, Nevada.
Techtextil North America represents all vertical aspects of the technical textile industry from research and development, through raw materials and production processes, to conversion, further treatment and recycling.
Some of the highlights of the 2011 exhibit hall will include:
American Truetzschler, Inc.
Truetzschler Nonwovens will be represented by American Truetzschler at the event. Truetzschler Nonwovens is focusing its development work more and more on the reduction of energy costs. A modern line becomes even more efficient not only through an optimal line layout and by using highly efficient drive systems but in particular by additional energy recovery measures. Truetzschler Nonwovens will present concepts for the reduction of the energy consumption in their own production lines.
BioPlastics Co.
BioPlastics will introduce new "light" coated webbing and coated rope. The leading global manufacturer of coated webbing and assemblies will showcase its coated webbing products. Visitors to BioPlastic"Ÿs booth will see samples and demonstrations of how their BioThane webbing can be used in any market where durability, clean ability and weather-resistance is important.
Consolidated Fibers
Consolidated Fibers is the exclusive supplier of Basofil staple fibre in North America. Basofil is an advanced technology melamine fibre designed to blend with commodity and synergistic fibres. Basofil offers permanent and non-toxic protection allowing the development of FR, high temperature and UV stable products that are safe, compliant and competitively priced.
DI 2 Technologies LLC
DI 2 Technologies is pleased to announce the addition of Yantai New Star@ Meta-Aramid and Kolon Heracron@ Para-Aramid Staple to its full line of performance fibres. New developments from the company include New Star@ Easy Dye Meta-Aramid which allows deeper shades and better wash fastness while preserving fabric properties.
Dilo Group
Recent machine concepts from Dilo Group companies DiloTemafa, DiloSpinnbau and DiloMachines will be promoted at the event with an emphasis on new equipment components to improve web quality and uniformity applicable to all bonding processes. A featured product is the Multifeed card feeder from DiloSpinnbau which is equipped with a twin fibre delivery system in the upper chamber which provides a more regular fibre flow.
Dr. Karl Wetekam & Co. KG
In 2010 Wetekam Monofilaments U.S. Inc., in Spartanburg, S.C., was set up as a sales representative for the North American market and has been importing Wetelen Monofile and Wetelen Monograss from Germany since January 2010. The production of monofilaments in the U.S. will start – as a joint venture with The Quantum Group, Inc. – in the 2nd quarter of 2011. "Flexibiltiy for our Customers knows no Limits! Challenge Us!" is the Wetekam slogan on both sides of the Atlantic Ocean.
FibeRio Technology Corporation
FibeRio Technology Corporation will be introducing its nanofiber production equipment utilizing Forcespinning Technology to the textile industry at the event. The company recently launched their Cyclone L 1000 series laboratory equipment to enable research and development in Forcespun nanofiber enhanced textiles. Forcespinning is an award winning technology that utilizes centrifugal force to spin nanofibers, nanowires, and nanorods.
Fil Man Made Group S.r.l.
Fil Man Made Group (FMMG) has achieved the aim of producing quality yarns using the most advanced cotton-type spinning technologies available on the market such as Ring, OE, Compact, Siro and Core Spun, both 100% and in blends amounting to over 200 products. In order to keep up with the new market requirements, FMMG is involved in ongoing research and experiments for developing new yarns and applications, together with fibre and machinery manufacturers, as well as leading customers.
Heathcoat Fabrics Ltd
Heathcoat Fabrics Ltd has an international reputation for innovation and quality, supplying a range of apparel and high technology technical textiles to diverse markets around the world. New to their range is a drop stitch fabric, "CEFtec"Ÿ (Controlled Expansion Fabric) which is a unique, technical constructed piece of fabric with two faces and an inner filament sector.
Kuraray America, Inc.
Kuraray America, Inc. will showcase its new line of Tirrenina man-made non-woven materials, which offer many solutions for industrial applications. Tirrenina's distinct physical properties make it particularly suitable for liquid filtration. There are also uses for conveyor belts, polishing, and wringer rolls of all types. Tirrenina is customizable and can be produced in several thicknesses and with or without a polyurethane finish. The revolutionary Tirrenina manufacturing process limits the use of solvents and polyurethane, making it one of the more eco-friendly man-made material options available.
MAGEBA Textilmaschinen GmbH & Co. KG
Visitors to the Mageba booth will see on display machines for the entire production cycle of narrow fabrics, most of them being shown in full operation in the R&D section. The range comprises of warping machines, narrow fabric needle and shuttle looms, dyeing and finishing ranges, press and friction calendars, measuring and making up machines, inspection machines and special purpose bespoke products.
Maschinenfabrik Herbert Meyer GmbH
Visitors to the Meyer booth will find experienced staff who will demonstrate a wide range of materials which can be processed on Meyer's machines. One focus is the flatbed-laminating machines to bond top and bottom skins to a core material. Typically thermoplastic adhesive is used to bond the core to the skins. The core material can be foam or honey combs out of sheet metal or thermoplastic.
Mesa Laminated Fabrics
Mesa Laminated Fabrics will be featuring MesaThane 1909-UFR material at the event. MesaThane 1909-UFR has been approved by the Mine Safety and Health Administration (MSHA) for use in mining applications. 1909-UFR features flame resistance and self-extinguishing characteristics. This laminated fabric meets the following fire resistance requirements: MIL P-58102, NFPA 701 Large Scale and MSHA approval. In addition to flame resistance, 1909 features outstanding flexibility and abrasion resistance.
NDC
NDC will be showcasing their Infrared Engineering's NW710 Infrared Sensor. This unique non-nuclear sensor is used by a significant number of Spunbond Nonwoven producers to successfully measure both weight and residual moisture of their Polypropylene Spunbond and SMS Nonwoven fabrics. The NW710 sensor is designed to a performance standard that meets or exceeds the exacting requirements for the measurement of basis weight and trace moisture levels in spunbond nonwoven applications.
PyroTex GmbH
PyroTex is a newly found company which has developed an inherent flame resistant fibre for protective and safety textiles which is marketed under the name of PyroTex. It can be blended with other fibres, natural and synthetic, and processed on all known spinning systems or converted into a nonwoven fleece as it can be dyed with reactive and metal-complex dyes.
Q-Lab Corporation
Q-Lab is proud to announce the release of a new Water Re-Purification System. This system significantly reduces the cost of running the QUV"Ÿs optional water spray system by reusing the water that normally would go down the drain. Designed to fit under a single QUV/spray unit, the system re-purifies and re-circulates the spray water, saving hundreds or even thousands of litres of expensive purified water every day.
RKW US, Inc.
RKW US introduced two new products to the market in February 2011 – Aptra Elements and RoofTopGuard Craftsman. The products will further differentiate the company's strength in the roofing underlayment and construction industries. Aptra Elements is a metallic, highly reflective roof underlayment that reduces home and building energy costs. RoofTopGuard Craftsman is based on RKW"Ÿs premier RoofTopGuard II technology but weighs 40 percent less, and installs faster and easier than 30 lb. felt paper.
Schenk Vision
Schenk Vision will highlight EasyMeasure, a new web monitoring option. This is a new approach to monitoring web process parameters for the nonwovens industry typically done with mechanically scanning gauges. EasyMeasure provides nonwoven manufacturers with an innovative option for: quality control, data collection, web marking, and process control.
S.I.S.A. S.p.A.
S.I.S.A. has re-invented synthetic leather. Years of research have brought S.I.S.A. to create a versatile material suitable for the most demanding customers. Innovation, resistance, dimensional stability, lightness, breathability, water repellency and eco friendly features make SISA PERFORMA an ideal range of products whereas high performances are required. The articles belonging to the PRO range show a high degree of breathability, a solvent free surface finish as well as an excellent lightness in weight: 30% less than same thickness genuine leather.
Texel, (a division of ADS Inc.)
Texel will be featuring ThermoFit can be thermoformed into almost any three-dimensional shape. One application of ThermoFit is in the structural components of motor vehicle parts to create quieter automobiles. What used to be thought of as an uncontrollable source of unwanted sound is now fair game in the quest to reduce interior noise. With ThermoFit, nothing has been left unexplored when it comes to finding new ways to ensure a quieter driving experience.
The eight edition of Techtextil North America, the only trade show in the Americas dedicated to technical textiles and nonwovens will be held March 15 – 17, 2011 at the Mandalay Bay Convention Center in Las Vegas, Nevada.
Techtextil North America
Mandalay Bay Convention Center
Las Vegas, NV USA
March 15 – 17, 2011
For the more information including a full exhibitor list, visit www.techtextilNA.com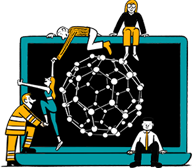 Business intelligence for the fibre, textiles and apparel industries: technologies, innovations, markets, investments, trade policy, sourcing, strategy...
Find out more