Exhibitions and Conferences
Techtextil North America Symposium 2011 Call for papers
The 2011 edition of the Techtextil North America Symposium will be held in conjunction with the western edition of Techtextil North America, March 15-17, 2011 at the Mandalay Bay Convention Center in Las Vegas. The symposium will parallel the theme of, "The Innovation Interchange", and will run concurrent with the exhibition. This new region for Techtextil North America will further offer speakers a potentially new audience and exposure to new industries in the
2nd August 2010
Innovation in Textiles
| Las Vegas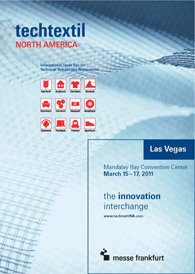 The 2011 edition of the Techtextil North America Symposium will be held in conjunction with the western edition of Techtextil North America, March 15-17, 2011 at the Mandalay Bay Convention Center in Las Vegas.
The symposium will parallel the theme of, "The Innovation Interchange", and will run concurrent with the exhibition.
This new region for Techtextil North America will further offer speakers a potentially new audience and exposure to new industries in the western part of North America. A large number of those attending the Symposium in Las Vegas in 2009 had not previously attended Techtextil North America.
As in 2009, the timing of the 2011 edition will be such that participants will have ample time to visit the exhibition floor. Multi-track sessions will feature technical and application specific presentations relevant to the industry and the symposium theme. Previous Techtextil North American Symposia have received high praise and acclaim and according to organisers Masse Frankfurt, has quickly developed into the 'must attend', most comprehensive event for the technical textile industry.
Papers are especially solicited in the following areas:
1) Extreme fibres and fabrics for special applications
2) Composites – involving high performance fibres and fabrics
3) New standards of protection
4) Automotive and aerospace applications
5) Smart/intelligent nonwovens and other materials
6) Nanotechnology in technical textiles – potential and real world applications
7) Future materials – what, when, and how technical textiles will impact industry
8) Medical – special applications
9) Agricultural applications
Consideration will be given preference to those papers relating to:
1) New development and technology in all fibre/fabric forms
2) Innovations in materials, processes, or manufacturing techniques
3) Developing products and applications for technical textiles
4) Technical textiles research that may impact the industry
5) Markets (existing or emerging)
6) Industry issues (trade and others), trends, etc.
Though open to papers for a wide variety of markets, the organisers anticipate Techtextil North America 2011 will have emphasis on automotive, aerospace, medical, agriculture, packaging, protection, and performance materials.
Selection of the papers to be presented will be based on abstracts of 300-500 words. Authors should emphasize new and significant findings/developments. Poster presentations related to technical textiles are also welcome. Abstracts must be received before August 15, 2010 at the following address:
William C. (Bill) Smith, Symposium Director, Techtextil Symposium North America, 110 Shady Creek Court, Greer, SC, 29650, USA.
Phone: 864-292-8121, Fax: 1-888-752-1169, email: [email protected], www.techtextilNA.com
Though electronic submission (email) is preferred, the abstract may also be sent by fax.
The abstract must include the name, company or other affiliation, telephone number, fax number, e-mail address and mailing address of the speaker and/or the person to whom correspondence about the abstract should be directed. Presentations should have only one speaker though co-authors may be listed.
The speaker for the paper should be underlined and will receive a complimentary conference registration. Authors will be notified of acceptance of their abstracts by September 15, 2010. Authors of accepted papers are required to provide a full paper/presentation by February 15, 2011. Conference Proceedings will be provided in .pdf format on a USB drive provided to all registrants. Authors are responsible for securing any necessary copyright or other clearance for all abstracts, papers and other materials submitted.
All presentations should be planned to run approximately 25 minutes plus 5 minutes for questions. While full papers are preferred, extensive outlines and PowerPoint presentations will be considered for inclusion on the CD. Final copies of the PowerPoint presentation for projection will be required by March 1. The .ppt versions will not be otherwise distributed. A book of extended abstracts and a program on a USB drive will be provided all attendees onsite.
For questions, please contact Bill Smith at 864-292-8121 or [email protected]
Techtextil North America Symposium, March 15-17, 2011
Mandalay Bay Convention Center, Las Vegas, Nevada, USA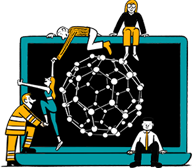 Business intelligence for the fibre, textiles and apparel industries: technologies, innovations, markets, investments, trade policy, sourcing, strategy...
Find out more