Interview
All natural odour control for textiles
Tom Ellefsen, CEO of Life Material Technologies shared how the company is incorporating an all-natural, plant-based treatment into textiles.
20th June 2018
Innovation in Textiles
| Washington, DC
The innovative towels were recently displayed in partnership with Cotton USA at Heimtextil in Frankfurt and Intertextile Shanghai. Check out Tom's interview to learn more about this innovation and the benefit it brings to consumers – and the environment.
Cotton USA: Can you tell us about your textile technology?
Tom Ellefsen: Our particular innovation is an odour control for cotton. There have been odour control technologies available for quite some time, the mechanism is to stop the growth of odour-causing bacteria. This type of odour treatment usually uses heavy metals like silver, zinc, sometimes copper and other chemicals.
Consumers love the odour control, they don't like bacteria, but they also do not like chemicals. So, our innovation is to use natural plant extracts from peppermint plants. Peppermint oil and peppermint extract is very strongly anti-bacterial, and we've managed to put this into a durable binder system that can be applied via exhaust finishing to cottons. It can also be applied via pad finishing to things like bed sheets.
And once it's applied on the textiles, the textiles will resist the growth of micro-organisms that cause bad smell. And this anti-odour effect lasts for up to 50 laundries, which is on par with the best-of-the-best in the marketplace.
So, we have a product that's very effective, very durable and also at a very reasonable cost. And, best of all, it's a green product that helps preserve our earth a little bit.
CU: What's the biggest takeaway for this innovative technology?
TE: I think the key takeaway is that we've taken a very popular feature, which is odour-control, and we have removed the negative, which is chemicals. So, now we have odour control by using plant extracts, so it's green and it's odour control at the same time.
CU: What would you say is its most important benefit to consumers?
TE: Well, consumers don't really like smelly clothing, so that's an immediate benefit. But a little bit more, a deeper type benefit, is that if you have a towel that doesn't start to smell musty, you will maybe put it on the rack for an extra day or two, and the advantage of that goes quite deeper to less detergent use, less water use, so it's an indirect benefit for us as consumers – because we don't want to use more detergents and water – and also a big benefit for the environment.
CU: Can you tell us about your partnership with Cotton USA?
TE: This is the first time we've worked with Cotton USA to promote our technology. And being in a group of innovative textile technologies like this has been very fascinating. We've learned a lot about other ancillary technologies that are good for cotton. That's been very valuable.
And, of course Cotton USA has amazing contacts all over the world, and these contacts have been brought in front of us, and we've established some fantastic relationships with potential customers. So, I think it's working really well for us, and I hope it is also working equally well for Cotton USA.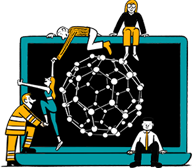 Business intelligence for the fibre, textiles and apparel industries: technologies, innovations, markets, investments, trade policy, sourcing, strategy...
Find out more