Opinion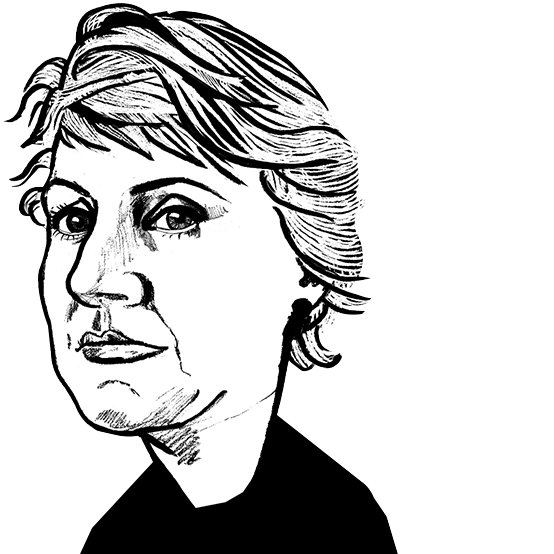 An examination of the e-textile patent landscape
Marie O'Mahony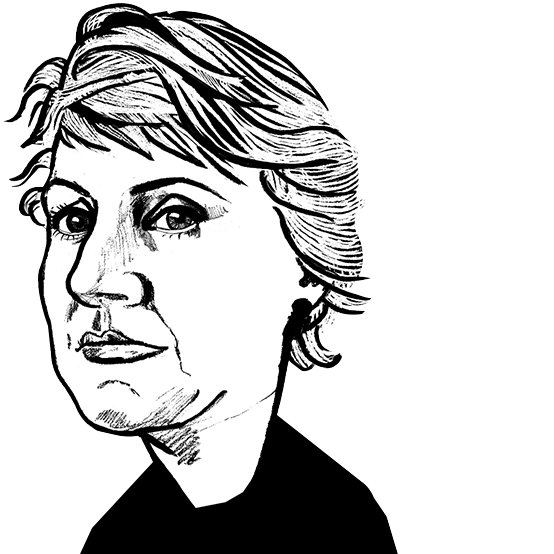 An examination of the e-textile patent landscape does not yield a definitive answer on the state of the industry, so that what is of more interest are the questions that it brings us to...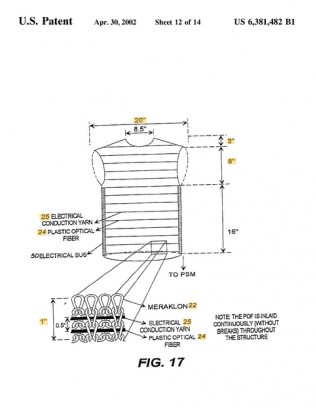 22nd June 2020
Marie O'Mahony
| Toronto
An examination of the e-textile patent landscape does not yield a definitive answer on the state of the industry, so that what is of more interest are the questions that it brings us to. Specifically, around what exactly is meant by e-textiles, what is the purpose of patents and when we do look at patents what is the most fruitful approach to take.
Drawing submitted as part of Sarvint's patent application for Fabric or Garment with Integrated Flexible Information Infrastructure. Photo Ref: US Patent.
What exactly is meant by e-textiles?
At first glance this seems self-evident and in defining e-textiles we can take any number of variants on the bringing together of electronics and textiles to create smart or responsive materials. In his latest report 'E-textiles and Smart Clothing 2020-2030: Technology, Markets and Players' James Hayward, Principal Analyst at IDTechEx questions whether traditional notions that electronics are hard and bulky, while textiles are soft, and wearable are a guarantee that an e-textile product will be successful.
Interviewed for this article, Hayward expresses the view that for the overwhelming majority of textile companies e-textiles are not an option. This is reflected in an online search of the leading companies taking out patents in the sector. Type in the term "e-textile" to Google patents and the top assignees come from sectors such as electronics, software, medical device, energy and sportswear.
Textile companies such as Sensoria and Myant also have a presence, but feature less prominently than other non-textile companies such as Philip Morris USA and Xyleco in recent filings of e-textile patents.
This prompts a number of questions. The first is if textile companies are not driving patent applications in the sector how pivotal is their role? The second question is what is driving e-textile applications and what (if anything) does this mean for the way that the industry develops? Particularly important for this readership is what is the stakeholder role for the textile industry in this landscape.
What can e-textile patents tell us?
James Hayward sees little connection between the size of patent portfolios and e-textile product revenue, at least thus far. Like many industries, in addition to patents coming direct from the sector itself, a considerable number of patents filed are by patent portfolios and these can be spread across many related and unrelated fields.
Adding to the complexity is factoring in regional differences in the general attitude towards Intellectual Property (IP), with North America typically being the most protective and litigious, with Asia at the opposite end of the spectrum and Europe somewhere in the middle, according to Hayward.
Looking for the pivotal moment we can see 2015 as a turning point in North America with a knock-on effect on the rest of the world. In January of that year Sarvint Technologies Inc filed a lawsuit against a number of brands including adidas, Ralph Lauren Corp and Sensoria. Their claim was against perceived infringement of U.S. Patent No. 6,381,482 (2002), Fabric or Garment with Integrated Flexible Information Infrastructure, and U.S. Patent No. 6,970,731 (2005), A Novel Fabric-Based Sensor for Monitoring Vital Signs. Although Sarvint ultimately lost to Sensoria in 2017, the action sent shock waves through the industry driving it to become more protective of its IP in a bid to avoid a repeat of the episode.
One of the most enlightening aspects of the patent application can often be the list of patent citations. This can provide a great snapshot of what and who has gone before, mapping out a nested network if you like, that can extend to applications and markets.
Take for example Myant Inc's Systems and Methods for Sensory Platform Interconnection U.S. Patent Application No. 20200144777A1. Included in its citations are the Swiss company Sefar AG's Wiring Board and Method of Manufacturing the Same European Patent Office No. EP1722614B1 for a flexible printed circuit board, as well as TE Connectivity Group's Interconnect and Termination Methodology for e-textiles U.S. Patent No. 20120071039A1. This shows a reach way beyond textiles for wearables and indicates the strongly cross-disciplinary nature of the knowledge and technology base. Textiles is certainly a strong aspect, but a deeper dive is needed in order to ascertain where the source of novelty lies.
How should we look at patents?
Returning to the beginning of this article and my search for e-textiles in Google patents (or equally any other patent search engine), the term alone is not enough to yield useful information. Add the term 'sensor' and we find that Nike Inc have filed an application for an Electronically Controlled Bladder Assembly U.S. Patent No. 20200163411A1 for use in footwear.
Add a further term 'manufacture' and we find a Wearable Therapeutic Device U.S. Patent No. 20200155826A1 from Zoll Medical Corp. The device is an external defibrillator designed to monitor electrical heart activity. The two examples are random and not connected, but they point to the vastness of the sector and the need for a more refined search process.
James Hayward sees manufacturing and processes as key to the commercialisation of e-textiles. This makes sense considering it can take a decade or longer to go from a patent being granted and full production at scale.
One approach is to look at patents that are more indirectly associated with the sector, such as those that might facilitate manufacturing to scale or offer a solution to a particularly time intensive aspect of the production process. A deeper dive into colour for instance can yield novel processes such as Inkjet Composition and processes for Stretchable Substrates U.S. Patent No. 20200157371A1 from Kornit Digital Ltd. The process offers a means of generating an elastic film for generating printed colour images in a time and energy efficient manner.
Are data analytics enough to yield meaningful results in a patent search for e-textiles? I would argue not quite – yet. Introduce a person that is knowledgeable in the sector to the process and they will start to map the patent search differently. There is a strong argument for combining the two methods creating a symbiotic relationship in the search and analysis.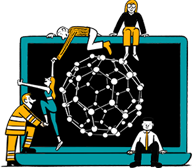 Business intelligence for the fibre, textiles and apparel industries: technologies, innovations, markets, investments, trade policy, sourcing, strategy...
Find out more