Fibres/​Yarns/​Fabrics
Argar's Avirtex fabrics certified ISO18184 after 30 washes at 60°
Argar is also launching a range of AVirTex antiviral and antibacterial face masks to help in the fight against COVID-19.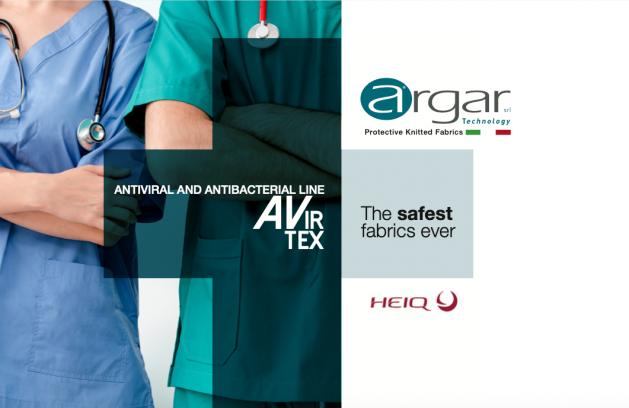 16th November 2020
Innovation in Textiles
| Magnago (MI), Italy
Sponsored Editorial
Italian protective fabrics producer Argar has greatly enhanced the desirability of its popular AVirTex antiviral and antibacterial fabrics range. Avirtex fabrics are now certifiable to ISO18184 standard, even after 30 washes at 60°, the company reports.
"Some companies claim to have ISO18184 certification but when customers ask for certification after washes, they are not able to show certificates. By comparison, our AVirTex fabrics are now certified ISO18184 even after 30 washes at 60°, with excellent results," Argar says.
"Demand for AVirTex fabrics is continuing to grow significantly, and we have closed important contracts with South Korea and other clients worldwide to supply AVirTex fabrics," the company adds.
Eco-friendly AVirTex face masks
Argar is also launching a range of AVirTex antiviral and antibacterial face masks to help in the fight against COVID-19. "Moreover," Argar articulates, "we are launching AVirTex face masks, with Viroblock hangtags and labels, customised."
The fabric used to manufacture the face masks can be either woven (NC5201-VRW) or knitted (J3106-VRW), and Argar says the masks are both double layer and ergonomic. AVirTex antiviral and antibacterial face masks are also eco-friendly because they can be reused and are not disposable, and they are certified ISO18184 after 30 washes.
Fabrics for gowns and other PPE
Argar has also introduced a new AVirTex antiviral and antibacterial fabric which is suitable for hospital gowns and other personal protective equipment (PPE) applications. AVirTex
NC5205-VRW is a 65% polyester/ 35% cotton blends, which weighs in at 125gsm. The fabrics is now among Argar's AVirTex top sellers.
About AVirTex fabrics
With its AVirTex line, Argar offers a range of fabrics characterized by innovative technology combining an antiviral and antibacterial action that kills viruses and bacteria present on the fabric ensuring effective protection against their transmission and preventing the contamination and a water repellent treatment that prevents the passage of droplets through the fabric (droplets, being among the main causes of transmission of viruses and bacteria). The combination of these two finishes guarantees safer protection compared to standard fabrics used for the same purpose, Argar says.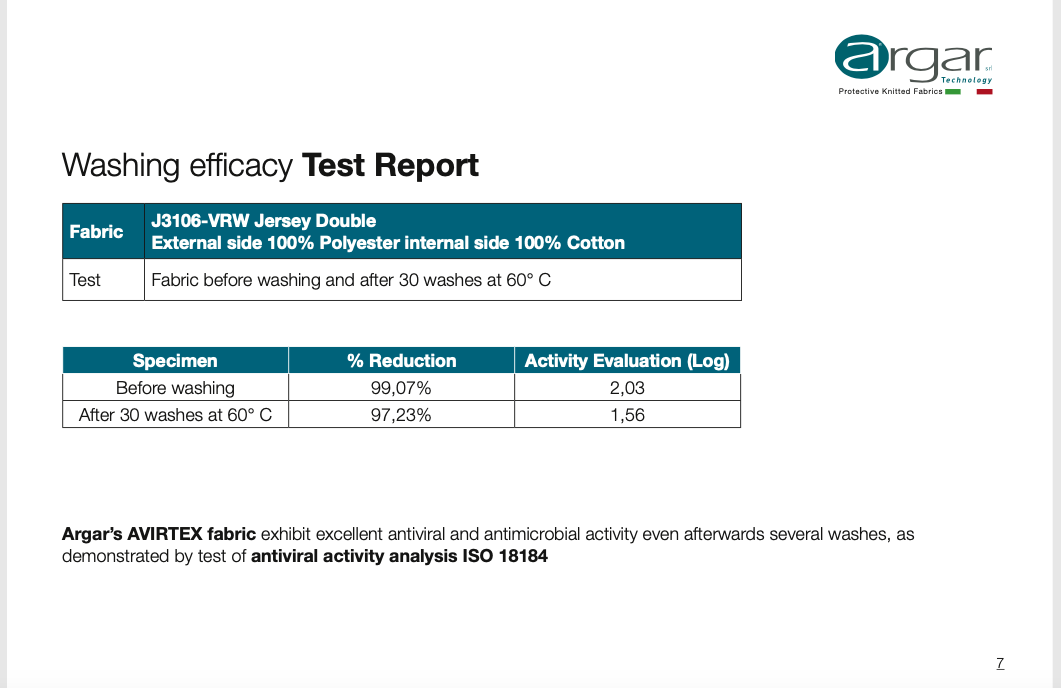 HeiQ Viroblock
"Argar, in collaboration with HeiQ, a leading Swiss company in the formulation of chemical products for textile industry, has developed an antiviral and antibacterial treatment for its articles using the innovative HeiQ Viroblock formula," Argar explains.
"HeiQ Viroblock NPJ03 is among the first textile technologies in the world to be proven effective against SARS-CoV-2 in the laboratory. Tests conducted by Swiss textile innovator HeiQ with the Peter Doherty Institute for Infection and Immunity in Melbourne, Australia (Doherty Institute) showed that treated fabric achieved 99.99% reduction of the virus," HeiQ says.
Additional benefits
According to Argar, the advantages of Argar AVIRTEX fabrics, treated with antiviral and antibacterial finishes, are:
-They vanquish 99% of viruses between 2 and 5 minutes
-They reduce the risk and speed of contamination and retransmission of pathogens from tissues
-They prevent the passage of droplets (among the main causes of transmission of viruses and bacteria) through the fabric thanks to the water repellent treatment
-They prevent the tissues from becoming host surfaces for the spread of viruses and bacteria because they slow down their growth and persistence
Further information
Argar Srl
Tel. +39 0331 350137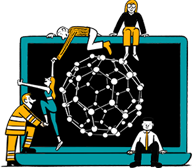 Business intelligence for the fibre, textiles and apparel industries: technologies, innovations, markets, investments, trade policy, sourcing, strategy...
Find out more