The 2016 Outdoor Retailer Summer Market, held August 3 – 6 in Salt Lake City, hosted some 29,000 attendees who came to discover the latest innovations from 1626 outdoor brands and suppliers. And whilst exhibitors and attendees were upbeat, there was a sense that the outdoor industry is pausing to re-evaluate in the light of a difficult winter season and subsequent retail fallout.
Concepts such as essentialism, versatility, inherent performance, collaboration, and sustainability inspired outdoor apparel for Spring/Summer 2017, with performance textiles and technologies evolving to suit the needs of a changing consumer.
Paring down to the essentials
From trail to tavern, outdoor performance apparel is no longer geared to a specific activity. This doesn't mean that technology is passé. Case in point: Mountain Khakis added quick-dry, DWR-treated, UV-protective stretch bottoms of nylon/spandex to its lifestyle line, which also featured organic cottons and Modal.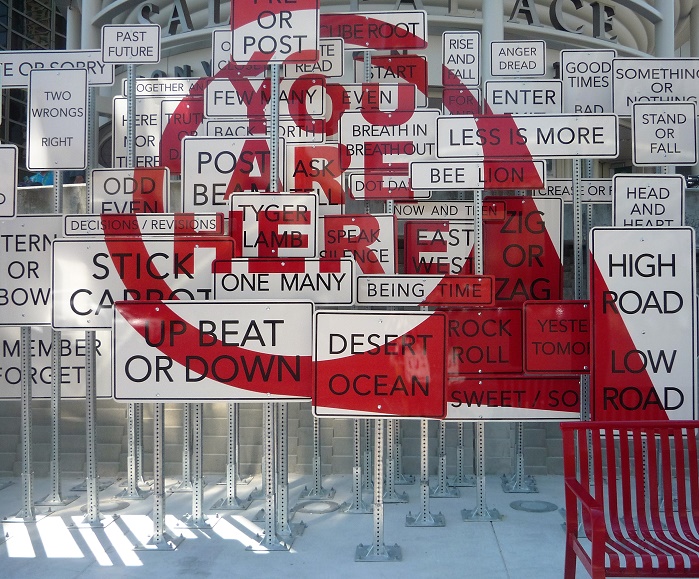 TOAD&Co's stylish Open Air collection included men's shorts in stretch woven blends with UPF 50+, moisture management, and quick-drying performance.
"Our customers dress this way," explained Jessie Curry, brand marketing specialist at eco-brand Nau. "They want pieces that are timeless and essential—and include inherent performance." At Nau, that meant super-soft knits and wovens created with TENCEL® Sun, providing a UPF rating of 30+ to 50+, depending on construction.
Securing its reputation as a modern essential, the ubiquitous yoga tight evolved to meet the more diverse challenges of the trail. The Versatrail tight from TOAD combined knit and woven fabric of recycled poly and spandex, with four-way stretch, a DWR finish, and 50+ UPF protection.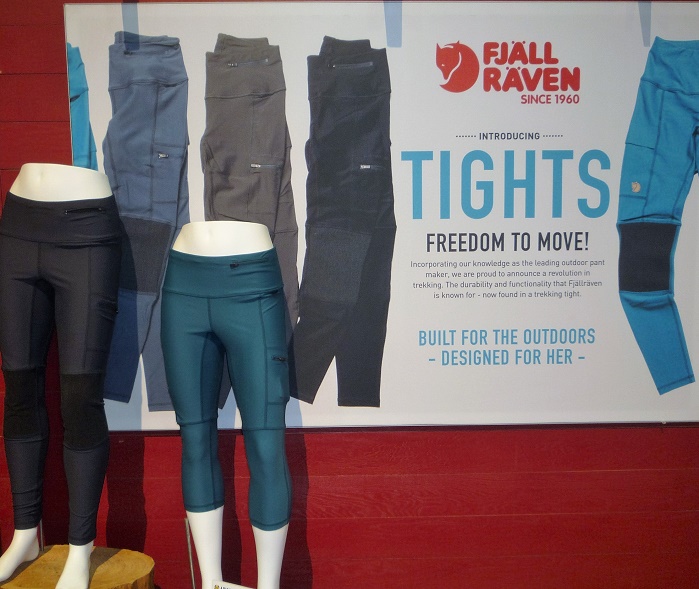 Likewise, Fjallraven's Abisko Trekking Tight mixed moisture-wicking knit fabric with high-tenacity, strategically-placed woven reinforcements. The North Face Hybrid Hiker Tight featured FlashDry XD™ fabrics, engineered for quick drying and extreme durability.
Performance denims do it all
The growing category of performance denim illustrated the depth of collaboration between textile companies and brands. At CORDURA® Brand, durable denims were engineered with elements such as stretch, thermoregulation, moisture management, or odour control, seen at brands such as Levi's, Carhartt, Mountain Hardwear, and dish & DU/ER.
Global brand and marketing director Cindy McNaull explained that "hidden science doesn't have to scream synthetic." The latest CORDURA® collaboration with Lenzing TENCEL® fibre and denim weaver Artistic Milliners resulted in a new range of denim fabrics, incorporating softness with strength.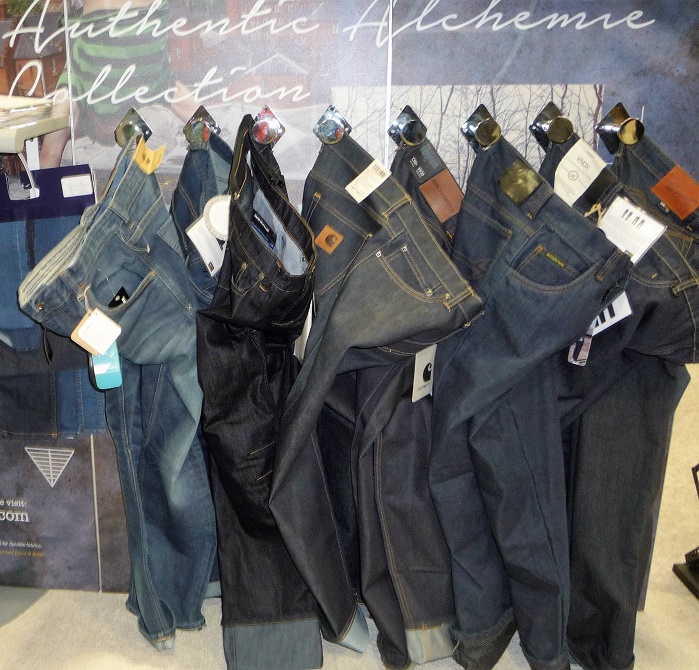 Known for its authentic American denim, Cone Mills also emphasized performance; employing fibres and technologies imparting stretch, moisture management, durability, odour control, flame resistance, or stain release, as well as sustainable options.
More versatile outerwear
Outerwear, too, combined pared-down design with inherent performance. The North Face APEX soft shell was described as "a cozy rain jacket—the jacket you didn't know that you needed." With an abrasion-resistant, waterproof exterior and a brushed, moisture-wicking liner, the jacket's "quiet technology" was relevant for hiking or town.
At adidas Outdoor, now being rebranded as adidas TERREX, the Alpha Shield Hoodie combined breathable Pertex® Equilibrium on the chest with a layer of Polartec® Alpha insulation, and a stretch woven back. Account manager Loren Gwartney-Gibbs described it as "the piece you use for everything."
Built for biking yet extremely chic, Giordana's Monsoon jacket with waterproof eVent DValpine (DV=Direct Venting™) technology sported visible technology with a unique, outward facing, patterned waterproof membrane under a semi-transparent knit; along with a hidden reflective logo in the back.
Several outerwear brands incorporated PrimaLoft® Gold and Silver Active insulation into spring jackets and wind shirts, pairing the ultra-fine, water-resistant fill with highly breathable stretch shell and liner fabrics to create a comfortable micro-climate during high-aerobic activities.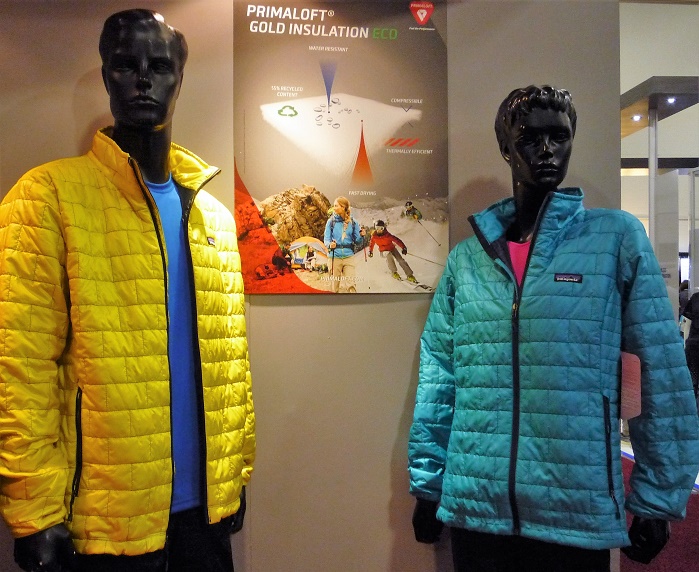 PrimaLoft insulation is also being well-received by fashion brands looking to capture some of the performance market, said Chris Goddard, president of public relations firm CGPR.
Faster, lighter, more comfortable
"Lose the weight" could be the outdoor industry mantra as many of the season's new products were ultra-light.
The Agravic Wind Shirt at adidas Outdoor weighed in at a remarkable 2.2 ounces, thanks to Pertex® Equilibrium, a double-woven moisture management fabric of nylon and polyester. The same fabric was featured in the minimal Terrex Agravic short at a mere 2.3 ounces.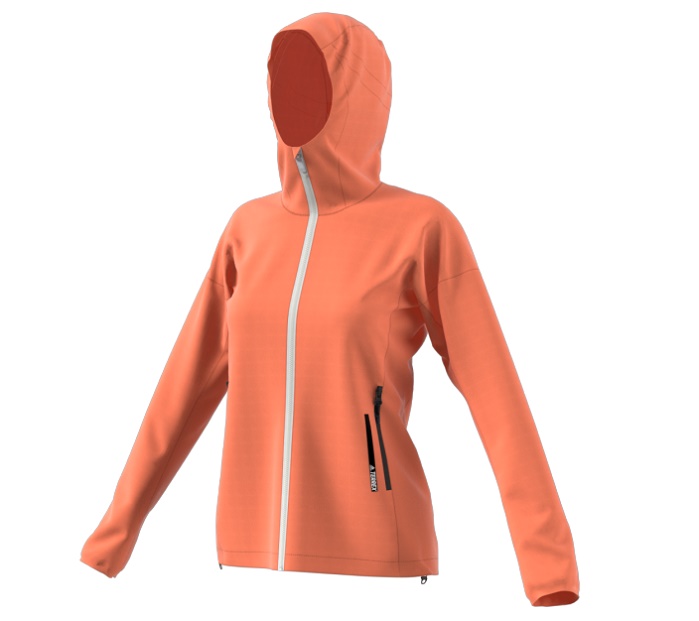 Mammut's self-pocket packable Rainspeed Ultralight version was a slim 4.8 ounces, utilising GORE-TEX® Active with Permanent Beading Surface 2-layer technology, which puts the membrane on the outside.
Launched last season, the North Face HyperAir GTX, with an average weight of 7.2 ounces, was designed for high aerobic activities, with a clean silhouette. "We've found a ton of value in working with GORE-TEX® Active with Permanent Beading Surface," commented Jenny Radloff, senior PR coordinator for TNF.
Also at the North Face, FuseForm™ technology utilised body-mapping to reduce weight and engineer performance where it's needed; seen in the FuseForm™ Progressor Fleece Hoodie with a pattern knit backer that featured two different loft zones.
New stretch materials made product lighter and cooler. Terramar's new yoga tight featured their Reflex knitted fabric, with gently compressive 360˚stretch. The moisture-wicking fabric offered 50% greater breathability and 30% faster dry time than traditional spandex fabrics.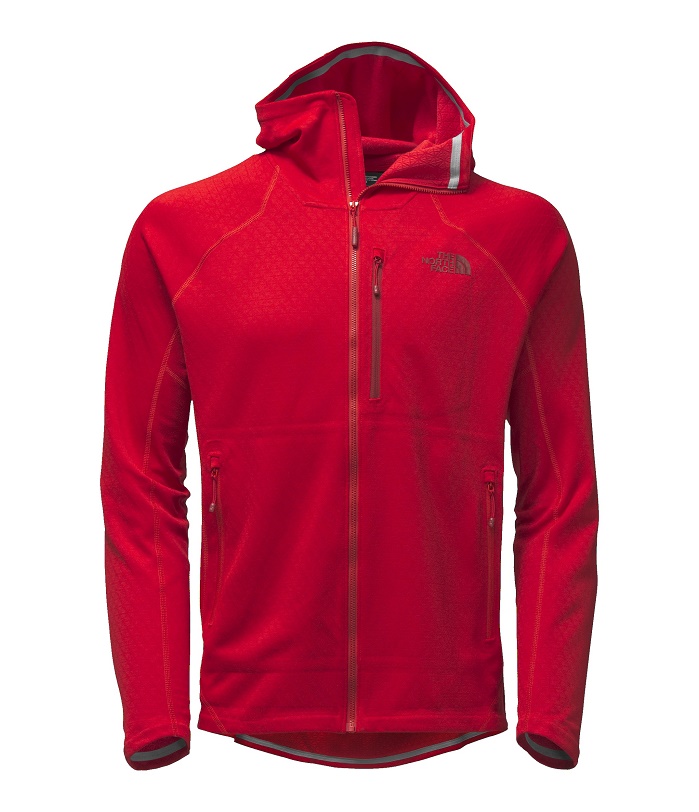 Bemis Associates, suppliers of Sewfree bonding products, eliminated excess weight with their Flowfree™ technology for bonded stretch waistbands. Unlike traditional elastic textiles, Flowfree™ materials won't retain moisture; and the bonded stretch waistbands have proven to be up to 21% lighter and dry up to 28% faster than sewn elastics.
Under Armour's new Microthread technology also incorporated a non-spandex stretch fibre, reducing weight whilst improving dry time.
"The market is asking for non-spandex stretch," commented Jay Hertwig, VP sales, product development & marketing for Unifi. The yarn supplier offered a number of stretch options, including Repreve® recycled polyester, under its Reflexx® umbrella.
Refreshing the lifestyle category
There's no question that the influx of "hybrid" apparel is being driven by consumers' desire to do more with less. But if you are going from peak to pub, a little odour control might be called for.
Microban's Fresh Bar gave OR attendees the opportunity to "smell the difference" in fabrics reeking of foot odour, with and without Microban odour control technologies. The company provides a variety of odour-control solutions which are optimised to suit the individual customer and fabric.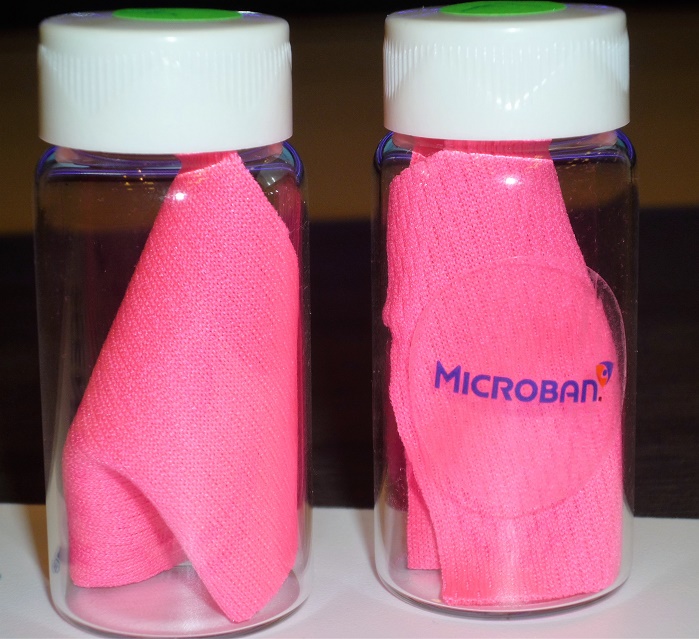 Microban recently relaunched its Global Textiles Division, and is committed to obtaining bluesign approval for its textile portfolio including Aegis, Excalibur, Scentry and SilverShield.
Synthetic yarn producer Hyosung updated its portfolio of odour-neutralising options with the addition of creora® Fresh spandex, which joined its freshgear® polyester and MIPAN freshgear nylon.
Sustainability becomes a performance story
For the outdoor industry, sustainability increasingly works hand-in-hand with performance. The search for non-perfluorinated durable water repellent technologies that perform as well as non-sustainable DWRs has been Topic A amongst outdoor enthusiasts for the past few years.
While durability remains a determining parameter, several brands and technology suppliers offered well-received sustainable alternatives, including Chemours™ bio-based Teflon EcoElite™.
schoeller® introduced bio-based versions of its PFC-free ecorepel® and 3XDRY® technologies. Both Fjallraven and Nau have made the move to non-PFC DWR formulations for their weatherproof jackets.
Columbia raised the bar for Spring 2017 by creating an eco-version of its OutDry™ Extreme rainwear jacket, which employed the waterproof, breathable membrane on the outside. The OutDry™ Extreme Eco product is made from undyed, recycled polyester, reducing the energy and water used in the manufacturing process.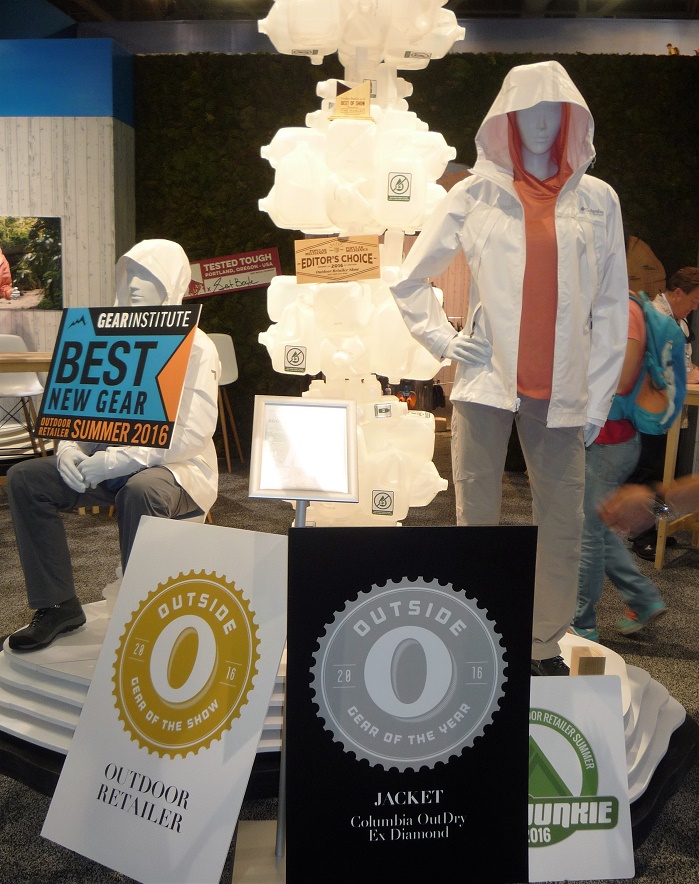 Beyond their Permanent Beading Surface, GORE-TEX® continue to innovate non-PFC DWR treatments for traditional membrane configurations. "We have identified one that we feel confident will be suitable for certain end uses," confirmed Amy Calhoun, enterprise communications at W.L. Gore & Associates.
In addition, GORE-TEX® will be offering solution-dyed and recycled textile options in their products beginning in Fall/Winter 2016 and 2017.
More sustainable insulation options have also become widely available. DownTek's waterproof down is 92% Responsible Down Standard sourced, and PFC-free. ALLIED Feather & Down has launched a recycled down called Titanium: RENU™.
Synthetic insulations are transitioning into sustainable versions, such as PrimaLoft® Gold Insulation Eco with 55% post-consumer recycled content, and Thermore® Ecodown®, derived entirely from recycled PET water bottles.
"Now the processes are better for making the fibres," explained US sales manager Joe Di Gerolamo, "so it's becoming less news, and more of a true performance story."
Performance for the whole day
Broadening the appeal of outdoor performance apparel to a more diverse customer base is one way for the industry to regain its momentum. "You don't have to be technical to enjoy the outdoors. We like to infuse our products with performance—but it's about the whole day," summed up Jen Taylor Muhr, brand manager and director of creative development at Mountain Khakis.