Fibres/​Yarns/​Fabrics
Baltex extends XD spacer fabric range
UK based specialist warp knitter Baltex, has developed a range of novel warp knitted spacer fabrics  using Coolmax Fresh FX, which have been independently tested at the University of Bolton and found to outperform other spacer fabrics in their comfort properties. The company's new Coolmax Fresh FX fabrics, which were launched at this year's Techtextil, are part of its wider XD range of 3D knitted spacer fabrics. According to Baltex, the Coolmax Fresh FX

23rd September 2009
Innovation in Textiles
| Ilkeston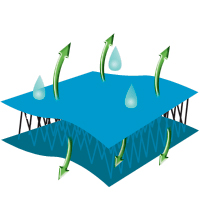 UK based specialist warp knitter Baltex, has developed a range of novel warp knitted spacer fabrics using Coolmax Fresh FX, which have been independently tested at the University of Bolton and found to outperform other spacer fabrics in their comfort properties. The company's new Coolmax Fresh FX fabrics, which were launched at this year's Techtextil, are part of its wider XD range of 3D knitted spacer fabrics.
According to Baltex, the Coolmax Fresh FX fabrics incorporate yarns which are inherently anti-bacterial and have exceptionally good wicking properties. Baltex' Managing Director, Charles Wood says: "The fabrics are currently being commercialised as linings for body armour and also for a range of products in the healthcare market where comfort properties are of the utmost importance."
Orthopaedic spacers
Baltex has also developed a novel elastomeric spacer fabric in conjunction with the University of Bolton, which is being used as a material for orthopaedic knee braces. The company has been working on the project for a number of years and has gradually improved the performance by modifying the elastic properties of the fabric. A predicted level of compression can be applied according to how much fabric is used. The new fabric sold under the Baltex XD Spacer brand promises to break new ground for elastomeric spacer materials in the healthcare market, the company says.
Advantages and applications
Baltex uses both warp and weft knitting technologies and its XD range of three dimensionally knitted fabrics, are produced on both double needle bar warp-knitting machines and circular knitting machines. Fabric thickness varies from 3mm to 20mm. The principal advantages of XD spacer fabrics are breathability, insulation, compression strength, durability, recyclability and pressure redistribution.
Spacer fabrics are being widely used for the replacement of foam and neoprene products and with the possibility of knitting different fibres on different faces many properties can be achieved. Baltex works with the University of Bolton who test the thermo physiological properties of its knitted spacer fabrics and claims it is the only company who design and produce 3D fabrics with comfort performance in mind.
XD Spacer Fabrics are being used in key applications such as cycle helmets, boot soles, composites, medical products, neoprene replacement, compression bandages, fire fighters clothing and body armour. Fibres employed are polyester, Coolmax, Nomex, Kevlar, polyamide and microfiber yarns.
Long pedigree
Baltex is a knitting company with a long pedigree in technical textiles.The company was founded in 1831 by two brothers, William and Francis Ball in Ilkeston, Derbyshire and developed novel fabrics and registered patents before winning a gold medal for innovation at the UK's Great Exhibition of 1851.
"Since that time Baltex has continued this pattern of innovation. We have developed the skills, used to produce pure silk fabrics, to process and knit some of the world's most technical fibres. It is this high degree of skill and the expertise of our workforce which have put us at the cutting edge of technical textiles," Charles Wood says.
"With a wide range of machinery and fibre types we can produce fabrics with many different characteristics, and can design and produce exactly to a customer`s specification", adds Charles Wood.
Providing innovative solutions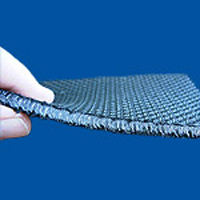 Baltex aims to become the UK's leading producer of knitted fabrics in the technical textiles sector and a key player in the European marketplace. By pursuing innovative solutions from all of its members of staff it provides a unique customer focus where every employee has an input into helping achieve its customer's requirements.
"Through high levels of customer service and great attention to detail we have proved ourselves as the favoured supplier in a number of industries. We intend to build on these strengths and whether for a new or established customer, small or large we pride ourselves in giving you a level of service you would be proud of yourselves", commented Charles Wood.
Today Baltex is continuing to innovate, keeping up with the latest developments in highly technical yarns. The company works closely with both its suppliers and customers to find new and exciting applications for materials with high performance properties.
Baltex designs, manufactures and supplies technical textiles in a number of locations in the UK and Poland. It has the facilities to provide a reliable and competitive source of supply for all your technical textiles needs across Europe and beyond. The company was a winner in the International Trade category in the Queen's Awards in 2009 and exports its goods to more than 16 countries across the EU, the USA and Far East.
Baltex has full testing facilities in its laboratory and the company is approved to ISO 9000 by Lloyd's Register Quality Assurance.
Baltex is a supplier of solutions in the following areas: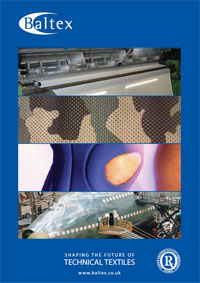 Military and Security
MOD approved supplier, IRR and FR fabrics (infra-red reflective), printed camouflage materials, spacer fabrics for body armour
Aerospace
Airbus and Boeing approved fabrics for Airframe seals, EMI shielding fabrics, seating fabrics, spacer fabrics for ejector seat project
Automotive
Aramid hose fabrics, priming systems for bonding to silicone rubber, aramid, polyester, glass fabrics, high strength knits for flexible reinforcement, leading European supplier of knitted fabrics for rubber reinforcement
Composites
Knitted glass fabrics, knitted Kevlar fabrics, bleeder cloths
Industrial
Fabrics for high temperature environments, cut resistant fabrics for industry, EMI shielding fabrics for a range of industries, fabrics for coating and lamination
Healthcare
Sling fabrics, 3-dimensional spacer fabrics, anti-bacterial textiles, spacer fabrics with bacteriostatic silver yarn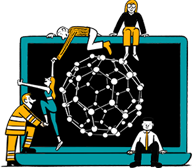 Business intelligence for the fibre, textiles and apparel industries: technologies, innovations, markets, investments, trade policy, sourcing, strategy...
Find out more