Biocrystal is a powder formed mixture that contains sixteen crystals. © Biocrystal Technologies
BC Tech company from Croatia was exhibiting at the Interzum trade fair, which was held last week in Cologne, Germany, and attracted around 75, 000 visitors. The company was exhibiting the Biocrystal innovation with its upgraded forms of application and further possibilities of implementation into various kinds of end products.
As an innovation based on 100% natural materials, Biocrystal has been developed to offer a number of benefits to the users' wellbeing, such as encouraging better energy flow, reducing fatigue, improving sleep and reducing stress.
"Considering the interest of visitors, as well as other exhibitors of the fair, Biocrystal is received as an innovation with a huge potential to offer what market today is missing – an active treatment for customers' well-being experience through an added value for everyday products," the company states.
Multiple applications
At the show, the company presented new and improved ways of Biocrystal application into the wide range of products. "With constant investments into technology, Biocrystal mixture is grinded into the particles size less the one micron, which makes the mixture easily implementable into the products such as textile fibre for yarn production," the company explains.
Other ways of Biocrystal application were also presented at this year's Interzum fair, such as foam, thread and textile with Biocrystal implemented inside, as well as semi products, such as Biocrystal SleePad and PillowPad, intended for an easy implementation into bedding products.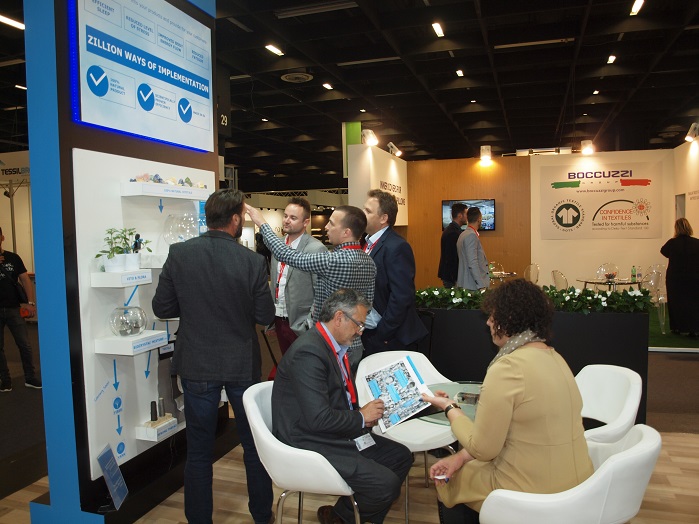 At the show, the company presented new and improved ways of Biocrystal application. © Biocrystal Technologies
Biocrystal is a powder formed mixture that contains sixteen crystals chosen according to the positive effects they produce when in contact with any organism, further improved with gold and silver threads. The smart technology is said to allow achieving the highest efficiency through a specifically determined procedure. This special procedure includes the precisely defined selection of the type of crystals, quantity and mutual ratio and balance of crystals, their grinding and mixing, and finally – addition of gold and silver for special purposes.
Interzum speakers' corner
Marking the 60th anniversary of the Interzum fair, the programme featured many special events, including the Interzum Speakers corner, where Biocrystal's story of innovation was presented by company's Sales specialist Slavica Smolic.
Ms Smolic underlined a need of producers to innovate their offer by following modern people's needs, which are related to efficient rest provided by and active treatment of everyday products. Explaining how exactly Biocrystal innovation answers those needs, she stressed out the main beneficial and proven impact of Biocrystal – improving the energy flow in the user's body.
"The innovation, which gives the opportunity to customers to renew the energy, using only natural resources, will be the ones to provide market success to many companies and many industries. The era of new products, the active product is actually starting with Biocrystal," she said.
This article is also appears in...