25th March 2015, Boothbay, ME
Biovation launches Bioarmour blood pressure cuff shield for healthcare facilities
Biovation, a technology design and manufacturing company, has launched the BioArmour Blood Pressure Cuff Shield (BPCS) to mitigate the spread of infectious pathogens from blood pressure cuffs.
This first-in-class medical product is said to offer a multi-use barrier for prevention of hospital acquired infections (HAIs). The BPCS has been designed, tested and validated over a two-year cycle, and is now available in European, Canadian and all non-US markets.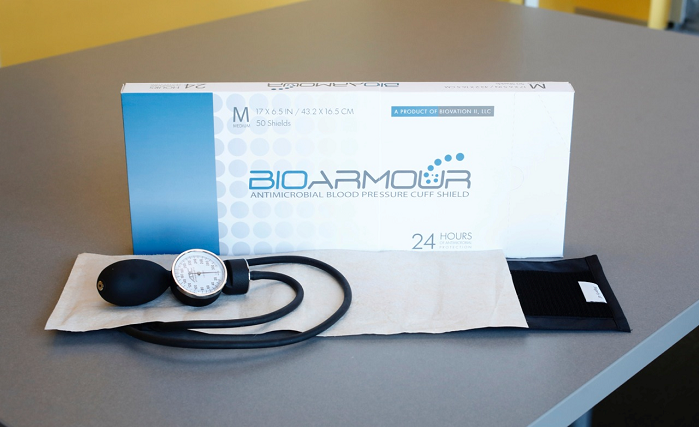 The product represents the first in a suite of infection and pathogen control products from Biovation.
Antimicrobial hygienic barrier
Biovation produces advanced, nonwoven fibre products with integrated antimicrobial properties for packaging, healthcare, specialty niche roll goods and wipes products and other specialty advanced material end products. BioArmour was developed and tested in close collaboration with a large hospital system to proactively provide solutions for the mitigation of HAIs.
The easy-to-use BioArmour BPCS is a disposable antimicrobial hygienic barrier that attaches to the blood pressure cuff to prevent direct contact of the cuff with the patient's skin.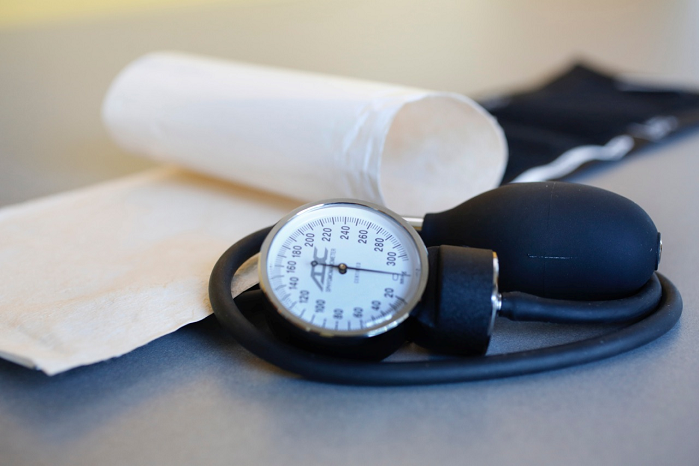 The latex-free shield material is composed of a sustainable biopolymer impregnated with antimicrobial and antifungal agents to mitigate the propagation of a wide spectrum of pathogens in controlled release fashion. Contaminant pathogens, including MRSA, VRE, c. difficile, and others, are mitigated by the blood pressure cuff shield, allowing for multi-patient use over a 24-hour period.
Proactive measure
"Our BioArmour Blood Pressure Cuff Shield is a proactive measure that helps hospitals and healthcare facilities support their infectious disease reduction and control efforts," commented Kerem Durdag, Biovation Chief Executive Officer. "It is an easy-to-use and cost-effective tool that contributes to patient health and safety. The proprietary manufacturing technology we have employed sets a benchmark for our products in our pipeline."
Sciessent partnered with Biovation to develop the antimicrobial technology. "The BioArmour Blood Pressure Cuff Shield infuses our world-class antimicrobial solutions into Biovation's biopolymer fibers to result in a safe, non-leaching product with broad-spectrum efficacy," said Lise Moloney, Director of Business Development – Healthcare, Sciessent.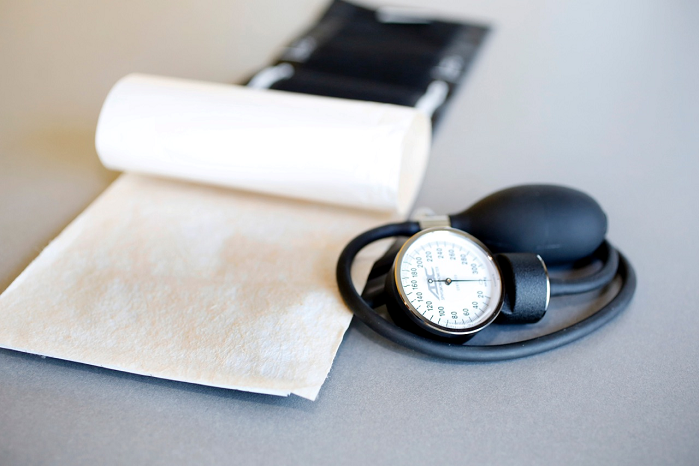 The BioArmour BPCS has been registered a CE Class I medical device marked for distribution in the EU. As a medical product, it is available for sale in Canada and all other non-US countries. It is currently undergoing testing for US FDA approval, which is anticipated to be received in late summer 2015.
Sustainable biopolymer
In lab testing, the BioArmour BPCS has been shown to kill up to 99.99% of tested microorganisms. The BPCS is manufactured with green technology and a sustainable biopolymer, with an industry-leading 74% biocontent, the company reports.
Its profile does not adversely impact accuracy of the blood pressure measurement data. And, the BPCS provides another tool for risk mitigation for hospitals and healthcare facilities with proactive measures for infectious disease reduction and control.
This cost-effective system requires no staff maintenance or disinfection between patients and is targeted for in-patient, physician offices, hospice and nursing home facilities and emergency medical services.
This article is also appears in...