10th January 2017, ADlington
Carrington looks to the next generation
Carrington, Europe's largest manufacturer of workwear fabrics, is starting the year with a host of new faces. The business says it has set out long-term plans to invest in the next generation of textile workers, rounding off 2016 with a major recruitment drive across the board.
Carrington and Pincroft, who merged in 1999, have invested in 40 new employees, marking a 20% increase in personnel at its factory in Adlington, Lancashire. Positions have been filled throughout the business; from technical roles, such as Lab Assistants and Fabric Technologists, to back office roles in customer service, sales and ICT.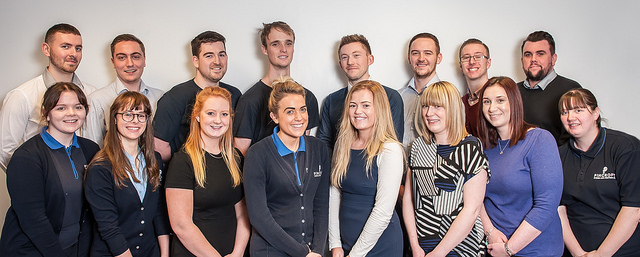 According to Carrington, the recruitment drive prepares the company for a period of strong growth. At its Lancashire site alone Carrington manufactures 28 million metres of fabric each year, with UK production continuing to increase year on year. Plans for 2017 include the launch of several new fabric ranges and the opening of a state-of-the-art laboratory facility. With these developments, the business is aiming to reach a £120m turnover by 2020.
Neil Davey, sales director at Carrington said: "It's a really exciting time for Carrington as we continue to bring never seen before techniques and innovations to market in the UK and across the globe.
"To deliver on this, we're sourcing the best possible local talent, with a combination of skills and experience. As well as bringing in highly qualified people from within the industry we're also passionate about inspiring those entering the workforce for the first time to choose a career in manufacturing. This blend of experience and raw talent will help us to deliver on our vision for growth in 2017 and beyond.''
Carrington, supplies many of the world's largest employers – spanning sectors from heavy industry to health. Formed in Lancashire, UK, in 1891, the company continues to be a leader in the industry in personal protective equipment.
arrington's current product range meets demand across four main areas: general workwear, flame retardants, waterproofing and the defence sector. It's product range includes fabrics that protect workers against: static electricity, sparks, electric arc, chemical splash, acid solutions, heat, cold, poor visibility, bacteria, mosquitos, water and much more. Operating in 71 countries worldwide, customers include: McDonalds, UPS, BUPA, TATA Steel, Shell, Coca Cola, Airbus, Jaguar Land Rover, BP, Arcelor Mittal.
This article is also appears in...