22nd November 2016, Munich
Cevotec brings virtual reality to Composites Europe
The Munich-based company Cevotec will bring a virtual reality (VR) preview of its new Fiber Patch Placement production system to the Composite Europe 2016 trade fair that takes place from 28 November – 1 December in Dusseldorf, Germany.
The company will present its latest robot-driven system SAMBA in a VR environment and guide interested visitors with special VR glasses through the production system to provide them with a unique experience of high-tech automation in the composites world.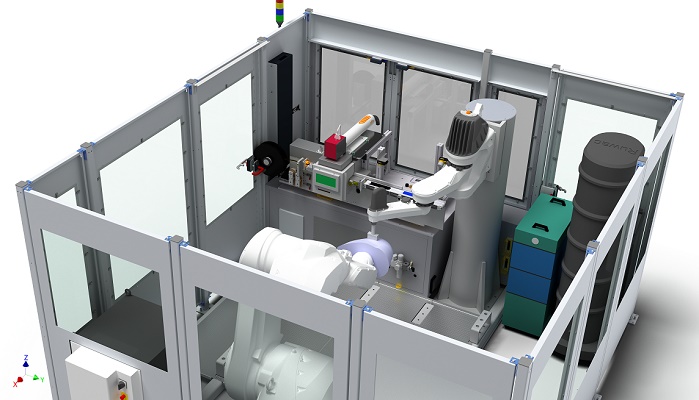 Working together with the VR experts of eachTick, the manufacturer imported a digital model of the machine and robots into a virtual reality environment. With special VR glasses, visitors gain a very detailed impression of the production process and the high-tech system.
Industry 4.0
Cevotec develops and sells production systems and software for the automated manufacturing of complex carbon fibre composites. With digital production development and additive manufacturing, Cevotec says it unites Industry 4.0 with composites.
The core element of the Cevotec technology is the robot-driven production system SAMBA, based on Fiber Patch Placement technology. This innovative process enables an additive and fully automated processing of fibre patches to 3D preforms, allowing for complexities like small radii and curved load-paths.
Currently, the team and founders Felix Michl, Thorsten Groene, and Dr Neven Majic are in the final stages of technical development, the company reports. The SAMBA system, together with the matching CAD/CAM software platform ARTIST STUDIO, will be launched at JEC World Paris in March 2017.
Cevotec
Cevotec develops and sells intelligent systems for the additive and automated production of complex carbon composites. SAMBA is Cevotec's high-tech production system for dry fibre preforming, especially for complex 3D shapes and load-path-oriented reinforcements.
With ARTIST STUDIO, the company provides the matching CAD/CAM software platform, and offers additional development services for prototypes and series products. Cevotec is a spin-off of Technische Universität München and partners with the European Space Agency ESA, Airbus Group and Baumann Automation.
This article is also appears in...