Exhibitions and Conferences
Cinte Techtextil China 2008
A specialised event for technical textiles and nonwoven products in Asia, Cinte Techtextil China, will run from 20 – 22 October 2008 at the Shanghai New International Expo Centre. The show encompasses about 300 suppliers featuring technical textiles and nonwoven products in 12 application categories. Products categorised for easy identification Technical Textile fabrics and nonwoven products buyers, visit Cinte Techtextil China to source high quality textiles for a

7th September 2008
Innovation in Textiles
| Shanghai
A specialised event for technical textiles and nonwoven products in Asia, Cinte Techtextil China, will run from 20 – 22 October 2008 at the Shanghai New International Expo Centre. The show encompasses about 300 suppliers featuring technical textiles and nonwoven products in 12 application categories.
Products categorised for easy identification
Technical Textile fabrics and nonwoven products buyers, visit Cinte Techtextil China to source high quality textiles for agriculture, civil engineering, clothing, construction, home, industry, medical, environmental protection, packaging, protection, sports and transportation. Exhibits will be organised according to the above 12 applications, allowing easy access for visitors.
The fair will feature around 300 suppliers from Austria, Belarus, Belgium, Brazil, China, France, Germany, Hong Kong, India, Italy, Japan, Korea, Switzerland, USA and UK in 11,500 square metres of trade space.
European Country Pavilions will help visitors to find relevant products with ease
To help visitors find suppliers from particular European countries with ease, more than 40 companies will be organised into special country pavilions at the show, including from Belgium, France, Germany and Italy. The following are some of the pavilion highlights:
Belgian Pavilion
Organised by Fedustria (Federation of the Belgium Textile, Wood and Furniture Industries), the pavilion will feature five suppliers, including:
Beaulieu International Group
Since 1982, Beaulieu has produced PP fibre and will present High Tenacity PP Fibres at the show.
Bekintex NV
For 25 years, Berkintex has produced metal fibres in Europe. They will feature ESD and EMI Products at the show.
Concordia Textiles
With a new factory in China, Concordia is positioned to supply international and Chinese manufacturers with operations in China. The company, which began in 1925, features personal protective equipment for work wear, including high-visibility, flame resistant, chemical retardant, anti-static waterproof and visible fabrics.
French Pavilion
Organised by UBI France, the pavilion will feature nine suppliers, including:
Cousin Trestec
Cousin Trestec manufactures rope for sports (sailing, paragliding, and mountaineering); industry and military applications.
I2S Linescan
I2S Linescan manufactures and installs surface inspection systems for quality control and manufacturing optimisation for the nonwoven market. They will present the new Flawscan Nonwoven system with new functionalities at the show.
Laroche
Established in 1824, Laroche produces textile machines and complete lines for nonwovens.
Protechnic SA
Created 33 years ago, Protechnic produces thermo adhesives in roll, web and film form. The company will highlight its products and applications at the show.
Rieter Nonwovens Systems
Has Produced nonwoven machines around the world for 24 years. Rieter will present innovations in Spunlace, Spunbond and Spunjet.
Sofileta
Integrated textile group producer Sofileta, will present their line of heat and fire protection fabrics at the show.
Research Innovation Textile Machinery
Research Innovation Textile Machinery manufactures twisting, assembling and cabling machinery for technical yarns. The company will present the machine at the show.
German Pavilion
Organised by the Federal Ministry of Economics and Technology; the Association of the German Trade Fair Industry (AUMA) and supported by the Confederation of the German Textile and Fashion Industry (Eschborn), 23 suppliers will attend including:
Andritz Küsters GmbH
A wet laid technology company, Andritz Küsters produces calender and wet finishing technologies for nonwovens. The company has expanded to include wet laid production lines and it will present this new programme at the show. Andritz Küsters has produced calendars with deflection controlled roll systems for about 50 years.
Bastian Wickeltechnik GmbH
For 35 years, Bastian Wickeltechnik has manufactured winders, unwinders, short roll winders and slitter rewinders. They will present the latest winding technology and automatic short roll winder at the show.
Dilo Maschinensystem GmbH
Dilo creates customised solutions for non-woven manufacturers, including machines, service and training. The company was started in 1902 and will feature new developed machines at the show, such as the Baltromix opening and blending line, card feeding unit type Ventofeed, Delta card, Dilo layer and Hyperlayer, Cyclopunch needle machine and Hyperlacing technology.
Fleissner GmbH
Fleissner, established in 1848, produces textile machinery for the nonwovens, textile and man-made fibre markets and will unveil a variety of new products at the show.
Georg Sahm GmbH & Co
Georg Sahm manufactures winders for technical yarns such as carbon fibres, aramides, multifilaments and more. The company, now 60 years old, will show a new automatic winder for coated yarns at the show, with new features and better performance.
Groz-Beckert
Since 1852, Groz-Beckert has been producing needles for the textile industry. At the show, the company will feature felting and structuring needles as well as the HyTec brand of jet strips for the nonwoven industry.
Hansa Industrie Mixer GmbH
Hansa has produced textile machinery for finishing for the past 35 years and will feature new mixers and associated products at the show.
Oerlikon Textiles Global Network
Three branches from the Oerlikon Textiles Global Network will also join the German pavilion. They are:
Oerlikon Barmag
Oerlikon Barmag produces components, machines as well as complete plants for the manufacturing of technical textiles. For 75 years, the company has offered meaningful solutions along the value chain to technical textile manufacturers.
At the show, Oerlikon Barmag Engineering will launch its complete system for geogrids from solid state post-condensation (SSP) and its manmade fibre solutions from a single source. Handpicked partners with extensive experience and global reputations in their respective fields supply flawlessly coordinated machines to precisely tailor the product mix and product qualities to the respective requirement.
Oerlikon Neumag
First tier nonwoven technology provider Oerlikon Neumag offers suitable technological solutions for nearly every application spectrum. The company is the only supplier on the market, which not only provides complete plants for the three main production processes - airlaid, spunlaid and carding - but also single technologies and plants for special requirements.
At the show, Oerlikon Neumag will present new technologies as a competent partner for the production of nonwovens. One focus will be carding technology with a series of improvements on FOR preparation and carding, Fehrer needle punching and Autefa in crosslapping:
Technical novelties like cards with the "Easy Opening" (simple cleaning and maintenance), crosslappers with improved profiling plus a new drive technology, needle looms with optional features like MMD (elliptic needling), optimised needle patterns, automatic needle board exchange and improved feeding systems. For producing hydrogentangled nonwovens, the Injection Card from FOR and the crosslapper from Autefa, are also the leading products with regard to speed and uniformity and are applied worldwide with all leading hydroentanglement systems.
With titers below 1.6 dtex, basis weights below 18 g/qm and a worldwide unique working width von 7 m, Oerlikon Neumag sets new benchmarks in the production of spunlaid hygiene nonwovens.
Oerlikon Saurer
Oerlikon Saurer has offered twisting and cabling solutions for technical and fancy yarns including cabling machines for tire cord for more than 60 years. At the show, Oerlikon Saurer will inform customers of developments in twisting and cabling techniques with special attention to assembly winders on the Techno Corder TC-S and to the spindle gauge of 830 mm for coarse yarn counts up to dtex 45000. The booth will also feature the TechnoCorder TC-S with precision winding for the manufacturing of compact precision packages of excellent package quality.
PFAFF Industrie Machinen AG
Pfaff is the only company of its kind offering solutions for joining materials by sewing and welding. The company was created in 1862 and will show its new generation of programmable welding machines (ultrasonic, hot-air and hot-wedge) at the show.
Italian Pavilion
Organised by the Italian Trade Commission, the pavilion will feature eight suppliers including:
Coatex s.r.l.
Coatex produces coating and laminating equipment for canvas, airbags, grinding stones, membranes and conveyors. They will introduce their products to the market at the show.
Other individual participants from around the world:
Techincal Absorbents Ltd (United Kingdom)
Techincal Absorbents Ltd will present its range of products featuring OASIS Super Absorbent Fibre (OASIS SAF), including nonwovens, yarns, woven fabrics and finished consumer products. The company produces a fibre portfolio of extremely high performance and versatile super absorbent products for a variety of markets: food packaging; hygiene; medical; dental; geotextiles; and coolant technology.
Shakespear Monofilament Ltd (United Kingdom)
Shakespear Monofilament Ltd will promote conductive fibres at the show including Resistat and Sanstat Conductive Fibres. The company offers a unique suffusion process that creates a durable, flexible conductive fibre. Shakespeare Monofilament plans to expand further into China and has produced microfilament and conductive fibres for the UK and USA markets for 10 years.
Textest AG (Switzerland)
Textest AG will feature technical textile testing equipment for quality control including various air permeability testers, hydrostatic head testers and Elmendorf tearing testers. The company, started in 1969, manufactures sophisticated and sturdy testing equipment for textiles, nonwovens, plastic sheets and paper.
Barnet (USA)
Barnet has produced the antistatic yarn Mega-stat for more than 10 years. The company will feature this brand, along with high-tenacity yarn at the show.
Companhia Providencia (Brazil)
Companhia Providencia will feature spun/spunmelt pp nonwoven products as well as nonwoven printing and laminating at the show.
Pyung Hwa San Ja Co Ltd (Korea)
Pyung Hwa San Ja Co Ltd was founded in 1995 and will feature a flame-retardant roll screen with PVC Coating Free fabric at the show. The company specialises in the production of flat woven fabrics and PVC coated fabrics for innovative technical and industrial fabrics.
CIL Textiles Pvt Ltd (India)
CIL Textiles Pvt Ltd produces high-quality technical and performance fabrics for use in industries including tent and awning, outdoor furniture, protective and military uniforms, flags, sport bags and hospital applications. The company has operated for 20 years.
Wacker (Germany)
Wacker produces chemical coating materials for fabrics and will feature their range of chemical supplies at the show.
Yantex (Yantai) Precision Textile Accessories Co Ltd (China)
Yantex (Yantai) Precision Textile Accessories Co Ltd produces knitting and felting needles.
Pinghu Zhanpeng Hot-Melt Adhesive Web & Film Co. Ltd (China)
Pinghu Zhanpeng Hot-Melt Adhesive Web & Film Co. Ltd produces hot melt adhesive web and film.
Sa Jules Tournier et Fils (France)
Sa Jules Tournier et Fils has produced technical fabrics mainly for individual protection for 20 years in France.
SMIT SpA (Italy)
SMIT SpA has a wide experience in application-oriented research and development on technical fabrics. The company is a leader in the technology of weft insertion by "dynamically controlled" flexible rapiers and is famous for its weaving machines.
Independent Machine Co. (USA)
Independent Machine Co. has provided high quality converting equipment: calendars, laminators, slitters, unwinds and traverse winding (spooling) systems for 40 years. They will present machinery and web processing systems and the new driven unwind: "Spool-Mate" at the show.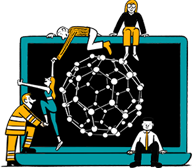 Business intelligence for the fibre, textiles and apparel industries: technologies, innovations, markets, investments, trade policy, sourcing, strategy...
Find out more