26th October 2017, Lee's Summit, MO
Eddie Bauer chooses eVent fabrics
Eddie Bauer has become the newest partner to feature eVent's patented air permeable and waterproof fabrics technology in its First Ascent line for this fall and the upcoming holiday season. Ten styles include eVent waterproof technology in jackets, pants and bibs for climbing, skiing and all mountain sports.
The line offers styles for both men and women. Eddie Bauer offers premium-quality outerwear and many other products and has more than 400 stores in the US, Canada, Germany, Japan and other international markets.
DValpine technology
The new Eddie Bauer products feature eVent DValpine technology, which is eVent's time-tested, versatile waterproof solution that balances all-weather protection with high breathability for a broad range of activities.
At the heart of DValpine technology is eVent's patented ePTFE Direct Venting membrane, which has an air permeable, microporous structure that is designed to allow body heat and moisture to instantly vent from the garment. DValpine is said to be fully waterproof and extremely effective at blocking the wind—blocking up to 99.9% at a wind speed of 30 miles per hour.
"What sets eVent apart is its instant venting capability," said Chad Kelly, Director of Sales and Product Line for eVent fabrics. "Eddie Bauer's team of world-class guides and athletes put our technology to the test and experienced its best-in-class breathability firsthand. We are pleased to invite Eddie Bauer customers to experience the eVent performance difference this winter."
Collection
Available now, the versatile BC Alpine Lite Jacket for men and women is constructed for fast and light mountain sports, from climbing to backcountry skiing. Weighing just 9.9 ounces, it features WeatherEdge Flux, powered by eVent waterproof/breathable technology.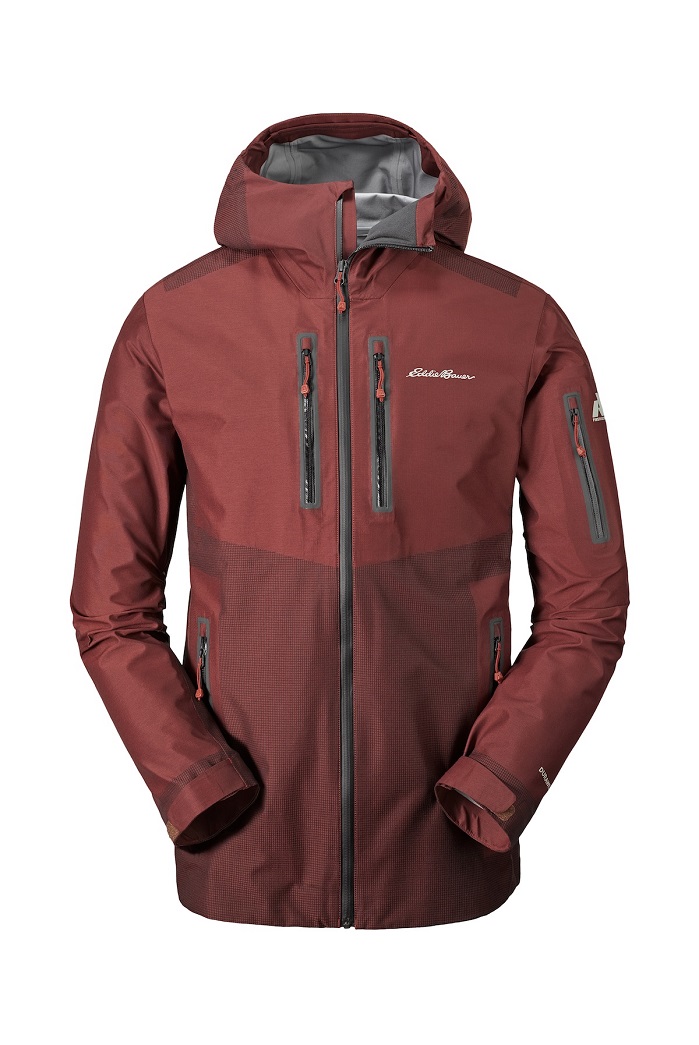 The men's and women's BC DuraWeave Alpine Jacket and Pant is constructed for ultimate breathability, durability and enhanced weather protection in wet and harsh alpine environments that Eddie Bauer's guides typically encounter. This kit integrates Cordura-reinforced DuraWeave fabric for rugged protection of high-abrasion areas such as the seat and knees. WeatherEdge Flux with eVent technology fends off weather while providing exceptional breathability.
The men's BC DuraWeave Freshline Jacket and Bib are technically advanced and highly durable for big mountain skiing and riding. Maximum breathability is paired with waterproof protection in the seam-sealed, three-layer WeatherEdge Flux laminate, which is powered by eVent. Additionally, DuraWeave fabric is engineered with Cordura nylon in high-wear areas to fend off the most punishing use and demanding terrain.
Lastly, women can choose the BC Fineline Jacket and Bib. Created and tested by world-class skiers Lynsey Dyer and Lexi DuPont in harsh winter weather all over the world, this kit boasts ski-specific features including a long fit with stretch hem that seals out the cold, a three-point adjustable hood for unobstructed vision, and a powder skirt. Fully seam-sealed, 3-layer WeatherEdge Flux fabric with eVent air permeable technology aims to deliver waterproof protection and superior breathability.
This article is also appears in...