Research/​Development/​Education
Enzymatic plan for coarse Scottish wool
Project aims to manipulate the natural decomposition of woollen fibres to make them more comfortable.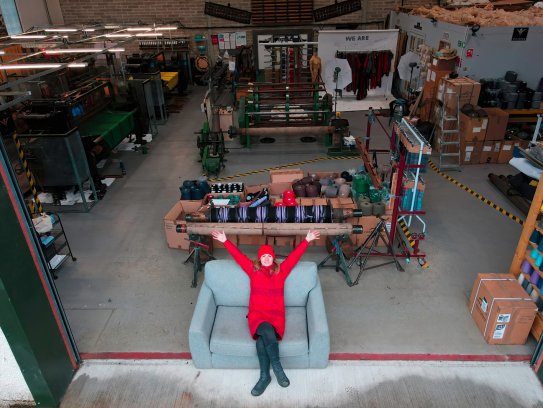 20th April 2022
Innovation in Textiles
| The Highlands, Scotland
Highlands-based Prickly Thistle Scotland has joined forces with Johnstons of Elgin, the luxury woollen mill, to explore a new process that could see the thick and coarse wool from Scottish sheep used more widely in the Scottish textiles industry.
The research project is being conducted by the Industrial Biotechnology Innovation Centre (IBioIC) and the University of Edinburgh.
As part of the feasibility study, chemistry researchers aim to use enzymes that naturally decompose wool to treat the fibres in a controlled way to achieve a thinner, softer material. Variables such as the temperature, quantity of the enzyme and length of time the fibres are treated for will be tested to deliver the best outcome.
Despite there being more than six million sheep in Scotland, it can cost farmers more to shear a sheep than the fleece is worth, and homegrown wool fleece is most likely to be used for carpeting or hard-wearing upholstery instead of clothing. In some cases, it is disposed of on the farm site.
As well as increasing the value of the natural material, the project could also have environmental benefits. The impact of fashion is widely reported – globally, less than 1% of fabrics are recycled as clothing and more than 60% are derived from petrochemicals. Less than 2% of textiles come from animal fibres and in Scotland the majority of the yarn used in luxury clothing such as cashmere and Merino wool is imported from overseas.
The Prickly Thistle mill is one of the youngest in Scotland and recently featured in the Channel 4 series, Miriam and Alan: Lost in Scotland, in which Alan Cumming and Miriam Margolyes designed their own bespoke 'Aliam' tartan.
Heritage
"Scotland has a rich heritage of textile manufacturing and at one point in the 1830s, around seven in ten workers were employed in the sector," said Clare Campbell, founder of Prickly Thistle Scotland. "Today, only a few woollen mills remain and sustainability is at the top of the agenda – we are focused on supporting local people and minimising our impact on the planet.
"A widespread shift away from petrochemical-based products and disposable fast-fashion cannot come soon enough. In this country, we have natural wool available in abundance on an annual basis – it's a by-product of one of our biggest economic sectors. However, as agriculture tends to be driven by meat yield for livestock breed choices, the trade-off has been that farmers currently earn very little for their wool fleece.
"This project could be the catalyst for a significant shift in Scotland's approach to manufacturing homegrown clothing and fabrics, bringing our native fleece to a point where we can use more of it for a much wider range of products than ever before."
Initial results from the study are expected later this year, which will determine whether a suitable yarn quality can be achieved and used in future products designed by both Prickly Thistle and Johnstons of Elgin. The project team also hope to share their findings with the wider wool industry, in the hope of opening up a new Scottish supply chain and contributing to the sector's regeneration.
"Industrial biotechnology skills and techniques can benefit a wide range of sectors, underpinned by a collective ambition to develop more sustainable ingredients and materials," said Liz Fletcher, director of business engagement at IBioIC. "For Scottish fashion, it could unlock a brand-new supply chain by manipulating the natural decomposition of woollen fibres to make them more suitable and comfortable for the wearer – as well as reducing the environmental cost."
"Our aim is to not only carry out world-leading, academic chemical research, but also work with industrial partners to deliver science that has a beneficial impact to society," added Dominic Campopiano, professor of industrial biocatalysis at University of Edinburgh's School of Chemistry. "We must rapidly transition to a more sustainable and greener way of doing many things and in this case, the application of nature's enzymes will begin to deliver on these goals. This exciting, new project has partners with the same philosophy, each bringing technical and commercial expertise. I am excited to work with this enthusiastic team, help train a new generation of chemists, and thank IBioIC for pump-priming this project."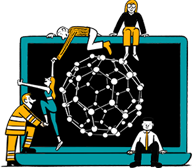 Business intelligence for the fibre, textiles and apparel industries: technologies, innovations, markets, investments, trade policy, sourcing, strategy...
Find out more