27th October 2017, Ann Arbor, MI
Kraig Biocraft gains approval from Vietnamese officials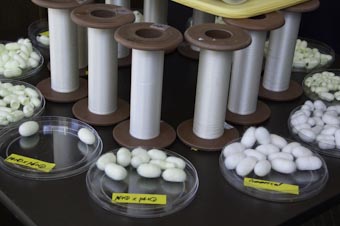 Kraig Biocraft Laboratories, a leading developer of spider silk based fibres, has announced that the company's management has recently returned from a series of highly productive meetings with high level provincial and central government officials in Vietnam.
During these meetings the company received the support and verbal approval to import the company's hybrid silkworms and begin selective breeding. This is the critical step in advancing the company's plans for commercial production in South East Asia, the manufacturer reports.
Obtaining approval
"Obtaining this approval has been a lengthy process involving years of work in collecting data and conducting numerous meetings sharing that data with governmental agencies," said CEO and Founder Kim Thompson.
"The focus of those meetings has been answering their questions about our technology and how it can benefit the people and economy. We believe that the most significant bureaucratic and regulatory hurdles are now behind us. We want to thank the governmental officials and other relevant parties who worked hard during this lengthy preparation and deliberative process. We would also like to thank our loyal shareholders who have been navigating this lengthy regulatory process with us. Without their support, none of our achievements would be possible."
Final clearance
During the trip, the company's management also met with its local architecture firm to review the master build plan for its proposed production site on 50 hectares. Management also toured an existing facility which has been selected as the probable headquarters for its hybridization operations and early stage production.
The company is now working with officials from the Province, as well as the Ministry to formalise the approvals granted during the meeting in Ha Noi.
"To the best of our knowledge, clearance from one additional governmental unit is the only remaining regulatory hurdle to advancing the Company's plans for selective breeding in Vietnam," said COO Jon Rice. The company is now working with its consultants in Vietnam to expedite final clearance and to answer any additional questions or comments from the relevant Ministry.
This article is also appears in...