7th February 2019, Lenzing/Singapore
Lenzing to open design space in Singapore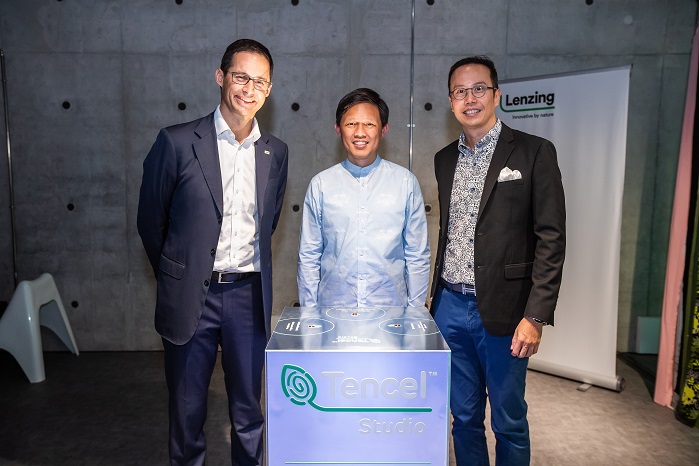 Lenzing-CEO Stefan Doboczky, Minister of Trade Chan Chun Sing and Mark Lee, President of the Textile and Fashion Federation Singapore (TaFF). © Lenzing AG
The Lenzing Group, a market leader in specialty fibres from wood, will partner with the Textile and Fashion Federation Singapore (TaFF) to offer Singapore's designers a hub to present themselves and make the Tencel brand more accessible to consumers. The collaboration was announced last week at the opening ceremony of Design Orchard attended by Chan Chun Sing, Minister for Trade and Industry of Singapore.
"Lenzing is excited to work with TaFF on The Cocoon Space and its programs. Our cooperation with fashion designers is an important element in showcasing the sustainability promise of our flagship brand Tencel to consumers. It comprises an integral part of Lenzing's commitment to green-up the fashion industry," said Stefan Doboczky, Chief Executive Officer of the Lenzing Group. "Singapore is a strategic hub for Lenzing in Asia, and we are proud to contribute towards taking Singapore's fashion scene to greater heights."
As a strategic partner of TaFF at Design Orchard, Lenzing underpins its corporate strategy sCore TEN aiming to work more closely with customers and partners and its efforts to leverage the new B2B2C branding strategy focusing on reaching out to consumers. This regional fashion hub completes Lenzing's chain of innovation and application centres to spearhead development from fibres to yarn to fabric and ultimately to create designer clothes.
Design Orchard is a new building located at the site of a former butterfly farm. It is envisioned that even more garments of designers which contain Lenzing fibres and other clothing will be sold in the store on level 1. Events held with the purpose of promoting Singapore's designers will be held in The Cocoon Space event and co-working space on level 2 and in the Tencel Studio on level 3.
Moreover, the Tencel Fabric Library will feature Lenzing marketing collaterals, offering support to customers and partners in the joint development of garments. This is designed to create a vibrant ecosystem of fashion and design-oriented professionals who will be encouraged to innovate and design products with sustainability principles in mind.
This article is also appears in...