12th November 2018, Taipei
Taiwanese innovations on show at INTEX SOUTH ASIA 2018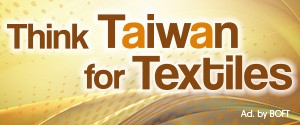 Under the commission of the Bureau of Foreign Trade (BOFT), Taiwan Textile Federation will be promoting Taiwan's innovative textiles at the forthcoming INTEX SOUTH ASIA 2018 exhibition, which takes from 14-16 November at the BMICH (Sirimavo Bandaranaike Exhibition Centre) in Colombo, Sri Lanka.
INTEX SOUTH ASIA invites international buyers and suppliers to take advantage of the shift in garmenting manufacturing from China and South East Asia to South Asia. The exhibition is South Asia's only international sourcing fair, showcasing the best in yarns, fabrics (apparel and denim), clothing accessories and allied services from across Asia and the world.
Taiwan's textile industry is renowned for its integral supply chain and as a leader in chemical fibres, has developed and introduced various functional and eco-friendly textiles to the global market. In doing so, it has now become recognized as a 'sourcing hub' by major buyers around the world.
Taiwan Textile Federation will implement the 'Textile Export Promotion Project' (TEPP) and will create an 'image area' to promote innovative, functional and eco-friendly textile products from Taiwan, including fabrics, garments and trimmings.
"Think Taiwan for Textiles is our slogan that has taken on many meanings, whether you are looking for textile innovation, fashion, sustainability or just reliable consistent communication, Taiwan is the place to start and finish," the organisation says.
Exhibition Details
INTEX SOUTH ASIA 2018
Dates: 14th - 16th November 2018
Opening Hours: 10 am - 6 pm (Last Day open till 5 pm)
Venue & Location: BMICH (Sirimavo Bandaranaike Exhibition Centre), Colombo.
Booth Number: F-R3
This article is also appears in...