Industry Talk
The funding landscape for next-gen materials
Continued investment in new materials derived from plants, mycelium, cultivated animal cells and microbes.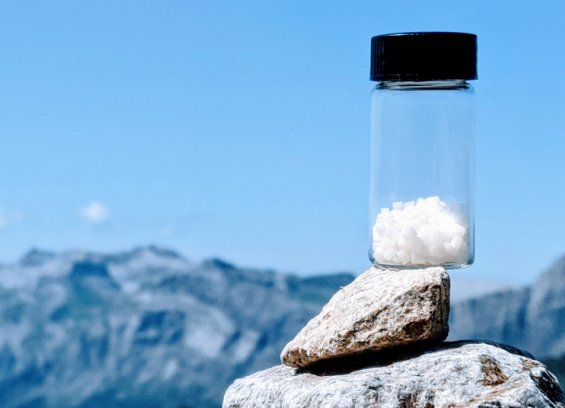 2nd March 2023
Innovation in Textiles
| Napa, CA, USA
Next-gen material companies raised at least $456.75 million from 28 publicly disclosed deals in 2022, according to a new free-to-access report from the not-for-profit research company Material Innovation Initiative (MII), based in Napa, California.
MII defines next-gen materials as animal-free and environmentally preferable direct replacements for conventional animal-based leather, silk, fur, down, wool and exotic skins, employing a variety of biomimicry approaches to replicate the aesthetics and performance of their counterparts.
It further separates the inputs for these materials into six categories – plant-derived, mycelium, cultivated animal cells, microbe-derived, recycled materials and blends.
Disruptive textile technologies are not specific to next-gen materials and therefore beyond the scope of the MII report, although innovation in synthetics such as bio-based, biodegradable and recycled polyester or polyurethane could have a broad impact in the plastics and textiles industries as a whole, and in some cases in the next-gen materials space.
To the extent that these broad players and technologies may become promising feedstocks or resources for next-gen material innovation, MII has created a separate list of disruptive textile innovation resources to provide innovators with an easy way to find potential collaborators.
Challenging year
In an online seminar broadcast on February 28th, MII's chief innovation officer Elaine Siu said that 2022 represented a more challenging investment atmosphere for the next-gen materials industry compared to 2021, when investments spiked at $1,135 million.
"The fashion world also went through a year of reckoning last year and 2022 will probably be remembered as the year of a greenwashing crackdown in the fashion industry," she said. "It was the year when one of fashion's most adopted tools to measure the industry's environmental impact – the Higg Index – was paused for re-evaluation. Some predict that we will see less sustainability marketing until industry stakeholders have a better understanding and consensus regarding communicating with consumers on this sensitive and complicated subject.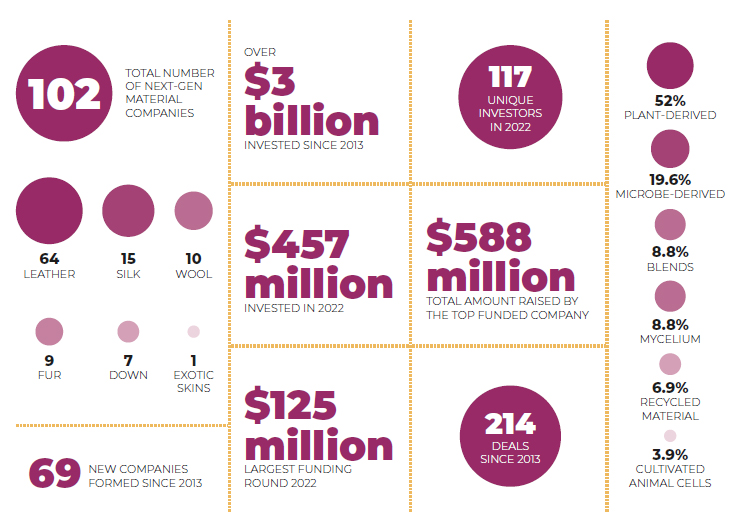 "However, looking at the ten-year track from 2013 to 2022, the capital invested and the number of deals continued their upward momentum," she said. "Along with the increase in investments, the innovator landscape also continued to expand in 2022 and the number of companies focused exclusively on developing next-gen materials rose to 102."
These companies combined have raised more than $3 billion since 2013 and the Top 10 in attracting investment are listed in MII's report as:
- Spiber, which produces spider silk proteins via precision fermentation to create next-gen silk primarily for the fashion industry.
- Bolt Threads, which grows mycelium to produce next-gen leather and uses precision fermentation to produce spider silk proteins for next-gen silk, both targeting the fashion industry via collaborations with adidas, Kering, Lululemon and Stella McCartney.
- Modern Meadow, which is using precision fermentation to grow collagen to create animal-free leather primarily for the fashion industry.
- MycoWorks, which also grows mycelium to produce next-gen leather primarily for the fashion industry and has a collaboration with Hermès.
- Renewcell, with technology that dissolves used cotton and other cellulose fibres and transforms them into a biodegradable pulp used by the textile industry to make viscose, lyocell, modal, acetate, and other types of regenerated fibres.
- Spinnova, which uses FSC-certified wood and waste streams to produce next-gen fibres primarily for the fashion industry.
- Ultrafabrics, which manufactures leather-free performance fabrics for a variety of applications in the automotive, aviation, health care, hospitality and home goods industries.
- Natural Fiber Welding, which uses fabricated compressed and/or discarded fibre sources coated with plant-based oil resin to produce next-gen leather primarily for the fashion industry. It has collaborations with Allbirds, Ralph Lauren, Richemont, Melina Bucher and others.
- Newlight Technologies, which employs natural ocean microorganisms to make PHB from greenhouse gasses to produce next-gen leather and has a collaboration with Nike.
- Ecovative, which grows mycelium on agricultural waste to produce next-gen leather.
MII continues to see significant demand for next-gen materials, but more supply is needed to meet the sustainability, performance, aesthetic, volume and price needs of brands and consumers. In 2022, more established material companies, fashion houses,and even automotive manufacturers announced next-gen material offerings or in-house R&D to create next-gen materials.
"It is an encouraging signal that the next-gen materials industry has grown beyond the innovators disrupting the incumbents, but the established big players are also joining forces to create a better materials industry for all," Siu said.
Notable funding in the next-gen materials space during 2022 included:
- MycoWorks raised $125 million in August, followed by $63 million in October.
- Natural Fiber Welding secured $83 million in April, followed by a debt financing of $19.97 million in December.
- AlgiKnit closed a $15.46 million funding round led by Collaborative Fund which went on to launch a new $200 million climate-solution-focused fund with Stella McCartney this year.
- Cultivated leather startup VitroLabs secured funding of $47.4 million in May 2022, with investors including global luxury fashion group Kering.
Potential
MII's 2022 State of the Industry Report: Next-gen Materials can be downloaded here.
"Technologies and innovation have the potential to significantly transform the industry by creating environmentally preferable and animal-free materials that meet the aesthetic, performance and price needs of both brands and consumers," Siu said in conclusion. "As we face potentially dire climate change, we need significant investments, partnerships and more material companies and scientists to disrupt the status quo. Transparency, vision, and collaboration will be vital in creating a prosperous future for the materials industry."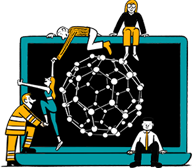 Business intelligence for the fibre, textiles and apparel industries: technologies, innovations, markets, investments, trade policy, sourcing, strategy...
Find out more