13th June 2017, Mönchengladbach
Monforts Senior Consultant Kurt van Wersch honoured by VDTF association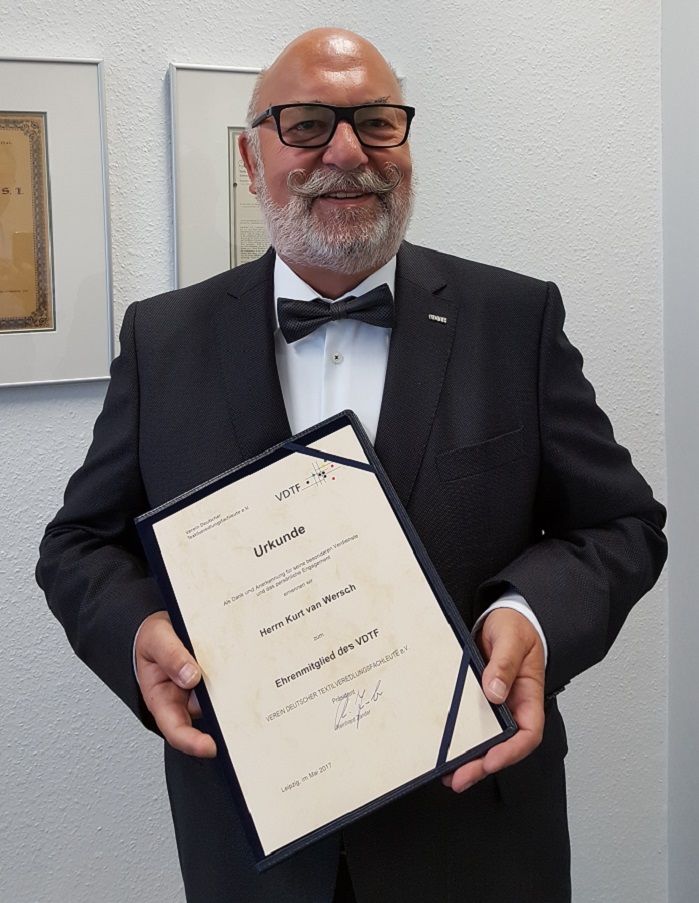 The German VDTF association of textile finishing specialists has named Monforts Senior Consultant Kurt van Wersch as an honorary member during its 11th colloquium in Leipzig, which takes place every two years and is attended by its approximate 200 members. The theme of the 2017 colloquium was Industry 4.0 – a chance for the European textile Industry.
The VDTF represents scientific and economic interests of textile finishing specialists and related professions. Teaching and professional research on behalf of textile finishing is supported by the VDTF.
Kurt van Wersch has published numerous articles relating to continuous dyeing and denim finishing methods. He is a long serving member of the Monforts team and is still working worldwide as a highly respected consultant for A. Monforts Textilmaschinen. According to the German textile machinery manufacturer, Kurt van Wersch is widely known throughout the industry and is recognised as 'the man with the distinguished looking 'handlebar mustache'.
This article is also appears in...