Coating/​Laminating/​Bonding
Patented Topaz FX for effective protection
Targeted coordination of all material components is essential, company says.
28th February 2022
Innovation in Textiles
| Freilassing, Germany
The requirements for modern heat-ptotective clothing for first responders and industrial workers are complex – garments should offer a high level of protection and be as light as possible, while multi-layer multifunctional structures need to protect the wearer from heat and flames and wind and rain, as well as from liquid chemicals and toxic particles.
At the same time, a high level of thermo-physiological comfort is required in order to keep the physical strain on the wearer as low as possible, because heat stress is one of the biggest risk factors in all demanding operational situations for firefighters.
The patented new Topaz FX range of lining fabrics and laminates from Trans-Textil, based in Freilassing, Germany, is highly breathable, efficiently transports sweat, optimally cools the body and consequently reduces heat stress. The products are also extremely light and said to have an excellent protective effect, despite their low weight.
The range will presented by Trans-Textil at the forthcoming trade fairs in Germany – Interschutz Hannover from June 20-24th and Techtextil Frankfurt from June 21-24.
Heat stress
With average physical exertion, a person sweats between 200-700 millilitres per day over a skin area of about two square metres.
In action, firefighters sweat between one and two litres in just 30 minutes.
The sweat produced by human skin cannot be released into the environment quickly enough through heavy and poorly breathable clothing – natural body cooling is reduced and heat build-up occurs. If the body is exposed to this situation for a long time, the cardiovascular system is subject to extreme stress. This heat stress can even be fatal. Most firefighters' injuries are also due to slipping, stumbling and falling accidents and this risk also increases due to heat stress, which accelerates muscle exhaustion and affects cognitive abilities.
In addition to physical fitness, optimised clothing concepts and materials are crucial to reducing heat stress, combining the protective function, comfort, moisture management and temperature regulation. Operational clothing has developed significantly thanks to new functional fabrics based on elements from sports and leisure garments for increased freedom of movement, function and well-being.
Membranes
In the multi-layer laminates, robust and highly breathable membrane systems serve as protective moisture barriers against exterior liquids and particles, and at the same time ensure that body moisture is reliably released to the environment.
As a proprietary development of Trans-Textil, the Topaz 251 membrane system meets the highest requirements in application and processing. The in-house formulation of highly temperature-resistant polyurethane (PU) forms the basis for the extremely flexible application options. Bi-elastic Topaz 251 membrane is characterised by high heat resistance and breathability as well as reliable waterproofing. This makes it the versatile basis for high-performance laminates in the areas of certified PPE and multi-standard protective clothing, firefighting clothing, government clothing, reusable medical products and components for safety shoes. Trans-Textil also offers compatible seam sealing tapes for all laminate types.
Linings
A decisive factor is the targeted coordination of all material components, because the higher the ambient temperature, the more important it is to cool the body. This only works if the lining materials already absorb moisture and transport it away from the body.
"This performance of lining materials is often underestimated," says Trans-Textil MD Wilhelm Krings. "Too often the focus is on the properties of the outer material and the performance is reduced to flame resistance and strength. The lining – as the innermost layer and direct connection to the body – plays an essential role in terms of moisture management, body heat transport and breathability."
A "pull and push effect" can be used in the overall concept of the materials, he adds The combination of water-repellent (hydrophobic) and water-attracting (hydrophilic) fibre materials in the moisture-dynamic structure of Topaz FX clearly favours climate regulation.
Zoned layers
Conventional production methods for flame-retardant textiles often reach their limits in further optimisation. To produce lighter fabrics, very fine yarns and special constructions are required. With Topaz FX, Trans-Textil has succeeded in creating tailor-made zones of high and low absorption areas in a single fabric. Liquid sweat is actively transported away from the body by a moisture-dynamic grid in a permanent 3D structure spread over a large surface, and can evaporate faster. In addition, reduced weight and measurably faster drying improve moisture management, increase comfort and reduce the risk of heat stress.
The patented Topaz FX technology can be applied to other textile materials for two or three-layer laminates, base layers (functional underwear), head protection hoods or liners. Due to the individual design of functional zones, the concept not only offers excellent sweat management, but also unique opportunities for individual design in heat protection clothing.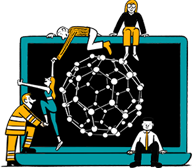 Business intelligence for the fibre, textiles and apparel industries: technologies, innovations, markets, investments, trade policy, sourcing, strategy...
Find out more