Quick! Think of a professional development conference running continuously for 26 years! The 2016 edition of The International Conference on Textile Coating and Laminating (TCL2016) is just such a conference. It opened in Prague March 16-17 to a packed house of 130 or so delegates from over 23 countries.
Begun in 1990 by its Conference Director Bill Smith of Industrial Textile Associates (USA) and mostly alternating yearly between the US and Europe, it is designed to appeal to a broad range of participants, primarily middle to upper management, marketing, and technical, virtually every step of the value chain from raw material suppliers, chemical and machinery producers, coaters and laminators, even regulators and end-users.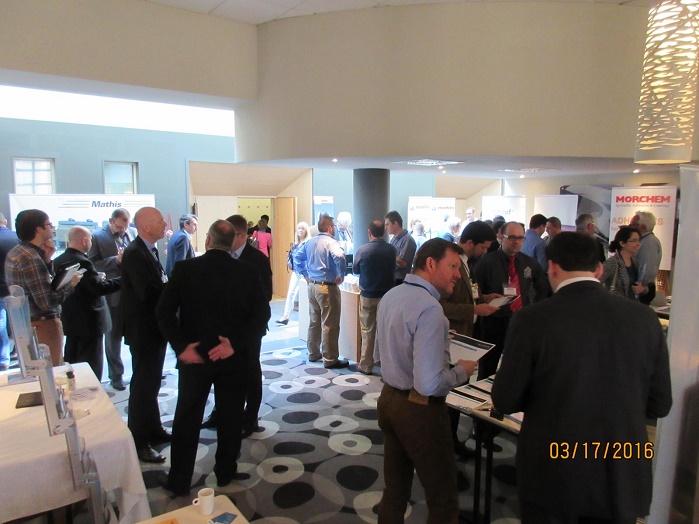 "We are not a highly technical conference on purpose" said Smith, though we do focus on the latest technology, trends, and industry updates. Speakers are asked to present in an easy-to-understand, mid-to-upper-level technical range format.
Specific concepts and products, developed to offer solutions to industry concerns, were presented, without being overtly commercial. This has been a hallmark of TCL conferences and its organization. A "sold out" table-top display section of the floor allowed companies to present their products to attendees.
Keynote
Sustainability was a central focus of TCL2016. Micheal Kamm, CEO, Sympatex Technologies GmbH (Germany) began his keynote talk with a review of WWB (Waterproof, Windproof, Breathable) concepts. Several different versions are created, he says, for specific areas and applications with the breathable membrane and various specific layers and materials aimed at increased moisture vapor transmission, allowing greater comfort with greater breathability.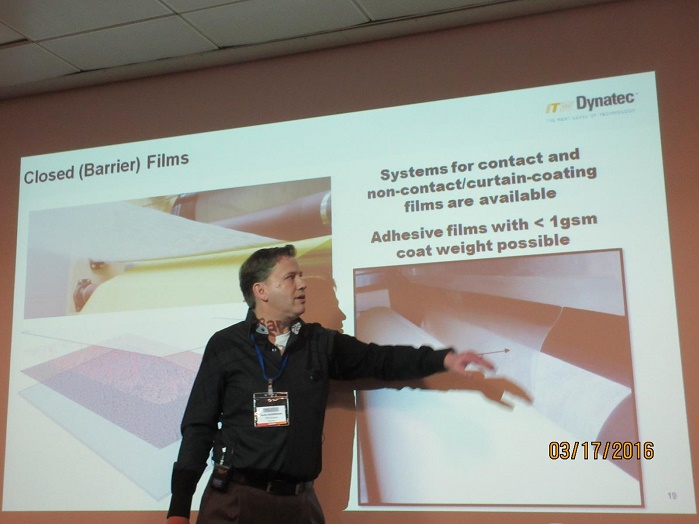 All products are developed, and redeveloped with ecological concerns and sustainability issues of importance, Kamm says, using guidelines of the Greenpeace DETOX initiative, they focus on reducing/eliminating eleven classes of chemical substances (e.g. heavy metals, phthalates, chlorinated solvents, per- and polyfluorinated chemicals), and replacing hazardous chemicals by non-hazardous alternatives.
More sustainable solutions will have greater importance as alternative DWR (Durable Water Repellant) technologies are developed. Of importance is using less material mixtures in WWB products along with new/improved recycling concepts. Kamm says this as a task for the whole textile supply chain, and the consumer.
Importance of the coating and laminating industry
Why is the textile coating and laminating industry important? A sub-set of technical textiles and little known by the general public, almost everything we use and/or products we take for granted is impacted in one way or another by coated/laminated fabric, either as a component of an item used in its production and/or distribution. Applications range from apparel, automotive, home furnishings and signage up to carbon composites for super-strong materials replacing steel and metals, for use on earth and in outer space.
Barry Goodwin of Amba Projek Ltd. (UK), a machinery and ancillary supplier to the international textile industry, pointed out some of these applications and provided some insight, putting the industry in perspective.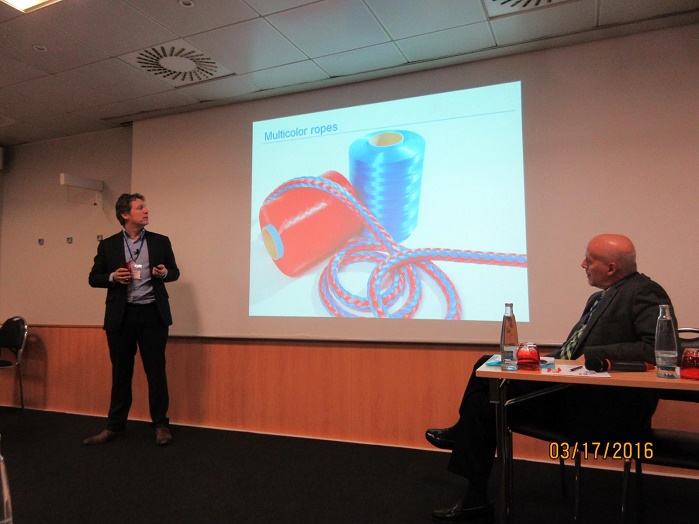 Goodwin said the total textile industry is projected to be about 910 billion tons of fibers/yarn/fabric by 2019, with technical textiles being about 27% of that (by volume), with coating and laminating amounting to over 5 billion square yards worth about $63 billion.
Many studies of the industry put the coating and laminating industry growing in the 4% range for the next 5 years to over 7 billion square yards. Actual size depends on what is counted as many items that use coated fabrics or processes, such as baby diaper and hygiene products are generally not included.
Coating and laminating is considered a textile finishing process and included elsewhere. It is no surprise low-wage countries are taking a larger share, especially in the commodity and lower ends. The high end, the focus of TCL, is still being developed and led by Europe and the US markets and industry. Composites and pre-preg (dipped in resin for later curing) fabrics are now being included and growing substantially.
Primary drivers in coating and laminating, says Goodwin, are like other industries: economic growth, currency markets, energy costs, labour costs, trade regulations, and growing environmental regulations, and geopolitical influences. Growth seems inevitable as population increases and infrastructure create demands for more products to supply those demands. Growth in one sector results in growth in others. Labour costs are putting pressure on lower-paying countries, causing a shift in production to even lower-cost areas.
Techniques
Realizing that many attending a conference of this type do so to discern if this is a field they wish to enter, Albert Manser, Mathis AG (Switzerland), presented an overview of various techniques used for coating and laminating (there are many), their machines, and how different techniques may be used for customization and special applications and end uses. While somewhat basic, it was an excellent review and update.
Focus on harmful components
Many commonly used items are being found to be harmful to humans and to the environment. Included are fluorocarbons (think water/stain repellant fabric finishes and non-stick cookware) and severely restricted in many countries. Fikri Alemdaroglu, Business Manager, Daiken Chemical Europe GmbH (Germany) presented alternates for commonly used harmful long chain C8 fluorocarbons, a substance banned or containing PFCs (perfluorinatred chemicals), specifically those with PFOA (Perfluorooctanoic acid). PFOA is broadly toxic and does not break down in the environment and accumulates in the body. An important development from Daiken is a new short chain PFC form of C6 that is much less harmful yet equally as effective as the C8 variation in water and diesel oil repellence, and much improved over the 'old C6'. Work is continuing to just how much exposure to the 'new C6' can be allowed. Not complete elimination of PFCs but a major step in the right direction.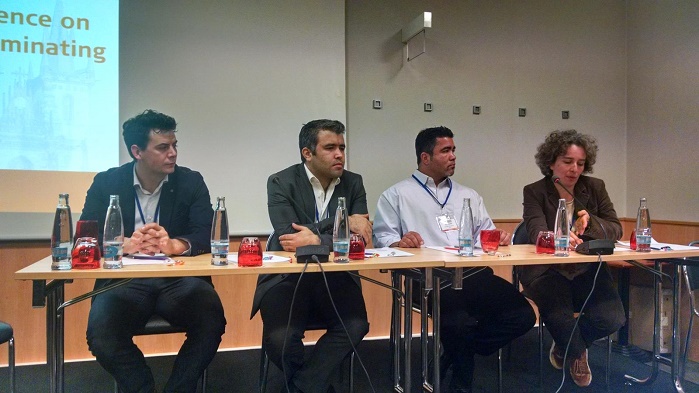 In another example of getting rid of toxic materials used in products and in coating and laminating, Geert Vermunicht, New Business Development Manager, Vetex BV (Belgium) reviewed their work in solvent free urethanes to eliminate DMF (N, N-Dimethylformamide) identified as a Substance of Very High Concern (SVHC) … as toxic for reproduction (may harm unborn child).
DMF is a widely used solvent in coating and laminating (widely used in polyurethanes), fiber production, numerous chemicals, pharmaceuticals, safety items, and electronics to name a few. Several European countries and the United States are working pushing to find an alternative. A number of alternates were discussed such as: water-based formulations, TPU powder, UV or E-beam curing, among others.
Disruptive technology?
A number of other companies focused on sustainability by replacing dependence on wet (with water) and solvent finishing, some by removing /replacing alternative materials, others by new dry (without water but combinations of chemicals and gasses) techniques.
"What I am going to show you is a disruptive technology", declared Gary Selwyn, President, Green Theme Technologies (USA). His comments referred to a water-free system using chemicals, gases, and pressure, claimed to economically finish fabric for coating and lamination, in batch-roll form, in an environmentally sustainable system.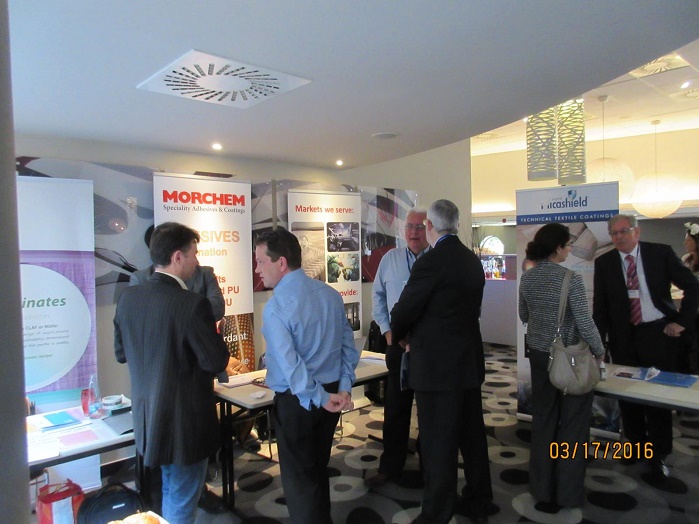 Disruptive technologies are those that completely change the method of doing things. When Michelin introduced radial tires to replace the standard bias ply construction, 60-80% of the tire industry changed over to radial within 18 months. Selwyn feels this technology has similar potential. His company was named by Future Textiles Magazine in 2014 as "The Most Innovative Small Business".
After much testing and refinement, says Selwyn, the system is now available for licensing with a facility for production being planned for Taiwan in the summer of 2016. Such water-free, dry finishing, is a prime target for machinery producers. Much of the needed equipment is readily available. Sustainable systems are being worked on in many areas of the industry, including atmospheric plasma treatment. Selwyn claims his system is faster and less expensive than plasma.
A disruptive technology? It remains to be seen, but such technology is indicative of the thinking of those presenting at TCL2016 Prague and a step in the right direction.
India
An interesting yet blunt talk was presented by Dr K.S.Sandararaman (aka Ramm), of Shiva TexYarn Ltd. (India), relative to doing business in India. With the 2nd largest population and growing middle class, interest is strong to be involved there. It is difficult to do, he says, as many challenges exist, demanding a great deal of study and preparation. It is definitely worth it for those willing to do the work. India has strong industrial establishments in need of functional fabrics.
Challenges include a lack of a cluster of industry producers and suppliers (chemical companies, convertors, finishers, etc.), working together. There are few local raw materials and/or local regulations, inadequate testing facilities, and, importantly, no focused government support. And there are many cultural differences, resulting in a lack of clarity between potential participants.
He says price negotiations are tough and protracted, with often convoluted, hard to understand, or non-existent specifications. Ramm says, to choose partners very carefully and investigate their background, go and be there, interface and consult with, even existing or potential end-use customers. Carefully consider the market potential and above all, be patient and prepared for obstacles.
Colouring the undyeables
"Even if you are on the right track, you will get run over if you just sit there." (American humorist Will Rogers), so emphasized Marcel Alberts, Managing Director, EuroFibers (Netherlands) in discussing the importance of companies innovating and moving forward.
An example: EuroFibers' idea of functionalization of high performance fibers by coating them. Fibers such as Dyneema, a HDWPE fiber that is extremely strong, but not dyeable, and others such as Twaron and Technora aramids, and Vectran, can now have new application possibilities by having fast, durable coatings applied in a wide variety of colours and with special properties.
Improved abrasion resistance is one benefit – up to 14X for Dyneema. Competitors are doing a great deal of R&D so, said Alberts, management must be proactive to stay ahead. Such forward thinking can be applied to most product lines.
Lighter and 100% recyclable
The Cooley Group, (USA) is a company that always stays ahead of the curve. Bryan Rose, Vice President, gave good insight to such development, with the three pillars of sustainability as the model.
The billboard and sign industries represent substantial business for Cooley, a US company with global reach, PVC coated fabric replaced paper in the billboard industry, but Cooley sought to overcome some of the environmental issues while maintaining the economic and social benefits. Their idea? Make a lighter and lower cost item, and one that could be 100% recyclable. The result? A fabric of polyethylene fiber, at 4.2 ounces versus the 13 ounce PVC material. The lighter fabric can be made in longer, still manageable, rolls up to 3000 meters, lowering overall shipping costs/yard and providing safer and easier installation.
With 150 million pounds of billboard fabric going into landfills each year, the thinner, lighter, recyclable fabric met the strong criteria of sustainability with lower energy consumption, reduced emissions, and smaller carbon footprint.
The billboard industry has been transformed with coated fabrics. The development and adoption of digital printing adds extra benefits, making possible smaller and complex runs, with much faster turn-around time. Cooley treats the PE fabric with special chemistry to accept the digital inks, providing a long lasting product.
Further information
Many other concepts and products were discussed at the conference. To have access to the presentations and other TCL2016 details, contact www.intnews.com/tcl . Smith announced TCL2016 would be his last one in Europe due to health constraints. He could be involved in one more if the sponsors could arrange one in the USA in Atlanta for 2017. It was announced that such a conference would likely be held, depending on finding the proper time and location. Stay tuned.