Portugal based Tintex Textiles has cooperated with the leading system supplier and stenter producer Brückner to develop a new solution for achieving completely new effects on knitted fabrics. Production tests are currently taking place and the company has been recognised for a fabric produced on the new line.
"The textile market on the Iberian Peninsula has become rather small in the last years. Therefore, it is not surprising that Tintex and Brückner attract the attention of the textile producers in both countries. Tintex wants to keep up with future market developments and tries to get all available information about modern line design and new line know-how," the company reports.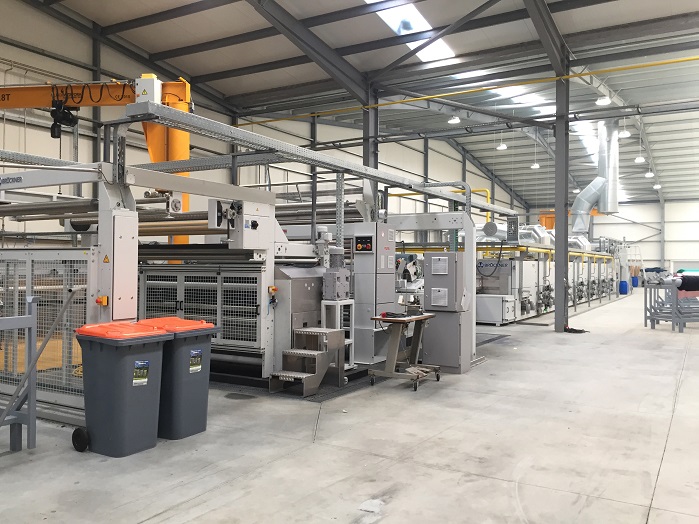 Brückner is a market leader in the finishing of extremely sensitive knitted fabric and the Brückner stenter is said to offer advantages particularly with regard to the requirements to temperature uniformity in the treatment of synthetic fibre blends due to the counter principle and other constructive measures.
New Brückner line
At the heart of the line is a stenter with the patented Brückner split-flow technology including the corresponding entry and exit components, which are particularly designed for a low-tension fabric transport and extremely sensitive fabric surface.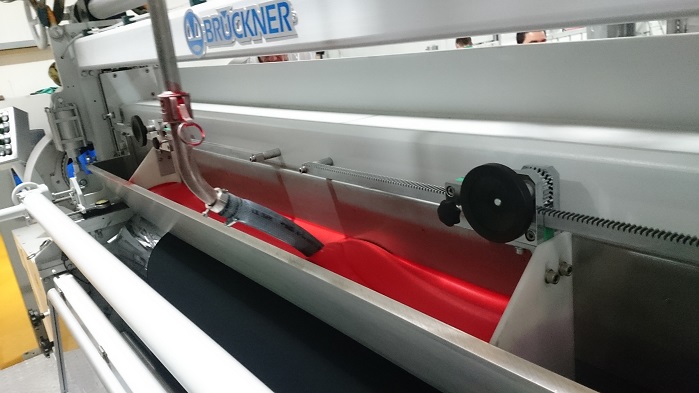 In the entry and exit of the machine there are, however, two special features. The entry stand of the stenter integrates a newly developed special coating unit. It is said to allow the application of stable and unstable foams, as well as pastes, by means of a screen application unit. It takes only a few steps to change over to a knife-over-cylinder coating system, the company explains. In this process, the upper draw roller is used as coating cylinder. This allows somewhat higher application weights for stable foam and pastes in case of more stable fabric, according to the manufacturer.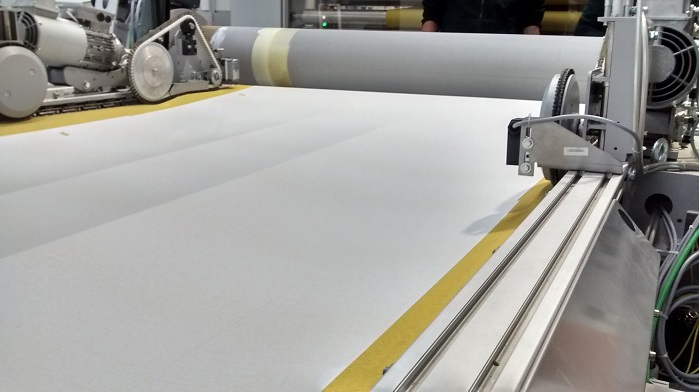 The exit integrates a laminating/embossing calender also offering the possibility to provide with an electrical shortwave IR radiator a directly coated highly elastic knitted fabric with a shagreen by means of an embossing paper.
Brückner
Brückner is a leader in the development and the production of finishing lines for the textile industry and offers individual solutions for the coating and finishing of technical textiles, nonwovens, floor covering and conventional apparel textiles.
In addition, it supplies energy saving systems, such as heat-recovery or exhaust air cleaning systems, and it provides its customer with an advisory service during the complete project phase and beyond.
Brückner considers itself a pioneer for especially energy-efficient machines, designed to offer great productivity. In addition, the family-owned company is dedicated to the construction of reliable and very individual lines for its customers.
Tintex is currently working on developing new coatings and is looking forward to producing new fabrics on the Brückner line.
This article is also appears in...