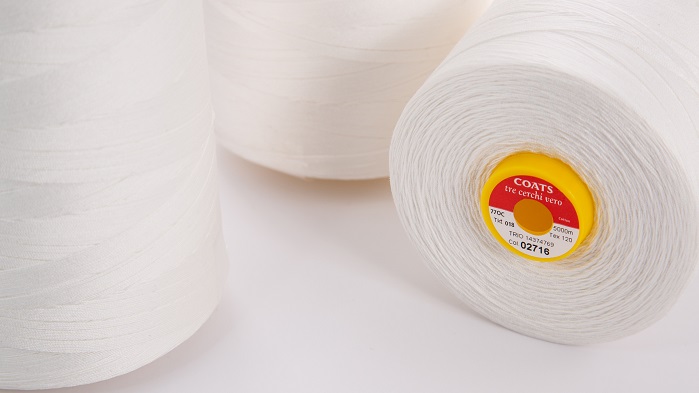 Tre Cerchi Vero is certified by the Better Cotton Initiative. © Coats
Coats, a leading industrial thread company, has launched two new 100% cotton products. Tre Cerchi Vero and Tre Cerchi Vero+ are both certified by the Better Cotton Initiative (BCI) as being made from sustainable raw materials.
"As our customers strive to achieve their sustainability goals, we can support them by exploring innovative solutions and products which are independently verified as being made from sustainable raw materials. We are doing our part to contribute to an end product that the consumer can trust has been made as sustainably as possible and without compromising on quality and performance," commented Adrian Elliott, President, Apparel and Footwear, Coats.
BCI is the largest cotton sustainability programme in the world. It exists to make global cotton production better for the people who produce it, better for the environment it grows in and better for the sector's future. It aims to transform cotton production worldwide by developing Better Cotton as a sustainable mainstream commodity.
In addition, Tre Cerchi Vero+ is Cradle to Cradle approved for its dyes and chemicals. The Cradle to Cradle Products Innovation Institute is a non-profit organisation, which administers the standard. Completely free of harmful substances, including pesticides, Tre Cerchi Vero+ is an eco-friendly solution for seams on a wide range of products. Developed with premium quality long-staple fibres, it achieves the natural look of cotton while enhancing productivity, according to the manufacturer.
The Tre Cerchi products extend Coats' existing range of sustainable threads. Launched in 2018, EcoVerde, a revolutionary product range including Coats Epic Ecoverde and Coats Gramax EcoVerde, feature 100% recycled sewing thread. EcoVerde is said to offer the same proven level of performance as the industry's leading non-recycled threads.
In March, Coats published its first sustainability report. Pioneering a sustainable future also launched a sustainability strategy, which set out seven ambitious targets in order to accelerate the company's progress towards a more sustainable future.
This article is also appears in...