Fibres/​Yarns/​Fabrics
Consortium plans PHA fibres for fashion
Melt-spinning trials to be run at NIRI.
10th June 2021
Innovation in Textiles
| Amsterdam
Amsterdam-based Fashion for Good is launching the Renewable Carbon Textiles Project, bringing together a powerful consortium to accelerate the development of polyhydroxyalkanoates or PHA polymer fibres – a promising biosynthetic alternative to fossil based fibres with the potential to reduce carbon emissions in the fashion supply chain.
With catalytic funding provided by Laudes Foundation, collaborating partners include Bestseller, Norrøna, PVH Corp. and the Fabrics Division of WL Gore providing industry expertise and financial support.
Participating innovators Bio Craft Innovation (formerly Biomize), Full Cycle Bioplastics and Newlight Technologies will contribute their solutions, providing insights to scale the industry in the long term.
"There is an urgent need to find replacements for the predominantly fossil-based fibres in the fashion industry through solutions such as biosynthetics from renewable sources," said Katrin Ley, managing director of Fashion for Good. "PHA polymers represent an exciting, yet challenging solution for reducing carbon emissions in the fashion industry, and this project aims to drive further innovation in this space to bring them to scale."
Under the umbrella of the Renewable Carbon Framework initiated by the nova-Institute, biosynthetics made from renewable sources, such as agricultural byproducts, provide a solution to reduce plastic production and, ultimately, a brand's overarching carbon footprint. In particular, PHA polymers provide a bio-based, marine and soil compostable solution to fossil-fuel derived polyester fibres.
The project will focus on validating the technical feasibility of the output, working with the Nonwovens Innovation and Research Institute (NIRI) in Leeds, UK, to run the melt-spinning trials. This allows for a comparative evaluation which can provide key learnings on how to best support and bring these technologies to scale.
Alongside the technical feasibility study, the project includes a range of degradation testing that will be conducted by Organic Waste Systems (OWS), of Ghent, Belgium. Leading in biodegradability, compostability and ecotoxicity testing, OWS will run tests in marine, soil, freshwater and landfill environments in mid 2022 to assess the biochemical properties of the fibres and whether they break down in these environments.
Fermentation
PHAs are produced through a fermentation process using various renewable carbon-based feedstocks. Emphasis is placed on using feedstocks that do not directly compete with food and feed crops, diverting biological feedstocks from landfill and utilising waste gases in the production of their fibres. Full Cycle Bioplastics uses inedible food waste while Newlight's use of carbon capture technology transforms carbon from greenhouse gases into PHA biopolymers. Bio craft Innovation produces a blended PHA composite using biomass from bamboo production. Material for fibre production will be provided by each of these innovators and they will demonstrate that their product can meet industry requirements in both quality and quantity needed for scalable production.
In the coming months, the innovators will begin developing their individual PHA formulations, which will be shipped to NIRI for melt spinning trials. Once the trials are complete, environmental degradation testing will commence.
PHAs are produced through a fermentation process using various carbon-based feedstocks, including organic food waste, methane gas and captured CO2. They have a wide range of chemical, thermal and mechanical properties and can be engineered to have similar performance characteristics as conventional synthetic fibres. PHA has been used to make films and packaging products but so far there have been limited fibre applications. Alongside this, only a handful of companies currently produce PHA meaning supply is limited.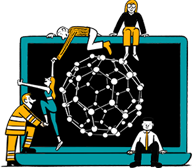 Business intelligence for the fibre, textiles and apparel industries: technologies, innovations, markets, investments, trade policy, sourcing, strategy...
Find out more