Smart Textiles
Dornbirn event attracts 700 experts
The jointly organised 7th Smart Textiles Symposium 2018 and the 57th Dornbirn-GFC took place in Dornbirn, last month.

4th October 2018
Innovation in Textiles
| Dornbirn
The jointly organised 7th Smart Textiles Symposium 2018 and the 57th Dornbirn-GFC, which took place in Dornbirn, last month, attracted around 700 experts from industry and research from 30 different countries.
The former Federal chancellor from Austria, Werner Faymann, urged industry representatives in his opening words to always be one step ahead in the competition and to take advantage of recent market opportunities.
Use of artificial intelligence
Keynote speaker James Holbery, from Microsoft, based in Redmont, USA, gave an insight in Microsoft's recent activities in printed, textile and flexible electronics and the current focus on creating new user experiences through soft electronics. "We always have to reinvent ourselves in these days of rapid change. We want to bring personal computing to a new level and address the young generation in particular," he said.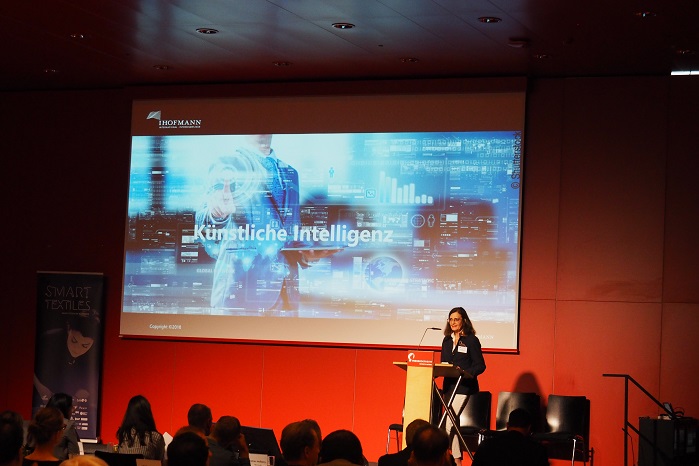 Dr Isa Hofmann, moderator of the first day and managing director of a specialised communication agency based in Wiesbaden, Germany, gave a lecture on new opportunities in customer communication through artificial intelligence – from social bots to chatbots. "The use of artificial intelligence is the next big thing," she predicted.
Communication in real time
Communication in real time without any waiting loops: Isa Hofmann presented the results of a recent study from business school Cologne and the agency morefire, that tried for the first time to classify existing chatbot types.
Unni Krishnan, Co-Founder of LongWealth, with offices in Vienna and Bangalore, is consulting large groups like Tata and Taj in India. India offers multiple opportunities for innovative Austrian companies to enter the market, according to Unni Krishnan.
Stefan Rohringer, Vice President Development Center Graz, Infineon Technologies Austria, pointed out the very first examples of electronics integrated into textiles that Infineon presented in 2003. Researchers at Infineon had discovered a way to make large textile surfaces such as carpeting or tent cloth intelligent. Woven into fabrics, a self-organising network of chips was able to monitor temperatures, pressures or vibrations. "This shows that you also might introduce things too early to the market," commented Rohringer.
Lectures from start-ups
Interesting lectures from start-ups presented successful business models, like smart inlay soles from the company stAPPtronics that help wearers to control their body posture. The start-up Texible is a think tank for interesting new applications of smart textiles for the elderly. The demographic change creates new requirements. One example is smart bed inserts for humidity control.
Industry 4.0
Sabine Gimpel, from TITV Greiz, Germany, was moderator of the second day's morning session and gave a lecture on Industry 4.0. Günter Grabher, CEO of Grabher-Group & Smart-Textiles Platform, Austria, presented some of the new technologies that his companies are working on in various clusters. Two examples were an office chair, optimising the user's posture while seated, as well as a textile reinforced concrete, that is used to repair ramshackled bridges.
Marcus Kottinger, solution architect at Axians IBM, Germany, as well as Prof Enrico Putzke, Technical University Chemnitz, Germany, explained in their lectures how smart textiles are used for monitoring both material and humans and thus help to avoid accidents in heavy industry.
Sven Böhmer, head of sales, Statex Produktions- und Vertriebs, Germany, explained the advantages of textile electrodes and their conductivity due to silver incorporated into yarns or fabrics. Textile electrodes play an important role in a variety of medical applications like muscle and nerve stimulation or monitoring of vital parameters.
Cradle to cradle
The focus of the last three lectures was on Cradle to cradle. Vera Gratzl, product development, Werner & Mertz, Germany, showcased some innovative products from the brand Frosch, equipped with a fluorine-free hydrophobic treatment. Andreas Röhrich, director product development, Wolford, Austria introduced the new collection of sweaters and leggings, entirely manufactured according to the cradle to cradle standard.
Albin Kälin, CEO EPEA Switzerland, Switzerland, pioneer of the cradle to cradle concept, gave his vision on the future of production with cradle to cradle and how it is contributing to reduce the human footprint on earth.
"The future of smart textiles is a true interdisciplinary collaboration between various industries, to benefit from the enormous potential of this growing market," commented Günter Grabher, initiator and CEO of the Smart Textiles Platform Austria.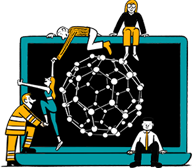 Business intelligence for the fibre, textiles and apparel industries: technologies, innovations, markets, investments, trade policy, sourcing, strategy...
Find out more