4th October 2019, Devon, PA
Defend and Lord Fabrik launch natural vinyl alternative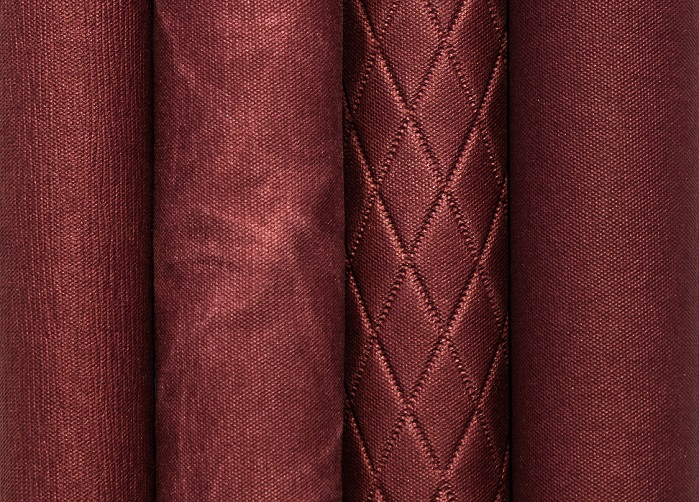 Rolls in Earth Red. © Lord Fabrik
TSG Finishing, parent of Defend brand of high-performance finishing products, has announced an exclusive collaborative agreement with Lord Fabrik, a women-owned, American manufacturer of canvas fabrics.
Lord Fabrik offers a performance canvas, designed for today's interiors as a natural alternative to vinyl. Highly durable and upbeat fabric environmentally crafted with sustainable natural cotton. The Defend treated Peace Collection, is a result of five years of research, including two years of field installations that are performing flawlessly in high traffic hospitality environments, according to the manufacturer. The Peace Collection meets all major flammability test codes, including E-84 Class A rating for vertical installations and CAL 117 for commercial upholstery.
"Defend from TSG Finishing brings exactly what we need to take Lord Fabrik to market. The history and depth of experience have been a great factor in the successful development of our product line. Only Defend has the technology necessary to make the cotton stable, as well as flame and stain resistant, while maintaining the authentic feel of the canvas product," commented Bernice Lord, President of Lord Fabrik.
Canvas for upholstery - Dune Diamond. © Lord Fabrik
The Peace Collection consists of nine colours, available in a standard, vintage or embossed finish in 54" bolts suitable for upholstery or wall covering. All Lord Fabrik products are exclusively treated with the Defend performance finish.
The Defend technology is designed to contribute engineering and performance to maintain the natural feel of the material. "We are proud to release an American made cotton-based fabric for upholstery and wall covering to a market craving sustainable solutions for interiors in partnership with Defend," said Bernice Lord.
Four Options are available to designers, furniture manufacturers and OEM's:
wall covering
upholstery
rugs
wall panels
Lord Fabrik can also customise the canvas to specific needs, including embossing, colour, and specialised performance requirements. "This is the perfect partnership for Defend as it validates our ability to take virtually any fabric and turn it into a performance product," said Brian Rosenstein, CEO and fifth generation TSG Finishing. "I am not aware of anyone currently producing a textile product of this scope."
Lord Fabrik and Defend have chosen BDNY as the venue for their official market launch in New York City, from 10-11 November.
This article is also appears in...