This year's Texprocess, a leading trade fair for the garment-manufacturing and textile processing industry, which took place concurrently with Techtextil in Frankfurt, last week, has set a record as the biggest edition ever, welcoming 312 exhibitors from 36 countries, an increase of 14% compared to 2015. Over 47,500 visitors from 114 countries made their way to Frankfurt to visit the two exhibitions.
"Texprocess reports the highest number of registrations in its history and thus continues strengthening its position as the leading international trade fair for processing textile and flexible materials. Texprocess is the leading platform in Europe when it comes to high-tech solutions and trends of the leading companies for the apparel and textile processing industry," commented Michael Jänecke, Director Brand Management, Technical Textiles & Textile Processing, Messe Frankfurt Exhibition GmbH.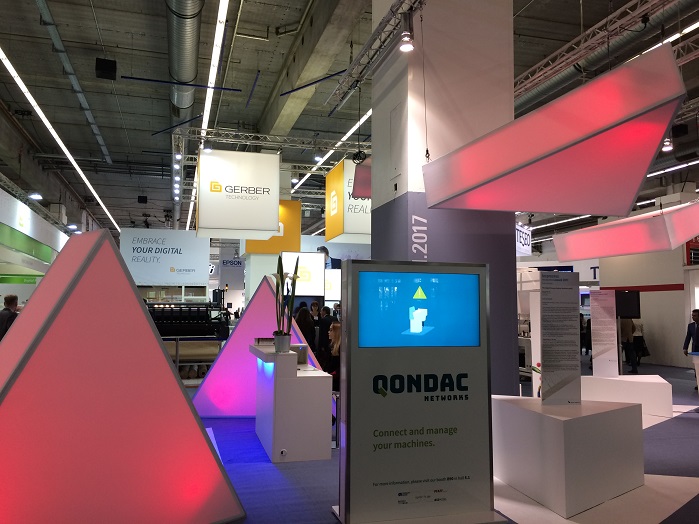 This year, the focus was on technologies such as digital printing, bonding and separating, CMT, CAD/CAM, as well as topics like individualisation of fashion, enabling serial production with smaller batches, customisation and flexible production processes, made possible thanks to digitalisation and automation of existing processing technologies. The consumer driven trend towards personalisation is growing steadily in areas like clothing and home textiles, causing a shift in a traditional textiles industry supply chain and demanding more cost-effective, short-run production methods suitable to address the new market requirements. Manufacturers, therefore, are looking to convert more of their production to all-digital processes.
On the way to Industry 4.0
Presenting live demonstration of a modern networked production chain for the clothing industry aiming to offer a solution for some of these issues, the Digital Textile Micro Factory debuted at Texprocess last week, bringing together all stages of integrated production – from the design stage to colour separation, digital printing, automatic cutting out, fabrication, and labelling.
The area was organised in collaboration with the German Institutes for Textile and Fibre Research in Denkendorf and a number of well-known companies in the textile sector, such as Assyst, a provider of integrated CAD and PLM solutions, Caddon Printing & Imaging, a specialised manufacturer and service provider for digital, large-format printing and colour management, Ergosoft and Mimaki digital printing specialists, Zünd, a leading manufacturer of multifunctional digital cutters, as well as Dürkopp Adler, the industrial sewing machines manufacturer.
Through the automatically linked machinery, the Digital Textile Micro Factory aimed to demonstrate a cost-effective solution to overproduction, long time to market and lack of flexibility. Instead, according to Michael Nothelfer, Managing Director, caddon printing & imaging, the integrated digital production room offered fast, lean and flexible automatically controlled production which helps minimise downtime, produce a complete garment in 2-3 hours and offers an affordable option to smaller, mainly European brands, fashion labels and sports apparel manufacturers requiring smaller batches and operating short-run production.
Broken global supply chain
Industry 4.0 and digitalisation were the main themes at Texprocess Forum, held during the trade fair. The event hosted experts from SPESA, Lectra, Human Solutions, Hohenstein Institute and Gerber Technology, who shared their insights. Andre Wissenberg, Vice President, Oerlikon, said that one of the main objectives of the Industry 4.0 should be attracting young talents to enter the industry, offering them an alternative to the 'fast fashion' market that operates on the basis of the broken supply chain. Peter Morrissey, Senior Vice President, Global Sales & Service, Gerber Technology, shared a similar view, saying that as the factory of the future and digitalisation become a recurring theme in the nowadays industry, the task is to obtain and retain talent, whilst optimising production processes and challenging the traditional manufacturing methods.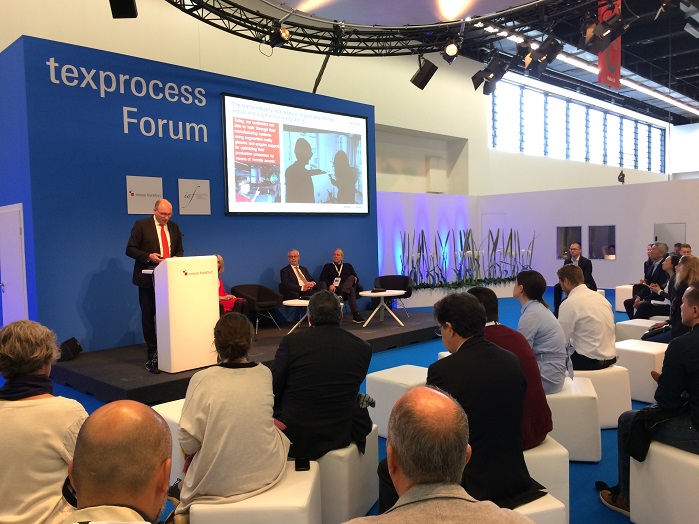 The currently failing state of the global apparel supply chain has been discussed during a panel held by Gerber Technology, a software and automation solutions provider, which exhibited its digital solutions at the fair, including the newest releases of YuniquePLM product lifecycle management software. According to the manufacturer, the fashion industry is on the verge of a digital technology revolution, driven by a more tech-savvy customer base, a faster 'fast fashion' cycle, and the need to solve massive inventory and returns issues.
During the panel discussion, Pete Santora, Vice President of Sales & Marketing, SoftWear Automation, said that the garment business model operating on the basis of an unsustainable industry supply chain relying on overseas cheap labour has discredited itself. "Ninety-seven percent of T-shirts are exported globally despite the US having the cheapest cotton, cheapest power, rating third in cotton capacity, on par finishing," he said. According to Pete Santora, disruptive technologies such as robotics and automation are now growing more relevant in the process of creating a cost-effective, vertically integrated supply chain that is closer to the consumer, more networked and results in fewer returns.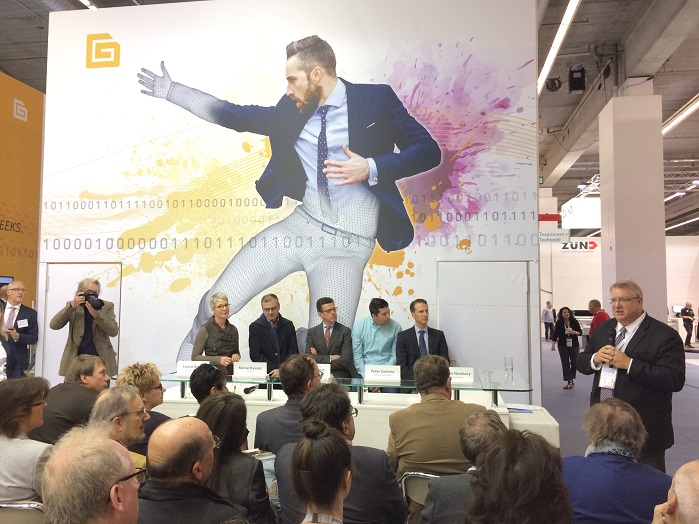 The Atlanta-based machine vision and robotics start-up SoftWear Automation creates autonomous 'sewn good' worklines the for home goods, footwear and automotive sectors. With its Sewbots fully automated technology, the company is currently taking pre-orders for fully automated worklines for T-shirts, and workcells for hemming and binding. The start-up says its mission is to geographically shorten the distance between customer and manufacturer.
Disruptive technologies
The topic of 'disruptive' technologies fighting the lack of flexibility in the garment supply chain dominated the Texprocess halls, with a number of exhibitors presenting their latest CAD/design solutions. EFI Optitex, a leading provider of an integrated 2D and 3D CAD/CAM apparel platform, announced the launch of O/Cloud Collaborate, the first web-based Software as a Service (SaaS) solution offering visual collaboration specifically geared to the fashion industry.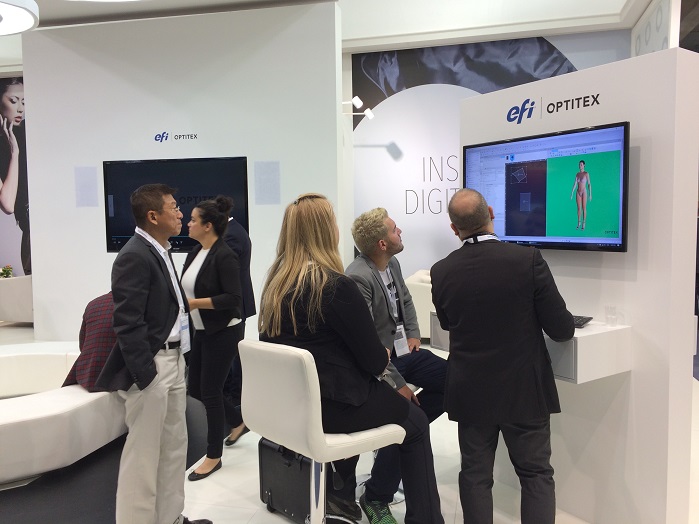 The product leverages a photorealistic 3D viewer and streamlines collaboration across the global supply chain, allowing changes to be made virtually, saving time and resources and reaching shorter time to market.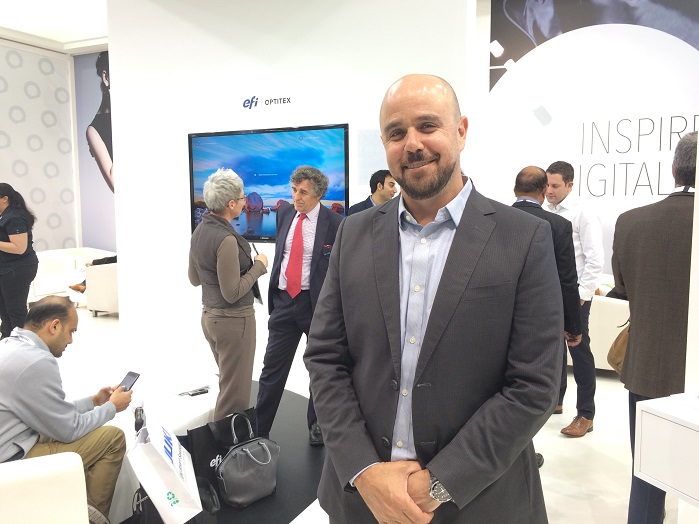 "We are really seeing market pressures driving accelerated adoption of 3D, and digital solutions in general, across the market," said Asaf Landau, General Manager, EFI Optitex. "They allow you to go faster to be able to change designs quicker, respond more quickly to the market, becoming an important competitive advantage. Companies are adopting them to be able to go faster, to have more design iterations, in order to make better product and have more design freedom, as well as lower production costs."
New digital design room
Tukatech, based in Los Angeles, CA, launched its new TUKA 3D Design Edition at Texprocess. The new virtual design room merges together a number of elements needed for effective product development. It allows to create virtual samples in TUKA3D draped on customised fit models, complete with field-specific motion simulation aiming to demonstrate how the garment will perform. It also facilitates a globalised product development process with TUKAcould – a virtual database that can be accessed for approval and review.
The design and development circle is completed with the patent pending TUKA3D Designer Edition, a visualisation application that gives designers the independence to mix and match pieces and build new styles virtually by accessing TUKAbank to find PDF patterns or 3D virtual style files or upload contributions.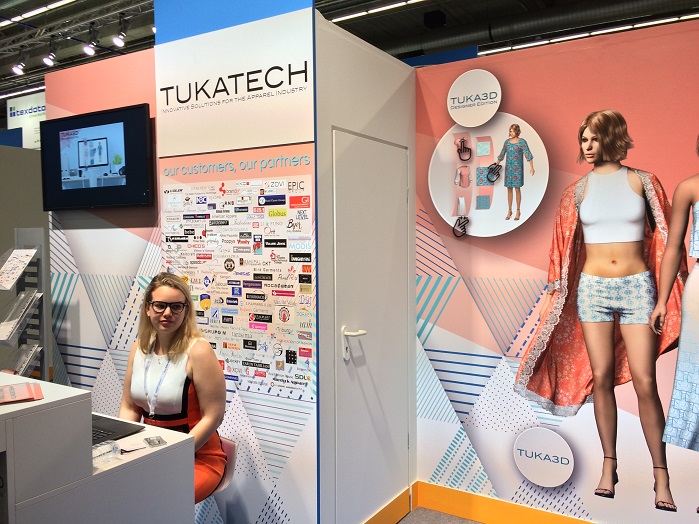 "This technology allows for companies to respond to the growing demand for on-demand manufacturing," said Ram Sareen, CEO of Tukatech. According to Ram Sareen, the rental programme of the entire CAD software suite allows smaller brands, aspiring designers and students afford the digital solution in order to create and further develop their designs, whilst saving costs on making physical samples.
Texprocess Innovation Award winners
The fourth Texprocess Innovation Awards were presented during the show's official opening ceremony on 9 May. The Texprocess Innovation Award 2017 is given in two categories. In the 'new technology' category, two companies were recognised: Coloreel from Sweden wins with a technology that enables the white basic thread to be dyed during the embroidery process, which results in unique and colourful patterns. The Japanese company Juki is launching the DDL-9000C sewing machine for which, inter alia, thread tension and stitch length can be adjusted and stored via a touchscreen on the machine or via a special app.
Also in this category, industrial-sewing machine specialist Xi'an Typical Europe was honoured for Vetron Trace, a new technology that permits pedal-less sewing. Sensors on the machine track hand movements and pass on the information to the machine in real-time.
In the 'new process' category, the Bielefeld-based Dürkopp Adler company won with an online monitoring system for industrial production. The parameters checked by the system include productivity and the status of up to 1,500 sewing machines in a network. The data is then supplied in real-time.