10th September 2019, Amsterdam
Epson offers new dye-sublimation printers
Epson SureColor SC-F9400. © Epson
Epson has announced two 64-inch, dye-sublimation printers, the SureColor SC-F9400H and the SC-F9400. The printers have been developed primarily for fast, high-volume printing, for clothing, textiles and soft signage, as well as other printed merchandise.
The SC-F9400H also offers businesses the option of printing with two genuine florescent ink solutions (yellow and pink), which brings bright, vivid colours to the production of sportswear, workwear and fashion items. The SC-F9400 series is an evolution of trusted Epson print technology and provides enhanced quality with even greater productivity and reliability, according to the manufacturer.
"Once again, our focus has been on the further development of the range, and the introduction of a genuine fluorescent solution that adds new value. This is a first for us and we believe that we've made fluorescent inks that are superior in terms of brightness and colour density," commented Neil Greenlagh, Product Manager, Epson Europe.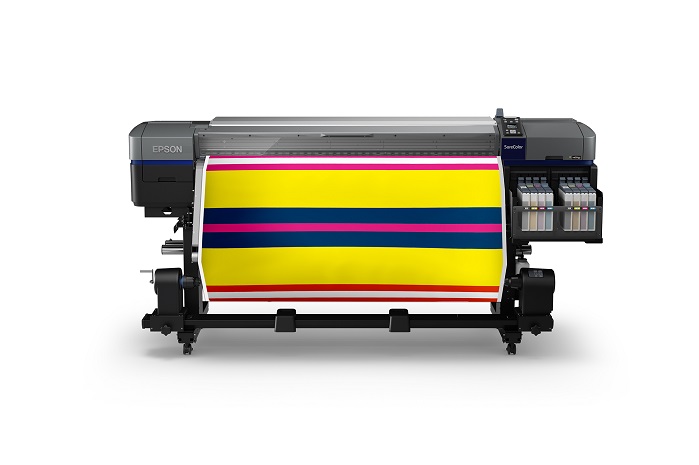 Epson SureColor SC-F9400. © Epson
"But it's not all about the fluorescent ink options, we've also introduced a wider choice of EMX files, an instructional/maintenance video (launched from a QR code), and a host of other features that make set-up, usage and maintenance as simple as possible. We're sure that the SC-F9400 range will have a positive effect on the bottom line of many businesses."
In addition to the enhanced usability of this F-Series range, Epson has retained many of the key functions from previous models. It's these tried and tested technologies that allow Epson to drive innovation in the industry and increase opportunities for businesses, the company reports.
Some of the key features include genuine fluorescent solution, print head guard – to control air flow, hybrid flat and rib platen – for efficient media handling, and dust cache and fabric wiper – to prevent nozzle clogging.
The SureColor SC-F9400 and SC-F9400H will be available in January 2020.
This article is also appears in...