2nd March 2018, St. Moritz
HeiQ technology in drag-reduced bob suits
The Swiss textile technology innovator HeiQ and one of the world's leading premium ski brands KJUS sponsored the tailor-made leading-edge bob suits during the first Cristal Da Glatsch bobsled race to support the oldest and only natural bobsleigh track in the world.
On 1 March, the race took place on the Olympia Bob Run St.Moritz-Celerina in the Engadine Valley, Switzerland. Likewise, the software solution provider Comitas and the high-speed internet provider Mia Engiadina have cooperatively supported this speed driven event.
The CEOs of HeiQ, KJUS, Comitas and Mia Engiadina, put themselves forward as participants and shared bobsleds with experienced Swiss world champions, like Marcel Rohner and Cla Mosca, to race downhill at more than 130 km/h.
Drag-reduced bob suits
To support this great Swiss tradition, HeiQ and KJUS, sponsored the tailor-made bob suits for this event. Skin-tight and aerodynamic suits are essential for the race to reduce drag on the way into the bob and down the run. The gear has been designed to combine a drag reduction performance with a comfortable fit enabled by a HeiQ finishing technology minimising air resistance and enhanced quick dry properties.
"A state of play is critical to innovation. It's no wonder that an event like this led to all sorts of (crazy) ideas in the HeiQ team's heads. If I was going to sit in a bobsled I wanted to do it with gear that really lets me maximise speed," explained Carlo Centonze, CEO of HeiQ.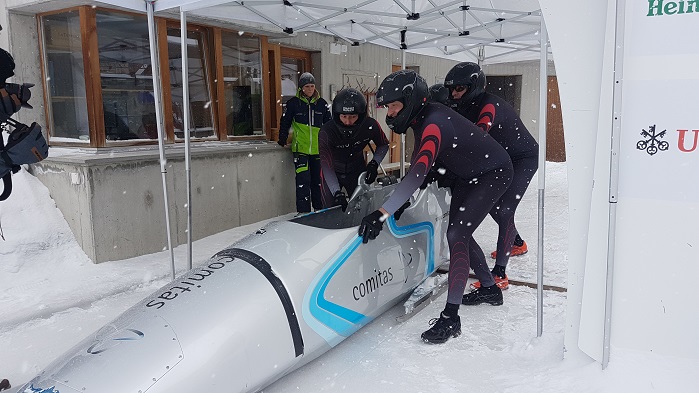 "Upgrading apparel with textile technologies is what we excel in here at HeiQ, so we were in the enviable position of being able to customise limited edition drag-reduced bob suits." Having in mind another idea, he added right after the race: "It was really cold. We need to add heating technology to this textile."
Future of ski apparel
"Sports, the mountains and the desire to always strive for perfection, are part of who we are. At KJUS, we're always working towards the future of ski apparel. Speed is one of the goals we work towards, besides functionalities such as light-weight, breathability and warmth. We were delighted to support this event," said Nico Serena, CEO of KJUS.
All sponsors who supported the race were overwhelmed by each participant's bravery and enthusiasm. André Brühlmann, CEO of Comitas and founder of Cristal Da Glatsch, commented: "This was exactly what I was hoping for when I decided to found Cristal Da Glatsch. It didn't take me long to completely fall in love with this old winter tradition and I wanted to do my part in supporting it and providing other people with the same opportunity."
Jon Erni, CEO of Mia Engiadina, heads the only one of the four companies that is actually situated in the Engadine Valley. "We are proud of making things faster for the Engadine Valley by providing a high-speed internet connection. So, you can imagine how much fun I had celebrating speed with faster bob suits on the Olympia Bob Run," he said.
This article is also appears in...