22nd May 2019, Grand Rapids, MI
X-Rite showcases new colour formulation software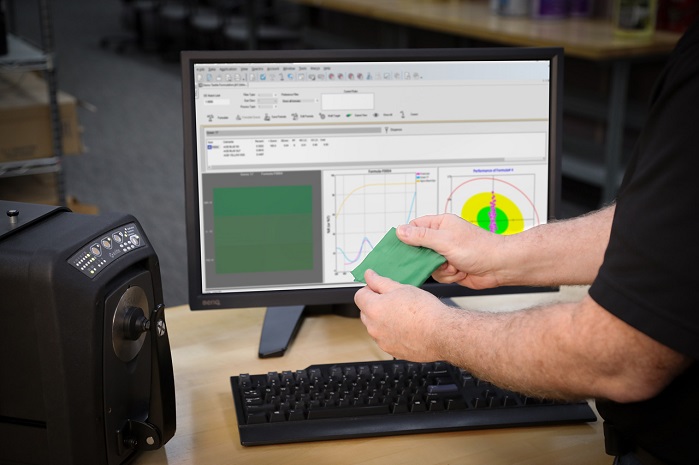 X-Rite Color iMatch formulation software accelerates recipe creation for the textiles industry. © X-Rite
X-Rite and Pantone, leaders in colour science and technology, have announced the new release of Color iMatch formulation software for the textiles industry. The company will showcase the software at ITMA, from 20-26 June in Barcelona. The new release accelerates recipe creation for the textiles industry through better initial matches and fewer corrections for faster dyeing times, cost savings and reduced waste.
"Today's apparel and textile manufactures work with a number of natural and synthetic materials as well as a diverse colour palette that can lead to longer colorant recipe creation times and multiple lab dips," said Richard Knapp, Product Manager, X-Rite and Pantone.
"At ITMA, textiles suppliers will see how easy it is to access spectral data for a brand's colour palettes through PantoneLIVE and immediately begin the formulation process in Color iMatch. Attendees will also learn how to dynamically update dye characterizations to significantly improve match performance and meet tight manufacturing deadlines while reducing environmental impact."
Colour match performance in textiles is a function of how accurately dye behaviour in a formula reflects dye behaviour under current conditions and processes.
The new release of Color iMatch is designed to improve colour matching by addressing this interdependence. It intelligently processes colour data to provide optimal initial colour matches and reduce wasteful formulation attempts. With a high return on investment, Color iMatch streamlines complicated textile workflows, improves formulation efficiency, and reduces material waste.
The latest release of Color iMatch offers increased match rate up to 50% and more accurate identification, ability to dynamically update dye characterisations to maintain dye behaviour, new matching technology to gain insights from historical data and optimise the formulation process, Fully-integrated Colorant Editor for improved database performance, digital specification of Pantone standards, easy transition between jobs, and more.
This article is also appears in...