Fibres/​Yarns/​Fabrics
Absolute Move: Innovative technology for ultimate support
Sensitive Fabrics by Eurojersey with innovative Lycra Sport PCE certification usher in the new sports bra era.
4th February 2019
Innovation in Textiles
| Milan
Sponsored Editorial
Sensitive Fabrics by Eurojersey with innovative Lycra Sport PCE certification usher in the new sports bra era. Unprecedented support and comfort combined with a certain appearance and quality are the key assets of a revolution which has taken sportswear by storm, from active wear to lifestyle trends, everything from training apparel to garments designed for the most extreme sports.
Ever the unquestioned protagonists of sports apparel, Sensitive Fabrics satisfy multiple requirements in terms of fit, protection and climate comfort. Performance fabrics which have now become even more sophisticated.
Sensitive Fabrics certified Lycra Sport PCE enable the creation of bras which sculpt the body. © Eurojersey
Lightweight and breathable, Sensitive Fabrics certified Lycra Sport PCE enable the creation of bras which sculpt the body, create ergonomic shapes and offer an optimal mix of comfort and support, the essential plus factors ensuring full motion control in any type of sports training.
In fact, thanks to the avant-garde certification, Lycra Sport PCE, Sensitive Fabrics provide a detailed identikit of their remarkable properties, to accurately identify the most suitable fabric for any given sports garment, no matter how complex, such as a Sports Bra.
The Lycra Sport PCE Index Technology platform combines the elasticity of Lycra fibre with three key indexes: Power (P), Comfort (C) and Energy (E) in other words PCE, used for the performance evaluation tests of each individual fabric. This is an avant-garde, simple yet extremely efficacious method to accurately define fabric performance for each index on a scale of 1 to 10.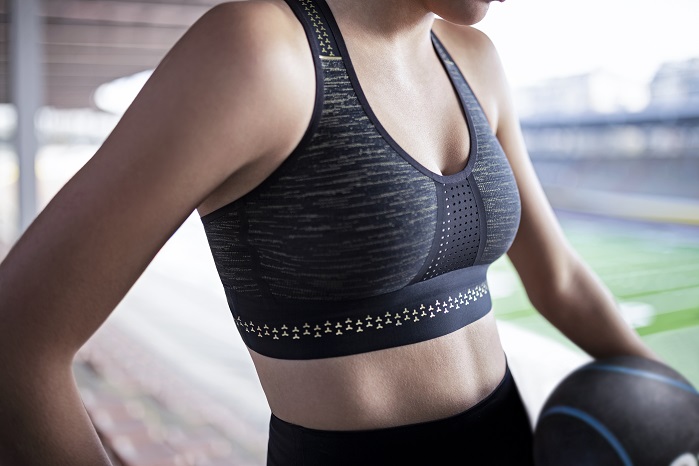 A shaping bra manufactured in Sensitive Sculpt Light fabric with 41% Lycra fibre with metallic pigment print and functional taping. © NoSo taping technology by Framis Italia
With this innovative certification, Sensitive Fabrics offer yet another plus factor, consisting in the possibility to achieve a perfect balance between compression, support and comfort, guaranteeing maximum freedom of movement in any sports activity.
In the case of sports bras for high impact, Sensitive Fabrics with Lycra Sport PCE technology offer the advantages of thermoregulation and no bounce. These garments do not leave pressure marks on the skin and adapt naturally to the body shape to prevent chafing. Sensitive Fabrics ensure a high level of compression and a pleasant body-hugging effect in the case of apparel designed for competitive events and strenuous training while their use in garments for less intensive sessions allow for a more elegant and feminine silhouette combined with perfect comfort and gentle support.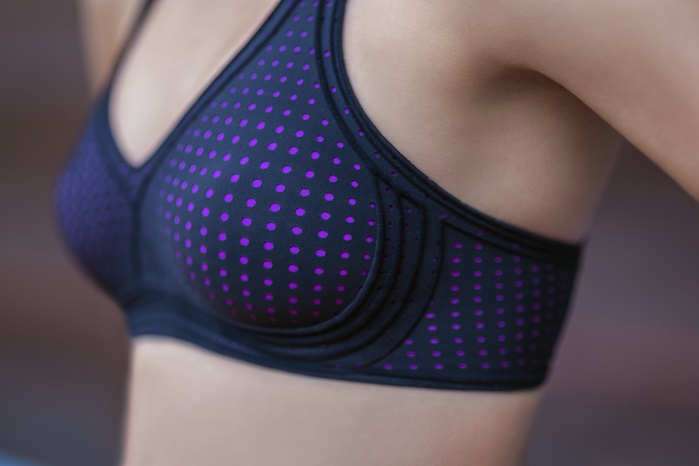 An ultra-feminine action bra made from plain coloured Sensitive Plus perforated fabric with 28% Lycra fibre and sophisticated taping for graduated pressure. © SensELAST taping technology by NTT
The following points recap the winning features of Sensitive Fabrics with Lycra Sport PCE:
Control and shape retention
The isotropic properties of Sensitive Fabrics and the high percentage of Lycra elastic fibre ensure four way stretch enabling wearers to have perfect control of their movements. The high level of compression is beneficial for muscle tone. The fine, flat and lightweight surface offers a second skin effect which contours the body.
Fabric power
The smooth, low-friction surface of Sensitive Fabrics enables maximum freedom of movement and prevents skin irritations. The compact jersey knit construction avoids any type of transparency and offers maximum protection against the effects of UV rays. Ideal for manufacturing garments with ultrasonic welded seams, thermal welding and laser cuts.
Absorption of water and perspiration
The high percentage of Lycra fibre and the compact warp knit construction reduce moisture absorption. Garments made from Sensitive Fabrics with Lycra Sport PCE certification dry quicker and are extremely breathable.
Fabrics with excellent shaping properties which, to meet specific requirements, may by reinforced by the use of special technology– such as taping which enables a targeted support, by contouring the chest and breasts without causing restriction or chafing, and preforming for enhanced compression and a targeted support to improve motion control and comfort.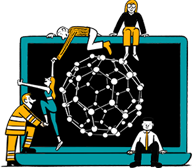 Business intelligence for the fibre, textiles and apparel industries: technologies, innovations, markets, investments, trade policy, sourcing, strategy...
Find out more