Fibres/​Yarns/​Fabrics
Gore celebrates 40 years of innovation
In 1970 Gore applied for what was to become the first of many patents for Gore-Tex products made with Gore's ePTFE.
3rd November 2016
Innovation in Textiles
| Newark
The US family business specialising in outdoor apparel market, W. L. Gore and Associates is celebrating 40 years of innovation, since receiving its first commercial order. Since 1958, Gore has been developing products aiming to improve the performance of apparel fabrics and specialty textile products. At the centre of these solutions is polytetrafluoroethylene (PTFE), a linear polymer consisting of fluorine and carbon with exceptional properties like high tensile strength, a low dielectric constant and UV resistance.
In 1969, Bob Gore discovered the possibilities of expanded PTFE, or ePTFE. In 1970 Gore applied for what was to become the first of many patents for Gore-Tex products made with Gore's ePTFE. So-called expanded PTFE is a processed form of polytetrafluoroethylene, in which the PTFE molecules' fibres are set in a certain formation.
PTFE polymer, the material used in the company's membranes, is non-toxic, bio-compatible, not soluble and will not end up in water. It is stable and does not degrade to become a source of PFC in the environment. It is said to contribute positively to the ecological balance of outdoor clothing, as it is designed to help extend the performance and life of the final product.
First commercial order
Seven years after discovering ePTFE, Bob Gore received the first commercial order for the product. Forty years on, the company has become a leading specialist in the outdoor industry. Expanded polytetrafluoroethylene – ePTFE – is both breathable and waterproof, due to a microporous structure that was comprises 70% air, and is now used in more than 1000 products, from medical devices to guitar strings.
However, the Gore-Tex name has become mostly known through its use in hiking and outdoor equipment and clothing. In 1989, the company introduced the Guaranteed To Keep You Dry warranty, which places a lifetime guarantee on all Gore-Tex products to either repair it, replace it or refund the purchase price if the customer is not satisfied.
Leader in functional solutions
Throughout the past 40 years, the company has been continually innovating, which resulted in the introduction of Gore-Tex Paclite in the late 1990s. This opened the door to extremely lightweight and small, packable functional outerwear, as the weight per square metre of fabric was reduced from 160g to less than 100g, according to the manufacturer.
To cater for those who find themselves in the most rugged of environments Gore-Tex Pro was introduced in 2006, with the lightweight and soft Gore-Tex Active and Gore-Tex Active with Permanent Beading Surface – the company's most breathable ever membranes – following in later years.
"As someone who was introduced to the outdoors and hiking as a toddler, it seems fitting that Bob Gore's material has gone on to become a leader in this sector. Forty years on, whether it's for running or cycling, skiing or hill walking, Gore is still proving that it's the market-leader in all sectors of the outdoors activities market, continuing to build upon the groundwork laid by Bob Gore and his family," commented Christian Langer, Global Leader Fabrics Division.
Production facilities
Headquartered in the United States, Gore posts annual sales of more than US$ 3 billion and employs more than 10,000 associates with manufacturing facilities in the US, Germany, the UK, Japan and China, and sales offices around the world.
In Europe, Gore started its first business operations only a few years after the enterprise's founding in 1958. Gore now has locations – sales offices as well as production facilities – in the key European countries dedicated to serving the markets of all of Gore's product divisions.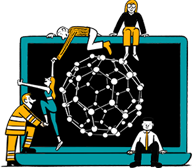 Business intelligence for the fibre, textiles and apparel industries: technologies, innovations, markets, investments, trade policy, sourcing, strategy...
Find out more