Smart Textiles
Enhancing composites with Xantu.Layr
Revolution Fibres is increasing its production capacity to meet growing worldwide demand for its Xantu.Layr nanofibre veil in composites.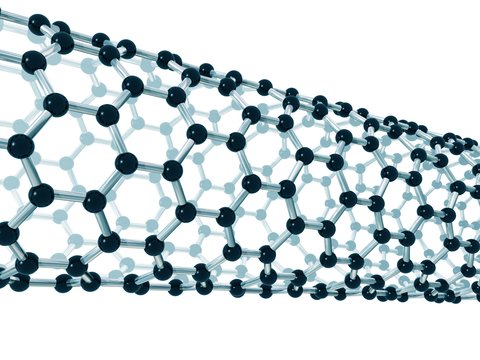 14th February 2017
Innovation in Textiles
| Auckland
Revolution Fibres is increasing its production capacity to meet growing worldwide demand for its Xantu.Layr nanofibre veil in composites.
Dr Gareth Beckermann, the New Zealand-based company's nanofibre applications engineer, reports that significant advancements have been made by using nanofibre interleaving veils to increase the impact strength, delamination resistance and fatigue life of composites.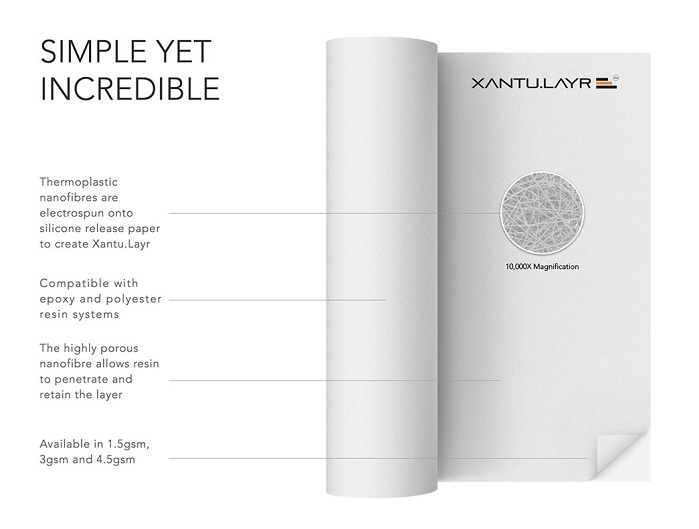 "We are also increasingly seeing evidence that nanofibre veils outperform thermoplastic toughening particles and microfibre veils, and they can also improve the mechanical properties of composites containing already toughened resin systems," he says. "In some situations, their addition can improve delamination resistance by up to 170%, impact strength can be improved by up to 20%, and fatigue life can be improved by nearly 400%, all with negligible laminate weight and thickness gains. Nanofibre veils can also be used for localised reinforcement as opposed to having to apply veils to the whole composite part.".
Revolution Fibres operations manager Brent Tucker adds that production capacity has recently doubled to meet the additional demand for Xantu.Layr for new and existing clients, which include Kilwell Fishing Rods and Kiwi Composites.
For commercially sensitive reasons the company is unable to name most companies it works with. However, the majority of them are in industries where extra high composite performance is required.
"We expect 2017 to be a significant year for Xantu.Layr production as many clients are coming to the end of their R&D programme cycles with positive results," says Tucker. "This increased production capacity is a huge benefit to all because it will lead to cost reductions, especially for customers wanting larger volumes."
In 2015, Revolution Fibres achieved its AS9100c certification, a quality assurance – a world-first certification which provides internationally recognised assurance to customers that the systems and procedures behind the nanofibre production meet aerospace standards.
On the back of increased demand for Xantu.Layr, Revolution Fibres has launched a new website (www.xantulayr.com) which includes essential product information and an E-Commerce platform to make purchasing the product simple.
Revolution Fibres CEO Iain Hosie says the company's aim now is to get more people using Xantu.Layr and it has introduced smaller quantity Hobby and Starter Packs to the range.
"It's an incredibly versatile material and our goal is to make it easier for designers, production engineers and hobbyists to purchase Xantu.Layr in smaller quantities and to give them greater access to the technology," he says. "For some smaller composite users the 100m MOQ was a barrier, but with the new Hobby and Starter packs it's so much more accessible. It's surprisingly easy to use, and it should be used more often for improving composites. Revolution Fibres is interested in talking to distributors to spread the technology further, especially in Asia and the USA. It's a product that will fit well with the product portfolios of a number of distributors to provide a significant and unique offering for their clients. We're also keen to work with more carbon fibre prepregging companies to integrate Xantu.Layr directly into prepreg materials as an additional toughening measure."
The ground breaking Revolution Fibres electrospinning technology creates nanofibres from a range of synthetic and bio-derived polymers.
Revolution Fibres led the commercialisation of the technology in New Zealand with product lines such as filters for HRV Next Generation ventilation systems, the anti-allergy pillow liner Nanodream, and high performance Kilwell fishing rods.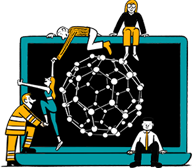 Business intelligence for the fibre, textiles and apparel industries: technologies, innovations, markets, investments, trade policy, sourcing, strategy...
Find out more