Fibres/​Yarns/​Fabrics
ISPO Textrends awardees tick all the boxes
A record number of international companies applied for ISPO Textrends, the performance textiles, accessories and trims forum.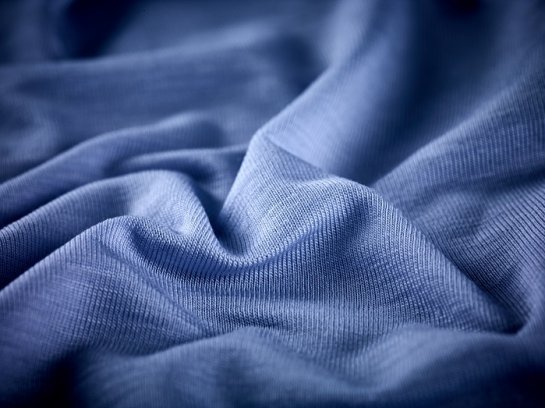 29th January 2019
Innovation in Textiles
| Munich
The international Textrends jury had to evaluate as many submissions as never before this year. © ISPO
A record number of international companies applied for ISPO Textrends, the performance textiles, accessories and trims forum for the sports and outdoor markets. Judged by an international jury of textile experts, Best Product, TOP TEN and Selection were awarded in 10 sectors that will feature at the ISPO Textrends forum at ISPO Beijing in January and ISPO Munich in February 2019.
Jury member, Jill Dumain, CEO of bluesign was impressed with the sheer number of entries: "I find that encouraging, the fact that hopefully it is driving towards innovation, looking at better performance, better environmental qualities and moving the industry forward."
"I was really encouraged to see the integration of 'responsible' into every-thing that is innovative and creative driven. I feel really proud, that generally speaking, this value has been integrated into the best things today," commented Giusy Bettoni, CEO of C.L.A.S.S.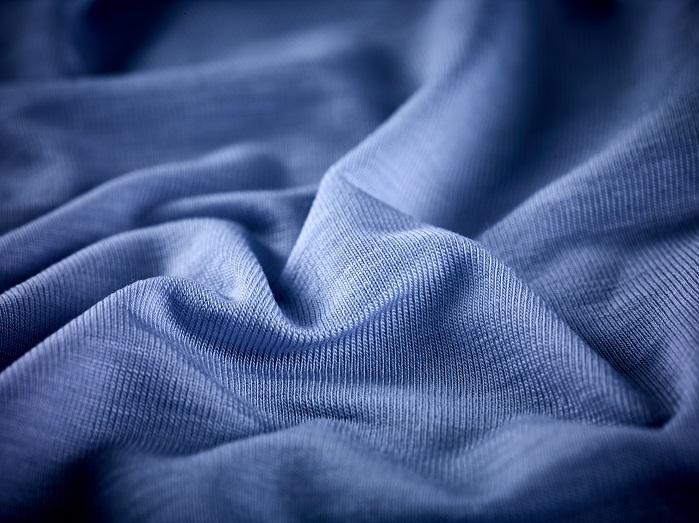 Base Layer – Tintex Textiles. © ISPO
Certain aspects stood out to the jury for Fall/Winter 2020/21. A higher level of sensual haptic features across all sectors, with a notable improvement in recycled synthetics this season, delivering a touch that is on par with conventional synthetics. Performance is heightened as protection embraces the sports and outdoors markets. Surface structure and depth features for the season. 3D relief is delivered through the optical use of yarns and prints. From realistic digital aspects to yarn-dyed effects, with subtle definition further enhanced through embossing and flocking.
These are the Best Products voted by the international ISPO Textrends jury:
Base Layer
An innovative base layer with multiple benefits featured from Tintex Textiles, including emotional well-being, obtained by the Seacell fibre by Smartfiber, physical, through a soft touch, finished with Naturally Clean, an eco-friendly finishing, with the inclusion of Roica Clean Fit odour control/anti-odour elastane providing the technical element.
Second Layer
A lightweight, high-stretch Cordura soft-shell fleece with durable outer face and soft inner won in second layer category.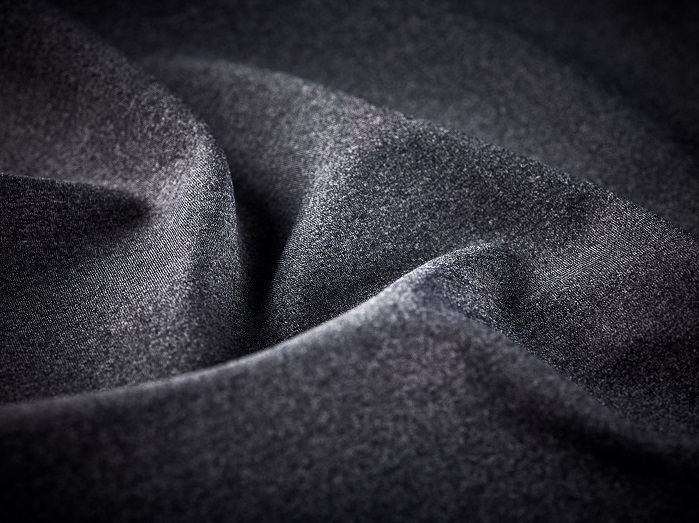 Second Layer – Invista. © ISPO
The Cordura 4Ever Knit technology attracted the jury's attention, with a soft haptic and lightweight. Breathable, abrasion-resistant, tear-proof and bi-stretch functionality, leading to longer life garments that meet the demands of the consumer.
Outer Layer
Natural fibres continue to feature in the performance sector, with wool increasingly returning as a viable player in a predominantly synthetic sector. Inherently anti-door and emerging in a new level of added function. Flying Textile's wool outer layer provided a warm and comfortable touch, that is breathable, waterproof and windproof.
Membranes and Coatings
Combining the glamor and style of velvet with the performance of traditional outdoor products, the new Redaelli velvet series adds a whole new dimension to functional clothing, according to the jury. Different bondings to two- or three-layer compositions make it possible to work with waterproof seams, processing with or without lining and the possibility of additional filling with down or synthetic fibres.
Street Sports
A growth sector, street sports is appealing to cross boundaries as consumers look to efficient apparel for multiple end uses.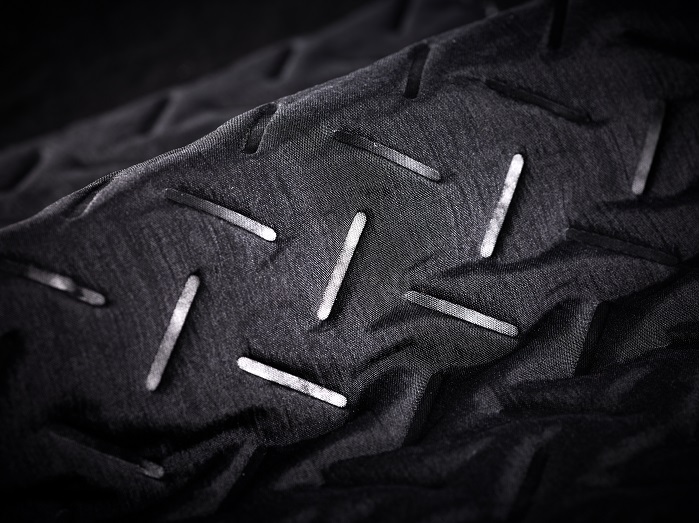 Street Sports – Wisher. © ISPO
Smart fabric for urban outdoor, Wisher's fashionable and stylish fabric fits a variety of situations and allow you to easily switch between different occasions, keeping you comfortable in high temperatures and changing weather situations.
Accelerated Eco
A recycled fabric by Jinjiang Chuangying Import and Export Trading uses the colour master batch method for the colouring process before spinning. It is light-resistant, wash-resistant, wear-resistant, and high temperature-resistant.
Accelerated Eco – Chuangying Import and Export Trading. © ISPO
It is a low-carbon, environmentally friendly fabric, saving water and achieving a regular and even colour throughout the fabric, eliminating waste at QC, according to the company.
Soft Equipment
Thinking outside of the box, Honmyue Enterprise has long since turned to unconventional material for inspiration, this season landing in paper touch and surface. Surpassing the limit of direct digital printing technology on polyamide fabric, the result is both visually and physically appealing, offering more possibilities for design using this abrasion-resistant and water-repellent fabric.
Insulations
Insulation, the invisible ingredient essential to the sports and outdoors markets continues to innovate.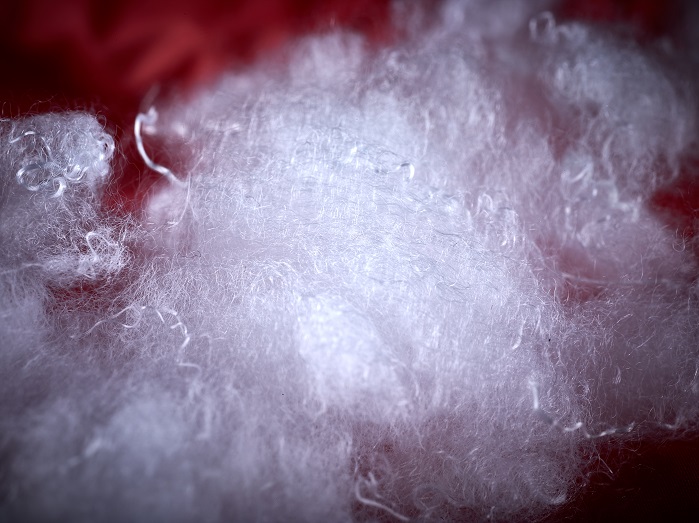 Insulations – Thermore (Far East). © ISPO
Designed to provide superior loft, warmth and recovery thanks to the unique multi-shape structure, Ecodown Fibers by Thermore (Far East) are animal-free and feature 100% recycled fibres.
Trims
Bemis' new Tint functional film is designed to deliver a unique aesthetic option that hits the transparent trend in apparel and footwear. It can be used on logos, edge finishes, designs and functional panels to add tone on colours or as a "watermark", allowing the pattern or texture of the fabric to come through. Tint has a low activation adhesion that allows application to heat sensitive fabrics. The barrier layer is soft, UV resistant, hydrolytically stable and receptive to screen printing inks for further design flexibility and reflectivity.
Accessories
Unlike traditional zippers, the Dynamic Zipper isn't fixed. With SAB's new design, the zipper chain works in a gliding motion. When you turn your head, the zipper slides accordingly to avoid the hood blocking your vision, offering higher visibility in hooded garments – perfect for winter sports apparel.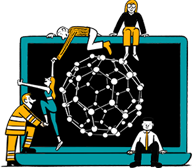 Business intelligence for the fibre, textiles and apparel industries: technologies, innovations, markets, investments, trade policy, sourcing, strategy...
Find out more