Technology/Machinery
Karl Mayer hosts in-house anniversary shows
Demonstrations of nine of the latest machines from the company's three business units were held in the 9,000-square-metre development centre.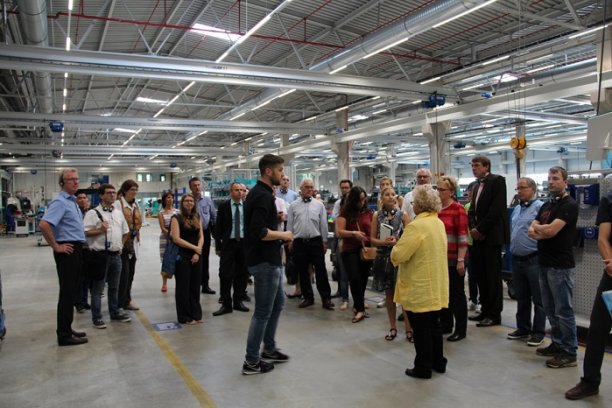 12th July 2017
Innovation in Textiles
| Obertshausen
As the company continues to celebrate its 80th anniversary and anticipates annual sales hitting the €500 million mark for 2017, Karl Mayer organised a series of open house events at its headquarters in Obertshausen, Germany, in the first week of July.
Demonstrations of nine of the latest machines from the company's three business units – Warp Knitting, Technical Textiles and Warp Preparation – were held in the impressive 9,000-square-metre development centre at Obertshausen, along with tours of the €14 million new machine assembly hall, and the components production hall, which has been entirely refurbished at a cost of €8.5 million.
"During the last two years Karl Mayer has invested approximately €40 million at various worldwide locations," said CEO Arno Gärtner. "These in-house shows provide our business partners with an insight into the future of textile development and production technology. Almost two years after the last ITMA, we are showing our next innovation steps – responding to the challenges of digitization and the conservation of resources."
High-speed tricot machine
Among the machines demonstrated was the latest HKS 3-M high-speed tricot machine fitted with the LEO (low energy option) technology for reducing energy consumption. Its Kamcos 2 automation control unit is compatible with smartphones and tablets for remote operation and diagnostics and a camera fault-detection system is now installed as standard.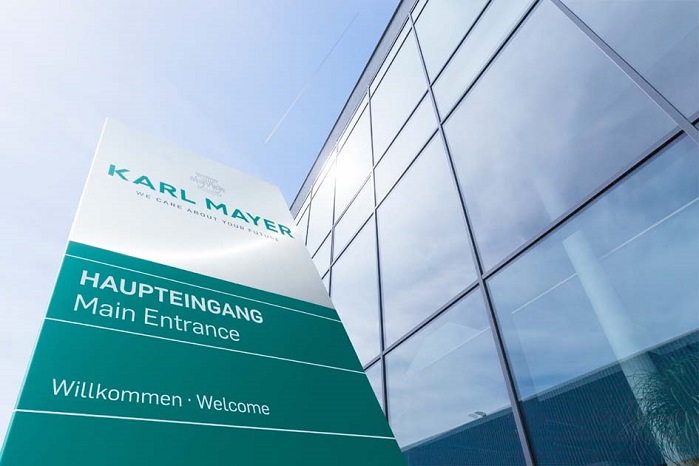 With an impressive level of flexibility the HKS 3-M is suitable for the production of fabrics for both sportswear and shoes, in addition to textiles for automotive interiors. At the in-house show, the E 28 gauge machine was producing a two-way-stretch fabric with a mesh-patterned background, making it semi-transparent, and with an extremely smooth, soft handle.
Lace meets athleisure
An MJ 52/1 S lace raschel machine was meanwhile producing a complex, semi-transparent fabric based on viscose, elastane and polyamide, aimed at a structure well suited to the current trend for 'athleisure' that can include logos and lettering.
The company's Rascheltronic unit produces both stretch and non-stretch fabrics for the sports and functional underwear. The jacquard-patterned fabrics are characterised by a virtually unlimited range of designs. In particular, equipping the machine with an electronic guide bar control facility enables the lapping to be changed quickly, long repeats to be worked for semi-made-up fabrics, and functional zones to be integrated. Areas with a shaping effect can also be worked in easily and incorporated during production, to include breathable zones. The non-stretch sportswear fabric being produced featured a sophisticated combination of patterns with a two-coloured pixel effect, open mesh areas and zones with increasing opening sizes to create three-dimensional surface effects.
3D, warp-knitted textiles
The RD 7/2-12 EN is a flexible, high-speed machine for producing spacer textiles for different applications. End-uses include sports shoes, rucksacks, mattresses, car seats and increasingly clothing as well – to name just a few.
The patented EN pattern drive allows a wide variety of different patterns to be created.
The fabric being produced had an attractive zigzag pattern and an extremely soft handle. This double-bar raschel machine is also available in a gauge of E 28, especially for producing stylish, 3D fashionwear.
Semi-technical textiles
The Wefttronic II HKS is a high-speed tricot machine with weft insertion in line with the stitches, for producing mainly semi-technical textiles. The lightweight, weft-inserted, warp-knitted textiles are used primarily as interlinings in outerwear, as well as for automotive textiles.
A recent trend in the automotive sector is to use warp-knitted textiles as screens for panoramic roofs and other recent developments are apparel fabrics with decorative 'tree-bark' looks, stretch effects and multicoloured designs, produced using different yarns.
Composite reinforcements
The field of reinforcement fabrics for composites is a specialised market for Karl Mayer and is represented by the UD 700 fibre spreading unit and the Cop Max 4 multiaxial knitting machine at the Obertshausen development centre.
High-performance fibres, such as carbons and aramids, are expensive and, in many cases, their availability can be limited. The UD 700 fibre spreading unit can be used to process expensive carbon, glass or aramid filaments. The starting materials are usually heavy tows – filament yarns having up to 60,000 individual filaments. These are spread in the UD 700 and their tension and orientation are equalised. A spread, uniform tape is produced, which enables the potential of the raw materials to be exploited fully in the subsequent end-uses. Karl Mayer can supply for producing technical textiles.
The sheer size of the Cop Max 4 attracted a great deal of attention at the technology show in Obertshausen.
It has a working width of 2.5 metres and is 35 metres long, primarily for producing multiaxial textiles for reinforcing fibre composites, used, for example, in the rotor blades of wind turbines.
The multiaxial reinforcing textiles for wind turbines are made primarily from glass fibres and on the Cop Max 4, the starting material is inserted using two special devices laying the yarns or tapes at angles of 80 degrees.
Big demand for denim technology
A further section of the development centre is devoted to the machines of the Warp Preparation business unit and includes the Prodye-S dyeing machine for the denim market, a Prosize sizing system and a Multi-Matic warp preparation unit.
Jeans are the perennial evergreens of the clothing sector, and with Karl Mayer's Prodye-S machine, productivity can be doubled when processing lightweight denim, compared to other systems available on the market. The bath volume can also be reduced by 25%, and water consumption and the number of yarn rejects also reduced.
A second model gave a clearer view of the design of the dyeing unit, which is the heart of the machine. The application system has a particularly long immersion zone of 11.2 metres to guarantee extremely uniform dyeing results.
This business has been riding on the crest of a wave for the past 18 months according to head of the Warp Preparation business Dieter Gager.
Assembly
The new assembly hall at Obertshausen now houses five lines, each of which is 120 metres long, two of them dedicated to raschel and lace machines, two to series warp knitting lines and the fifth for specialised, more time-consuming special machines. The output from the hall is around seven machines per day, equating to 2,500 a year put together by 200 specialist assemblers.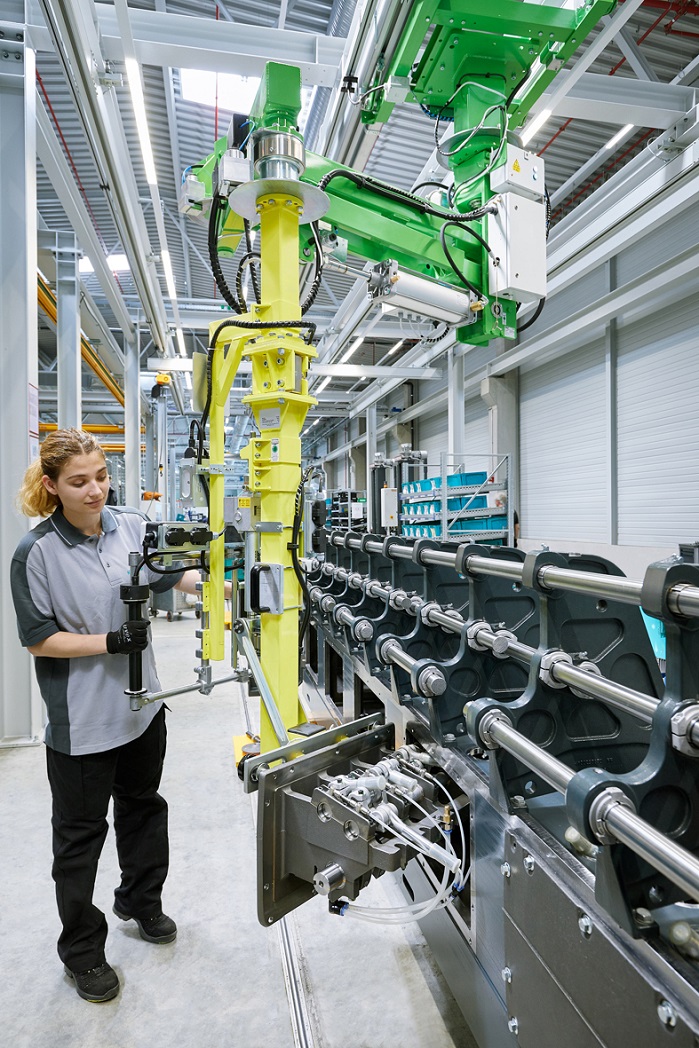 "The organisation of the plant allows us to respond even more quickly to market demands and the peaks that are typically experienced," explained vice-president of sales for Karl Mayer's Warp Knitting business unit Oliver Mathews. "There's high automation throughout and it is all based around an internal logistics transportation train which has almost eliminated the use of fork-lift trucks and also means there are no parts stored within the hall."
Construction of the hall started in August 2016 and was completed in November 2016.
Production
Refurbishment of the Obertshausen production hall – where all crankshafts and other machine components are made – involved the installation of new manufacturing systems and the reorganisation of some 80 existing tooling machines without stopping production. The result has been that the throughput for a standard crankcase, for example, has been reduced from twelve to five days.
Independence
With sales of €460 million in 2016, Karl Mayer employs 2,500 people worldwide, 1,300 at its operations in Germany, and the rest at subsidiaries in the USA, India, Italy, Hong Kong, Japan, China and Switzerland.
Of the company's three business units, Warp Knitting has its base in Obertshausen, Technical Textiles manufacturing sites are at German plants in Chemnitz and Naila and Weaving Preparation operations are in Italy and China.
The family-run company, which was set up in 1937, has always set a premium on financial independence and economic sustainability and this is very evident at the Obertshausen plant, which employs 1,030 people, in 2017.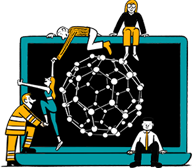 Business intelligence for the fibre, textiles and apparel industries: technologies, innovations, markets, investments, trade policy, sourcing, strategy...
Find out more