Exhibitions and Conferences
Lycra to showcase latest technologies at Intertextile Shanghai
The company will Introduce pioneering Lycra Anti-Slip fibre, Lycra MyFit fibre, new EcoMade fibres and more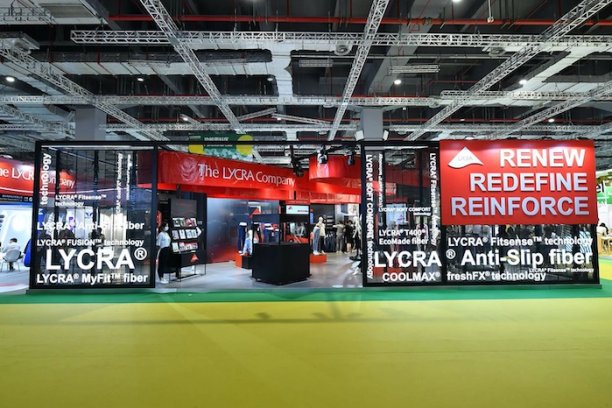 24th September 2020
Innovation in Textiles
| Shanghai
The Lycra Company, a global leader in developing innovative fibre and technology solutions for the apparel industry, will exhibit its latest products designed to meet consumer needs at Intertextile Shanghai, which takes place from 23-25 September. Themed 'Renew, Redefine, Reinforce', the presence at the show will allow visitors to learn about the new Lycra Anti-Slip fibre technology. Other well-received technologies such as Lycra FitSense technology, Lycra MyFit fibre and Coolmax freshFX technology will also be showcased.
"Every industry is facing unprecedented challenges this year and the apparel industry is no exception. We have been pleased to see that, despite market uncertainties, there is still a strong appetite for innovation as brands look to keep an edge and offer better value to consumers. Innovation has always been in The Lycra Company's DNA, which we believe is key to address the increasing demands for functional and sustainable apparels globally," commented Julien Born, President, Apparel, The Lycra Company.
"Asia is set to be the key driver for The Lycra Company's global growth. As such, we will continue our innovation journey by launching new technologies, such as the ones we are showcasing at Intertextile. Only by working closely with our partners and customers can we empower our customers to gain a winning edge and fully capture the opportunities offered by a new global economy," added Steve Stewart, Apparel Vice President, Asia, The Lycra Company.
A new innovation frontier
Lycra Anti-Slip fibre is a denim seam slippage solution for applications in single core spandex fabrics that require durable stretch and good recovery power. Designed to help prevent seam slippage and improve garment quality and yield, this patent pending fibre helps maintain garment appearance wash after wash and wear after wear. It is a versatile fibre that makes possible a multitude of fabric developments and constructions, including open structures and use of PES/Viscose blends, and cotton blends achieving a soft touch and authentic appearance, Lycra explains.
"By using Lycra Anti-Slip fibre in the core of Lycra dualFX technology yarn, the anti-slippage performance will be further enhanced. It is based on several patented technologies from The Lycra Company related to both dual core and bi-component yarns. By combining Lycra Anti-Slip fibre and Lycra T400 fibre together in one fabric, you get the high stretch of Lycra fibre with exceptional slippage solution, plus the excellent recovery power of Lycra T400 fibre. This means that consumers can have super stretch jeans that lasts longer, keeps its fit and shape. Consumers will look good all day, every day," Lycra continues.
The science of fit
Lycra FitSense technology is a patented water-based dispersion that features the same molecules as Lycra fibre, but in liquid form. The innovation is screen printed onto fabric containing Lycra fibre to provide lightweight, targeted support across a range of garment types. Lycra says this solution also helps streamline garment manufacturing through the potential elimination of double-layers and extra seams and offers unlimited design possibilities for brands and retailers.
Lycra MyFit fibre is a patent-pending fibre technology engineered with a new polymer designed to deliver improved comfort and fit. The result is greater shape tolerance and a customized fit experience for a differing range of body shapes. Ultimately, the company says, it gives brands and retailers the potential for higher customer satisfaction, minimize returns, reduce SKU and costs by undercutting patterns.
According to the company, Lycra FitSense technology and Lycra MyFit fibre have been well received by both international and domestic brands since its launch to the market. The two innovations now find wide applications in various apparel categories from underwear and activewear to seamless garments as well as swimwear.
Anti-odour fibre for 24/7 freshness
COOLMAX freshFX technology actively suppresses the growth of bacteria which are the root cause of body odour and related smells and therefore is perfectly adapted for applications such as sportswear and underwear to offer freshness, Lycra says. The active ingredient in COOLMAX freshFX qualifying fibres is a durable, non-migratory silver-based antimicrobial additive. The active ingredient is spun directly into the yarn, rather than being topically applied, and an inorganic cage matrix protects it. Therefore, it can be expected to remain effective for the life of the garment even after repeated laundering.
The legwear stars
Lycra FUSION technology helps make hosiery resistant to runs, which can improve the wear life of the garment. Lycra Soft Comfort technology imparts a soft and comfortable stretch to sock tops and knee-high tops. The technology is based on soft-stretch Lycra fibres that combine high elongation with low hysteresis. This makes garments easy to don but with a firm and secure fit.
"The beginning of 2020 may have taken us by surprise, yet I am excited to see the speedy recovery across Asia-Pacific, particularly in China. Technology and innovation are now the oxygen of every business. With our legacy and profound understanding of the apparel and textile industry, we are excited to work with our partners in China to bring more consumer-centric innovation to the world" said Jack Yang, R&D Director, The Lycra Company.
To bring to life The Lycra Company's newest innovations at Intertextile, the technologies will be introduced via multimedia channels such as LED videos and AR technology. Sample fabrics and garments experience will be available at the booth for further engagement. There is also a bottle calculator for visitors to understand how many plastic bottles are being put into use again in a garment by providing fabric weight and EcoMade fibre content.
To learn more about the latest developments of The Lycra Company, visit Intertextile Booth H4.1-E56. In addition to the physical booth, The Lycra Company also offers a virtual touring and daily highlights on www.connect.lycra.com/intertextile2020.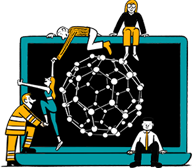 Business intelligence for the fibre, textiles and apparel industries: technologies, innovations, markets, investments, trade policy, sourcing, strategy...
Find out more