Fibres/​Yarns/​Fabrics
RDD Textiles recognised at Hightex Award
The winners of the 7th Hightex Award have been announced.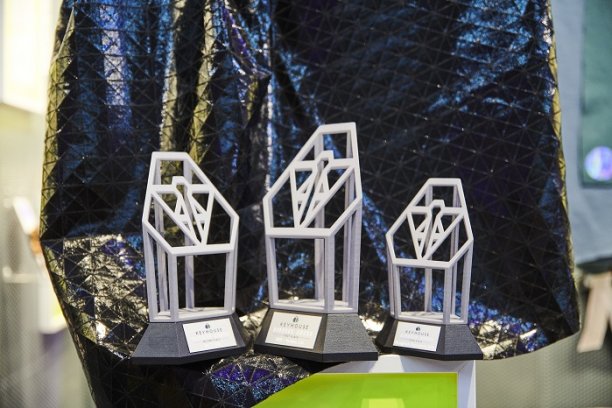 11th September 2019
Innovation in Textiles
| Munich
Munich Fabric Start hands out 7th Hightex Award. © Munich Fabric Start
The winners of the 7th Hightex Award have been announced. RDD Textiles from Portugal won first place with a bonded double-sided jersey quality. Outstanding was the jury's assessment of the development of this new bonding technique through an environmentally conscious mechanical process and newly developed without any additional adhesive.
For the filling, 100% Tencel, which uses an environmentally friendly fibre. According to RDD Textiles, this jersey quality, first introduced at Munich Fabric Start, is breathable, warming, comfortable, extremely lightweight and absolutely fashionable.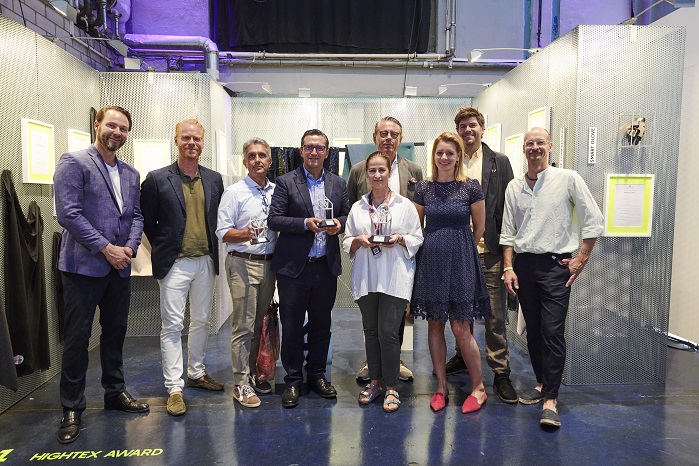 Simon Angel, Sebastian Klinder, Roberto Denna, Enrico Reali, Elsa Parente, Frank Junker, Claudia Mynott, Alex Vogt, Jo Baumgartner. © Munich Fabric Start
"We are very happy about this award, which we have received for the second time. The award especially means a lot to us because this now award-winning article is a real novelty. For the launch of this outstanding jersey quality, the Hightex Award is a welcomed marketing tool to publicize this novelty in the marketplace," commented Elsa Parente, RDD Textiles.
Manifattura Tessile Toscana
Second place went to M.T.T. (Manifattura Tessile Toscana) from Italy for a wool quality with 14% polyamide content currently offered at a high fashion level. This is ensured by a graphic PU print in a technically aesthetic vinyl look. Abrasion and pilling are minimised by this fashionable way of coating. Ideal for trend-setting womenswear with classic wool properties.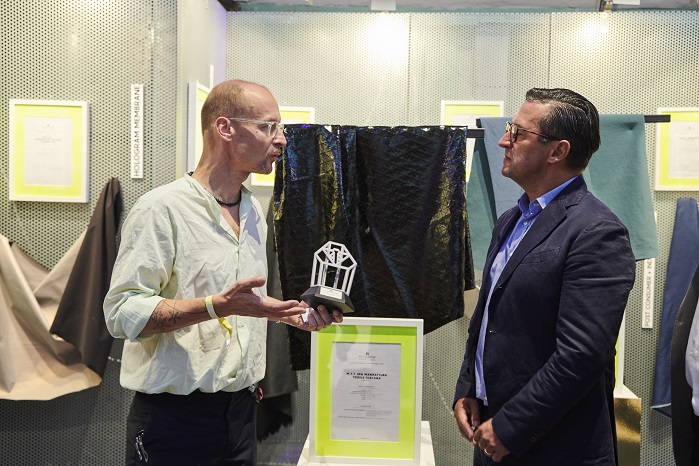 Jo Baumgartner, Enrico Reali. © Munich Fabric Start
"We are very happy to be among the winners of the Hightex Award. Our company invests a great deal of energy and know-how in the development of new technologies, innovative fibres and visionary finishes. Always taking into account environmentally friendly, sustainable criteria. It is an honour for the entire team, who are constantly researching forward-looking products," said Enrico Reali, M.T.T.
Brugnoli
Third place went to a fabric specialist Brugnoli, also based in Italy, with a highly functional three-layer technology. New is the use of bio-based polyamide. The elastic protective membrane is waterproof, windproof and breathable and therefore predestined for outdoor fashion. The first layer is made of extra fine merino wool and bio-based polyamides. The second layer is said to offer a high degree of comfort and functional protection as an extra thin elastic membrane. With the third layer featuring extremely thin polyamides plus elastane. The result is a soft-shell quality for jackets and pants that is already used by well-known Italian fashion and function brands.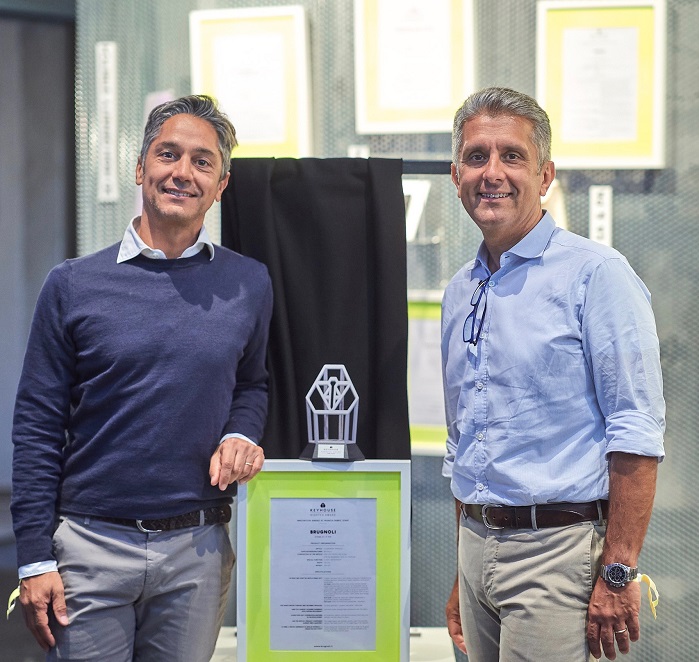 Massimiliano Denna, Roberto Denna. © Munich Fabric Start
"This award is a wonderful recognition of our performance and proof of our continuous expertise in innovative product solutions. Especially since we have already taken first place last year. The winning fabric is truly an exceptional article with a patent-pending membrane. The Hightex Award motivates and encourages us to consistently improve our research and development strategy," said Massimiliano Denna, Brugnoli.
Recognition for innovation
The award is part of an overall conceptual approach by Munich Fabric Start as one of the world's largest textile fabric fairs for intelligent process solutions, innovative highlights, biotech, digitisation and sustainable innovation.
"We see the Hightex Award as recognition for outstanding achievements and at the same time as motivation which encourages unique innovation projects. It promotes sustainable contributions towards a clean future and more conscious use of resources thanks to the innovative use of materials. Our congratulations to the top three companies and our respect to the performance and commitment of all of the participants and their innovative product developments," say organisers.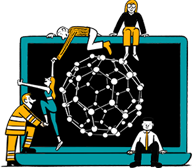 Business intelligence for the fibre, textiles and apparel industries: technologies, innovations, markets, investments, trade policy, sourcing, strategy...
Find out more